The classic, casual, crazy-acclaimed East LA taqueria's second Echo Park location keeps the same, very simple menu, but adds a patio (and potentially a beer and wine license) into the mix. Expect their thick, handmade tortillas (that use Midwestern, not Mexican, corn) laden with mole poblano and chicharron, a couple fish options, and slow-roasted pork served on a spice scale from one to three.
Recommended Video
The Mexican-Style Grasshopper Tacos You Have to Try When You're in South Beach
Previous Venue
Next Venue
Venue Description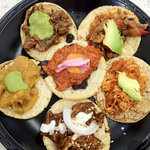 1. Guisados
1261 W Sunset Blvd, Los Angeles, CA 90026
With a straightforward approach to tacos, the second branch of the wildly popular East LA taqueria adds a patiod to the mix, but sticks to the original, winning menu of homemade tortillas and a selection of various meats, fish, and vegetarian options. The liquor menu is equally pared down to keeps things simple.