<em>Die Hard</em>-referencing cocktails and drunken duck from the Comme Ca guy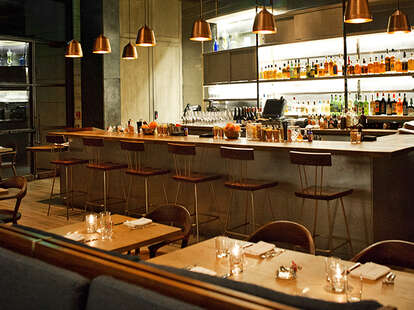 Much like Jeremy Lin when he casts his weight to one side for support, Hinoki & The Bird is an Asian-leaner: bizarrely named by the Comme Ca/Sona dude and hidden away at the bottom of a high-end Century City condo complex, with a heated cement floor patio and this darkly lit interior
Photo by Dylan + Jeni
There's a Top Cheffer in the kitchen doing creative bistro eats like this "drunken" duck breast (which's marinated in sake) and a lobster roll accented with Thai basil and green curry, or what Matt Lauer says whenever Ann's all "Matthew, what's the last name of the professional basketballer who played in more consecutive games than any other player in NBA or ABA history?
There's also this crazy cod guy, made w/ sweet potato & pistachio, and topped w/ a leaf of cypress wood that's SET ON FIRE in the kitchen, then balanced on top of the dish to add a bit of smoky flavor
There's a raw bar shucking oysters and scallops, plus chopping this pickled-jalapeno and Parmesan-topped beef tartare, which's also graced with a quail egg... err... egge
Drinks're from a Milk & Honey dude who really enjoyed the original Die Hard, including this Nakatomi Plaza, which's filled with plum wine and Japanese whiskey as well as fresh pressed apple, which just happens to be your mom's favorite. Yippie-kai-yay, Mother!