Not just what Carrie wanted to do after she found that Post-it note on her computer, Smashburger's also a Denver-born national chain now serving LA via a quintessential Culver City diner that quite literally smashes patties on a grill, leaving them crusty on the edges and moist in the middle.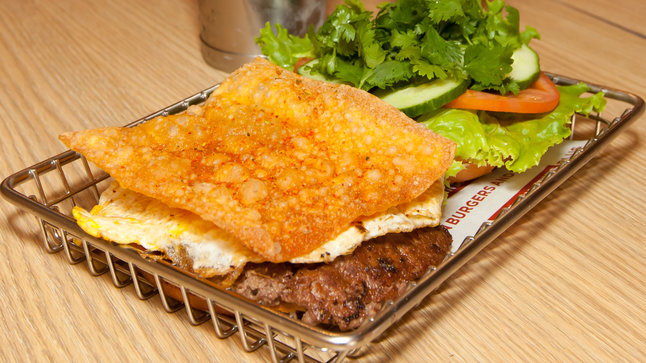 Each location's got its own signature 'burg, and this right here is the "LA": an Asian-ish angus patty hugged by two crispy wontons and topped w/ a fried egg, cucumber, cilantro, and something Conan O'Brien's wardrobe consultant knows about (ginger dressing).
They've also got classics like this American cheese-laden guy topped with "Smash Sauce", which's a mix of mayo and mustard. If you're feelin' fancy, they've also got one with sauteed truffled mushrooms.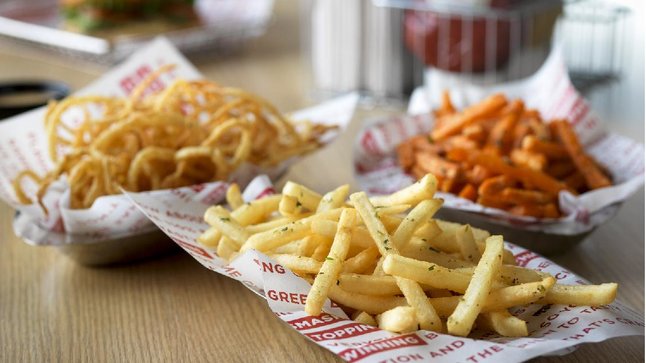 Classic sides abound like these Frenches (w/ rosemary, olive oil & garlic), sweet potato sticks, and thin-sliced, needle-free haystack onions.
They're using Haagen-Dazs for their shakes, which veer from classics (vanilla, chocolate, strawberry) to more chunky sweets-laden numbers, with mix-ins like Butterfingers and Oreos, assuming you want to add some cream to your middle section.