Anthony Bourdain's LA: A Q&A With a Legend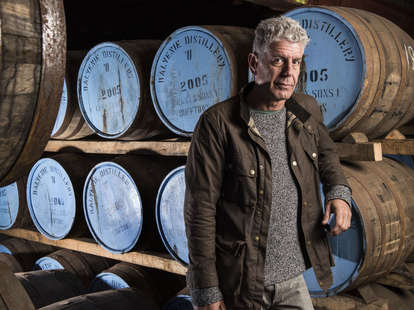 The Balvenie's Raw Craft
The Balvenie's Raw Craft
Editor's Note, 6/8/2018: Anthony Bourdain, the globe-trotting TV host and food personality, has died. In his memory, Thrillist is re-sharing this interview he did with us about his favorite food in Los Angeles. His admiration for the city and its culinary achievements is as self-evident now as it ever was. He will be missed.
Anthony Bourdain -- Kitchen Confidential author, Parts Unknown host, and your favorite Obama dinner companion -- was recently in LA for a couple of weeks, shooting an episode of his CNN show, promoting the second season of The Balvenie's Raw Craft with Anthony Bourdain, and essentially holding court in many of the city's best restaurants. You want to know where he ate, right?? Right. Well, we talked to him about that, as well as how he's seen LA's dining scene change in the last decade, and why rumors of a Restaurant Apocalypse are highly overrated.
From Instagram, it's clear you've been in LA for a while: what's been your LA eating protocol?
Anthony Bourdain: Well, I just finished doing an episode of Parts Unknown that was all shot within Mexican and Chicano culture, so I've been eating a lot of Mexican food for the last week. Before that, I was hitting some old favorites and a couple places I was curious about.
Were there any big discoveries?
Bourdain: I hadn't been to chi SPACCA before. That was amazing. I really, really, really appreciated it and enjoyed it. I went to a place out in Burbank. Josh Homme [from Queens of the Stone Age] turned me on to it: Chili John's, in Burbank. It was awesome. Oh man. It's been there since the '20s, since like Prohibition. It's really cheap thrills. Delicious, about as not-fancy as you get. It's not hipster chili. It's ground meat, you know, just really good. Slopped on top of some beans and rice. It was delicious. I went there. And I always go to Park's Barbeque. I think their banchan are some of the best I've ever had.
Have you done a crawl through K-town? Or that's your spot there that you stick to?
Bourdain: I've been to a bunch of places when a Korean friend is looking after me. This time I was mostly on my own for the time before this series started. So I just went to Park's. [Other places I hit:] I've been to Night + Market before, but I love that place. I think it just gets better and better. I went to Mozza, it's dependably awesome, I [always go there to] meet friends.
Do you have a top-10 places in LA that you'd go to every time if you could?
Bourdain: I'm not so full of myself to think that I know enough about LA to do a top-10 list. The places that I like here are because people have taken me there. I have a really good experience eating here every time I come out, but I don't know the town well enough to presume to, you know, pick my favorites. I just know that I love Park's Barbeque: that's a place I make sure to hit every single time.
What's your order there?
Bourdain: Everything. Tongue, make sure to get the tongue. Some galbi, some short rib -- whatever they send me. They tend to murder me with food when I go in there. I'm kind of a regular at this point.
Do you have a favorite eating neighborhood in LA?
Bourdain: K-town. I don't even have to think about that. Largely because it's so packed with unknowable awesome stuff, so I'm always intrigued. The fact that I know so little about it is what makes it interesting. I've never had a bad meal in K-town, though I got to love Boyle Heights in a big way in East LA this last week. I've been having a lot of fun. I've been eating [at] some very cool places. I had goat at a Oaxacan place, but I can't remember the name of it. We went to Yeya's, and I ate a lot of street food.
When you do that is there a producer on the show who finds the places, or do you have friends you reach out to?
Bourdain: Both. [Tattoo artist] Mister Cartoon and [director] Estevan Oriol took me to nice lady standing outside of a divey-looking luncheonette during the day. At night the luncheonette is empty, but you can go sit in there, but they move everything out into the street. That was pretty great. I went to Trejo's Tacos last night.
I've got to tell you, I'm a huge Danny Trejo fan. I thought [skeptically], "He's put his name on a taco place? And it's got a healthy dimension to it?" It's sort of at odds with your expectations for Mexican food. [I went to the second location], on Cahuenga and off Sunset. I was fucking shocked, it was really good. They did this uni taco in there, it was like insane. It's just really good.
Uni taco, like a Mexican-style street taco with uni as the meat?
Bourdain: It was uni and pork cracklins. I'm dubious of any hipsterization of a taco, but it was delicious. You know, good is good.
Obviously you're here promoting Balvenie. Where do you go drinking in LA?
Bourdain: I don't do a lot of drinking here. [I go to] El Dorado and Monty's because I have friends at those places. Jumbo's Clown Room I love.
That's probably my favorite bar in LA.
Bourdain: I stay on campus at the Chateau a lot, you know, that way I don't have to stumble far. You drive everywhere here [so you can't drink as much]. I spend a lot of time just driving around LA listening to the radio. Which I really, really enjoy. People complain about the traffic here. I love driving here. The fact is, if I get over-served, now I've got a car problem. If I'm getting seriously in the alcohol, chances are I'm staying on campus.
I know you're a big music guy, too. You just mentioned listening to the radio in LA. What's your LA radio station of choice?
Bourdain: I listen to satellite radio: "Little Steven's Underground Garage." It's perfect for me. They've been playing the Yardbirds in heavy rotation lately for some reason. Old Yardbirds tunes -- that makes me happy. That's going to change the direction of the whole day for me. If I'm just driving along and suddenly an old Yardbirds song comes on I'm like, "Oh, yeah, OK. God likes me."
We kind of missed the point of LA: the spine of [food in] LA was never European.
As somebody who comes here regularly and is really into the food, you must have witnessed from afar a cultural change in LA in the last 10 years in food. Tell me a little bit about how you've related to that happening.
Bourdain: A lot of it was misperception on my part. I think what a lot of us from New York were looking for in LA, wrongly, were fine-dining European restaurants, or restaurants within the European tradition, which LA wasn't particularly strong on 15 years ago, 20 years ago. We kind of missed the point of LA: the spine of LA was never European. It was always Latino and Asian. While that is still the case, you have a lot of really great European-inspired or -based restaurants or cooks and chefs that work within that tradition. Mozza, chi SPACCA, and I happen to think, pound for pound, Trois Mec and Petit Trois are kind of perfect restaurants. They're just amazing. I love what [the chefs] do there. You know Animal, Son of a Gun, arguably at least they're trained in that [European] tradition.
Sure. So you're a big fan of John and Vinny.
Bourdain: Look, those guys are just killing it. Everything they do, they do right. Have they done something bad?
No. Not yet as far as I can tell.
Bourdain: Everywhere they go, every direction they go seems to be some place you want to eat. I'm also a huge Roy Choi fan, I love his restaurants very much. All of them. A-Frame in particular is a favorite of mine. I've been to POT at the Line Hotel. That's another guy who seems to be doing everything right.
I think he's such an important figure in the LA culinary scene for a reason. His cooking is an expression of the food he was surrounded with growing up. In many ways he was one of the first to express that in an unashamed, unembarrassed way, to say, "Look, I'm Korean, yeah. But I grew up surrounded by Mexican food and hot dogs."
There's been this talk of an impending Restaurant Apocalypse in LA -- that it's just unsustainable for this many great restaurants to be open and successful.
Bourdain: If Brooklyn's still open I think LA will survive. We would have reached that point quite some time ago in Brooklyn.
I do think there is reason for concern or debate over the extent of whether you're doing a community like Boyle Heights a favor by opening a really cool restaurant with really great food that attracts people from out of the neighborhood. Yeah, that's good, but what's that doing to rents in the neighborhood? How's that impacting the character of a place? What made it cool in the first place was the people who lived there, and now we're pushing them out. That's the story of a lot of neighborhoods. So I'm conflicted on that.
I feel like anybody who follows food has to be conflicted [about gentrification].
Bourdain: I had some street tacos and a burrito two nights ago really late at night in Boyle Heights. [They were] working out of a flatbed truck, doing tacos al pastor. I thought, "This is great. I hope it lasts forever." It's not available in a fucking Starbucks, you know, [if it opens] across the street.
Yeah, it's tricky. You want to put money into those neighborhoods, but there's this fine line [that happens as a place gets gentrified].
Bourdain​​​​​​​: Yeah, always where's the money go? Who works there? Most importantly... you know the usual progression in New York, for instance, if you look at the Meatpacking District. It was a neighborhood nobody wanted to go. The rents were cheap, it was a lot of warehouses and closed-up meat plants and leather bars. One restaurant went in. One. And it was hot, and everybody went there because it was so off the grid and it's really cool. Now you go there, it's fucking Marc Jacobs on every corner. It doesn't look anything like it used to. It's beyond apocalypse. All the bad actors are there. It's exactly what I don't want in my neighborhood.
How do you feel about LA finally getting recognition as a major food city? I don't know if you saw the Cassia review in The New York Times, the first outside-of-New York starred review the paper's ever done, for a restaurant in Santa Monica.
Bourdain: I hate rating a city. [LA is] clearly becoming so much more interesting every year. That's obvious, that is clear. It's certainly thrilling to me to come out here. I always look forward to going to these places. I think it's a cultural thing. Demographics are changing. I think also certain chefs led the way and just proved you don't have to cook down to people in fine-dining situations.
Sign up here for our daily LA email and be the first to get all the food/drink/fun Los Angeles has to offer.