Want to eat a fried chicken and waffle cone in LA this weekend? Yeah you do.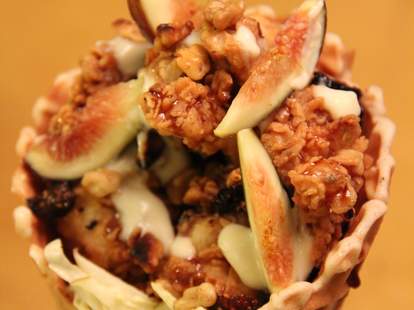 Because God is mighty and powerful and created both fried chicken and waffle cone, He has decreed that this weekend thou shalt eat said cone stuffed with said fried chicken in Los Angeles for the first time ever. Don't be smote. Here's what's up with them: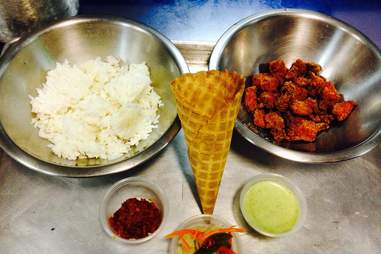 Carb & Nation
1. They'll be served for one night only in LA
That night is this Saturday (THIS. SATURDAY.), and the place is
Tested.LA
, a Test Kitchen-esque pop-up space in Glassell Park.
Carb & Nation
Your NY friends are probably gonna be all like, "I got fried chicken and waffle cones before you neener-neener-neener", but you can be all like, "yeah, but these dudes from
Carb & Nation
in LA PERFECTED THEM, so
super
neener-neener-neener!!!"
Krystle Klein
3. There are two versions: American and Indonesian
The American version's a cone stuffed w/ fried chicken, roasted sweet potatoes, apple coleslaw with lemon-coriander dressing, fig syrup, and goat cheese fondue; the Indonesian guy's got fried chicken (same!), coconut rice, pickled vegetables, coconut-kaffir syrup, and homemade sambal chili paste.
Carb & Nation
4. There are no reservations, and it's first come, first served
And they're serving until they run out. And they're opening at 5pm.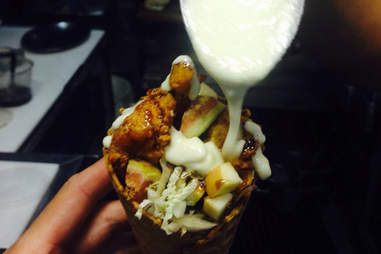 Carb & Nation
5. This maaaaaay not be the last time they do this
But it also... may. So, you know, take your chances if you want. Just don't say we didn't warn you.
Sign up here for our daily LA email and be the first to get all the food/drink/fun Los Angeles has to offer.
Jeff Miller is Thrillist LA's Senior City Editor and thinks everything should be served in a waffle cone from now on. He's at @jeffmillerla on Instagram and @ThrillistLA on Twitter.