The Best LA BBQ Joint for Every Meat
You want LA's best BBQ? You go to one of LA's best BBQ joints. You want LA's best brisket, though? You don't just go to one of LA's best BBQ joints. No, you go to Bludso's BBQ. Pulled pork? That's Bigmista's. Ribs? Robert Earl's. You see, if you're looking for a specific BBQ thing, you're gonna need a guide to specific BBQ places that absolutely crush whatever specific BBQ thing you're looking for.
From cornbread to tri-tip, here's exactly that.
Compton
Kevin Bludso is a Texas native who comes from a long line of pitmasters. At his Compton restaurant, which dates back to 2008, the proud Dallas Cowboys fan burns red oak to fuel brisket, which is tender, caramelized at the edges, and buried in a mudslide of dark, tangy barbecue sauce. Temper the brisket's richness with some greens or coleslaw. Or don't. It's your life.

Leimert Park
Louisiana-born Foster Phillips started smoking meat in high school and opened his first Phillips Bar-B-Que in Leimert Park back in 1980. Now Phillips' three locations (and other area BBQ joints) source beef links from Crenshaw institution Pete's Louisiana Style Hot Links. The coarse sausage is well spiced, flecked with parsley flakes, and comes covered in lip-stinging hot sauce. The accompanying white bread does a great job at sopping up the sauce, and also doubles as a utensil. A delicious, delicious utensil.
Long Beach
Pitmaster Neil "Bigmista" Strawder and his wife Phyllis built on farmers' market success by opening a sammich shop in Northeast Long Beach. Oak smoke lavishes peppery pulled pork (best heaped on an open-faced bun) at Bigmista's, which also offers a B.A.P.O.M. (Big Ass Pile of Meat) if you're looking to feed your office. Order spicy sauce and Phyllis will say, "Drop it like it's hot." And you should.
Long Beach
Since 2013, Robert Earl, his wife, and son have buffeted North Long Beach with pecan wood smoke, which billows from the custom barrel set-up in back. This storefront, which has red- and white-checked tablecloths, wagon wheels, and model cars on the wall, has earned a fast reputation for serious meat. Their pork spare ribs are lacquered with sauce and cook for four to five hours until they're juicy and carry a satisfying chew. Request spicy sauce, which has good pop, but won't stun your taste buds.
Studio City
Santa Maria-style barbecue isn't technically smoked, but the beef can still be outstanding, especially in Timothy Hollingsworth's hands. The French Laundry alum teamed with restaurateur Bill Chait and fellow Thomas Keller protégée Rory Herrmann on this stylish Studio City restaurant. At lunch, they serve tri-tip that's marinated in olive oil, garlic, and balsamic, all grilled over red oak, and sliced thin. The rosy meat joins crunchy romaine lettuce, tangy pico de gallo, and rosemary aioli on toasted, open-faced sourdough.
Mid-City
Jay Nelson has run twin windows on West Adams since 1993. On your left: burgers. On your right: BBQ. Take your meaty haul to wood picnic tables on a fenced-in gravel patio, especially if that haul includes the chicken, which is blasted with either oak or almond wood smoke, blanketed with mild or hot sauce spiked with habanero, and served with a choice of white or wheat bread, and potato salad or BBQ beans. Nelson encourages customers to "smoke wood in the 'hood."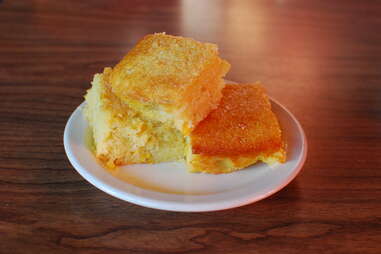 Historic Filipinotown
Johneric Concordia and his crew got the "backyard boogie" rolling with neighborhood parties and catering gigs and now run a thriving Filipino-inspired barbecue spot that's appeared on Diners, Drive-ins and Dives. Chicken, pork ribs, and beef all pop thanks to alder and pecan wood. Whatever you get though, just make sure you get it with an order (or five) of cornbread bibingka -- a sweet rice cake studded with corn kernels. Pairs well with any meat/itself.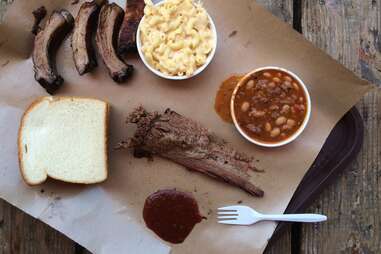 Van Nuys
Ryan Gromfin and partner Michael Gans opened this Texas-style barbecue haunt with a bright orange awning near Van Nuys car dealerships in 2010. People order from blackboard menus and fill picnic tables with heaps of oak-smoked 'cue, along with some interesting sides. Pit beans repurpose brisket scraps to the best effect, adding smoke to the sweetness and tang of carrot and tomato. And yes, Shiner Bock is on tap to tame the spice.
Long Beach
Gabe Gordon takes craft beer so seriously that he built a custom control system that allows Beachwood staffers to regulate carbonation or nitrogen levels, temperature, and pressure for all 36 taps in downtown Long Beach. Better yet, many of these taps pour brewmaster Julian Shrago's vaunted house beers, along with hard-to-find guest kegs. Beachwood may be "Where the Fork Meets the Pork," but it's also a craft beer mecca.
Downtown
Grand Central Market is red hot, but Horse Thief BBQ owners Wade McElroy and Russell Malixi allow Angelenos to cool down at picnic tables under shade from trees and umbrellas. The patio has views of Bunker Hill's funicular, which is rarely in action, and of towering skyscrapers. Kicking Horse, the character from Larry McMurtry's novel Comanche Moon who inspired Horse Thief's name, wouldn't know what to make of his surroundings, though he'd probably recognize some of the Texas-inspired food.
Hollywood
Comfort food mavens Jason Bernstein and James Starr already served some of the best ice cream in the city courtesy of Scoops flavor wizard Tai Kim. Now they've brought pie champ Nicole Rucker into the sweet fold. She's dialed in the peach cobbler and added a knockout chess pie. This Southern classic touts dark chocolate custard crafted with Compartes 73% cocoa and a delectable crust. Each slab arrives warm, topped with a scoop of sweet potato burnt sugar ice cream, as all things should be.

Fairfax
The new, industrial-feeling restaurant from the Hatfield/Sycamore Kitchen couple bills itself as a churrasco, but its menu is pretty far astray from the red-light/green-light meat-centric mentality of most Brazilian BBQs -- except for the short rib. Astonishingly billed as a side, this dinosaur-sized dripping bone-in meat monster is possibly the best smoked dish of any kind in town; each bite is a mouth-melting morsel that's a definitive reminder of why vegetarians are totally, 100% insane.
Sign up here for our daily LA email and be the first to get all the food/drink/fun Los Angeles has to offer.
Joshua Lurie is the LA-based founder of Food GPS, a company that showcases the best-tasting food and drink through online coverage and by producing unique culinary events. Follow him on Instagram and Twitter.