Los Angeles If you haven't been to IKEA -- er, Burbank -- in a while, you're in for a treat! It turns out our neighbors over the hill have more reasons to justify a visit than Swedish meatballs and (another) taping of Ellen. But don't take our word for it. Or, actually, do because we've put together 12 amazing spots you absolutely have to visit. Chili cheese tots await!
222 S. Glenoaks Blvd Is it tapas? Is it sushi? Maybe we'll never know, but with gems like Maine lobster and truffle croquettes, who needs a label? This intimate, lively spot might also be the best place to go on a date -- where else can you take that special someone around the world in eight plates? Make a reservation, and try the oysters! Actually, try everything. More Stuff You Will Like
Recommended Video
This Budget-Friendly Brunch Dinner Party Takes Breakfast for Dinner to the Next Level
  1710 W. Magnolia Blvd Because sometimes it's Friday night, and all you really want is to go somewhere with a to-die-for sausage menu and a beer list that runs deep. If that weren't enough, Tony's also serves up some of the best vegan options of any of the restaurants on this list -- including (but not limited to) Becky's Bad Ass Buffalo Potatoes. Do yourself a favor and order those.
  332 S Glenoaks Blvd While this place's pasta, a la carte, and sandwich menu make it more than just a pizza spot, it's the still the pie that Rico's is best known for. And for good reason -- the crust is fantastic, the toppings are generous, and the prices are low. It's also home to the Ajarski Khachapuri, aka the "breakfast pizza," available in plain and smoked salmon varieties. Seriously.
  449 S Glenoaks Blvd Good Thai food doesn't exist outside of Thai Town, you say? Please meet our new friend Summer Buffalo: while the menu is contained and focused (only branching out from the classics to include three different styles of wings), the flavors are bold and true. The beef panang tastes even better than it looks, which is like finding out that cute guy at work also likes puppies and has been asking about you. Continue Reading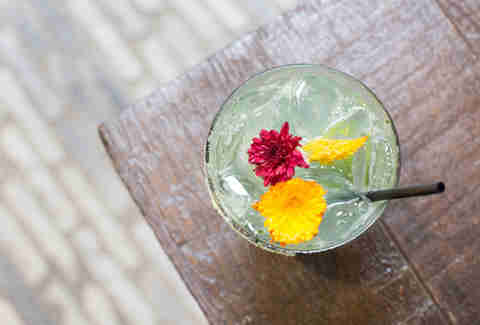 121 N San Fernando Blvd Honestly, Granville could have fit any number of categories in this list -- its dinner menu is stellar, and the fish is always great -- but if we could only come for one meal a day, it would be brunch. With an emphasis on fresh and organic ingredients, the food's as delicious as it is satisfying. If you can't find something to love on this menu, honestly, there's something wrong with you.
  109 N Pass Ave Maybe you're visiting the studios (which it's right beside), or maybe you're just craving a sandwich stuffed with enough sliced meat you could buy it by the pound -- either way you're in luck. The breakfast selection (try the hot black forest ham & cheese bagel) means they've got you covered all day, too; wash it down with some Groundwork Coffee, then
get back to set already, kid
.
  4013 W Riverside Dr If, like us, you know this cute little business from its WeHo location, you know what you're in store for: incredible (Stumptown) coffee and a simple but delicious menu of sandwiches and salads. Really, though, the reason you'll come back is the pie. From the staples to the constantly innovative specials, you can try them all at "cutie pie" level ($2.50 samplers, and guilt free) until you find the one you love. Or, who are we kidding -- the "ones."
  144 N. San Fernando Blvd If you haven't yet tried the poké phenomenon, it's time. Fresh from Hawaii (and the sea), feed your fish cravings with one of the signature bowls; or, if you're in the mood for something more traditional, there's a substantial sushi roll list. And if that wasn't enough, throw in happy hour prices all day on the best sellers, and get in the car already.
Best sausage and dogs: Dog Haus
  3817 West Olive Avenue The sausages here are so good you'll forget that you usually only eat hot dogs after 20 beers with your friends. The menu is playful -- look for the Thai currywurst alongside the classics Brats -- but the flavors are always big and true. And
should
you be dropping in after those 20 beers, there are only three other words you need: "Chilli Cheese Tots."
  3911 W Riverside Dr Not to be confused with its sister restaurant nearby on Orange Grove Ave,
this
Don Cuco's is the kind of dimly lit haven LA does so well. With deep booths and even deeper pours on top-shelf margaritas, it's Mexico in the style of Tarantino: a little old school, a little eclectic, and always a good time... just without the body count.
Best spot to work and caffeinate: Simply Coffee
  940 N Lima St Because everyone should have a place where they can get some work done while eating pastries and drinking stupid-good coffee, there's Simply Coffee. There's indoor/outdoor seating, the atmosphere is friendly and chill, but most of all, it's the home of the STUMPTOWN NITRO COLD BREW ON TAP. You read that right.
  326 N Victory Blvd Equal parts "Yogurtland DIY" and "Brazilian OMG," Acai Jungle Bowls Café is serving up bowls of the frozen berry with superfood toppings of your choice. Think cacao, mango, bee pollen, goji -- basically everything you should've eaten instead of going to Dog Haus. Consider this your act of penitence and be glad, because contrition never tasted so much like dessert.
Sign up here for our daily LA email and be the first to get all the food/drink/fun Los Angeles has to offer.
Trent Atkinson is an Australian born screenwriter whose great, perhaps too great, appreciation of food lead him to LA and you.  Find him feigning cool on Instagram @sweatnbutter