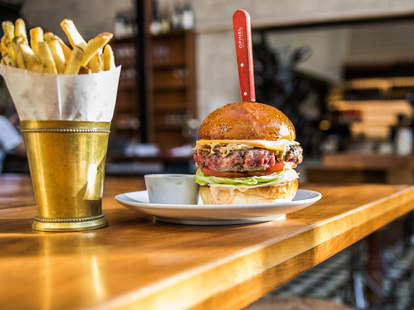 The Best Burgers in Los Angeles, According to Our National Burger Critic
Before Burger Quest, To Live and Die in LA was merely a song I liked very much and not something I planned on doing. But then I decided to eat nine burgers in less than 24 hours in the City of Handsome People With Unnaturally Large Heads.
Despite its knocks for being a place where people supposedly hoard dandelion greens and pay strangers for the sexy allure of merely watching them eat fatty foods, Los Angeles is a burger city. There truly is a culture of old- and new-school places that take the burger seriously, and it was a pleasure to discover them. With help from our Los Angeles Emeritus Editor (and nascent Travel Channel star) Jeff Miller, I was able to narrow my focus down to nine of the best burgers in the LA area, and I enlisted fellow journalist and relatively new LA transplant John Gonzalez to eat them with me. Ex-Thrillister Alyssa Carroll also came for a few. As did my brother. And John's wife, NFL Network reporter Colleen Wolfe. And I think we might've seen Ed Begley Jr. too, but he didn't end up sitting with us.
In case you're new to my rankings, here are some guidelines: If the restaurant had multiple burgers, I tried to order its signature burger, or if that was too outlandish and stunt-y, the closest to a classic cheeseburger. If it came with options, I always picked American cheese and grilled onions. If you think I missed a place, please sit in the audience of Family Feud and shout the name of it at Steve Harvey. But until then, here is my ranking of the nine best burgers in Los Angeles.
Dustin Downing/Thrillist
9. Double cheeseburger
Did Gonz and I play a good 45 minutes of that amazing game Tapper, where you're forced to slide beers at angry drinkers until they get close enough to kill you? Yes. Did the double burger from Button Mash look like an amazing Cali-style Double Double? Absolutely. Was it overcooked with a soggy bottom bun and a slightly fishy aftertaste? Unfortunately. Am I still confused by said aftertaste? Yes. Should I stop posing annoying rhetorical questions? Probably not.

But yeah, I'm not willing to totally write-off Button Mash as many people love it, but this was a missed opportunity for sure.
Dustin Downing/Thrillist
8. Dry-aged beef burger
Places styled like République are the future, friends. Combination bakery, coffee bar, juice shop, bar/restaurant with a fast-casual counter-service format, an upscale aesthetic, and communal seating, République gives you an excuse to visit it at all hours, and it was likely the only burger place I went to in the country where I paired it with some bougie green juice.

As for the burger itself, for almost every great thing about it, there was a counter argument to be made. The beef itself, a combination of grass-fed ground chuck and steak trimmings, was juicy and tangy, but had a surprisingly tight grind that almost made it snappy, and got considerably more dry once we broke into it as the juice poured out. The poppy seed brioche bun was very fresh (baked in-house) but brioche tends to be too sweet and flaky for me. The tang of the pickles in the Thousand Island dressing balanced the creaminess of the American cheese quite nicely. My final take: The République burger is indeed a good burger, just not an overwhelmingly great one.
Dustin Downing/Thrillist
7. World Famous Hinano Cheeseburger
Going into this, Gonz raved about the burger. "It's my favorite burger in LA, hands down," he said. "You're going to love it," he said, and then he started listing names of random people who also loved the burger, possibly including Scott Caan's cousins. I definitely liked the scene. A Venice beach dive bar, it seemed like half the people in there at 11pm on a Wednesday were over 50 and wearing tank tops.

The burger at Hinano is damn good. There is a great griddle on the meat, which is thin and salty and well-cooked. The cheese blends in nicely with the salty meat and mayo and gets its balance from the bite of the red onion and some relish. The sesame seed egg bun is well-toasted, though the bottom gets destroyed by the sheer weight of all the condiments. It's an extremely solid dive bar burger, but it lacks any particular elevating factor to push it higher on the list. Apologies to the Caan cousins.
Cole Saladino/Thrillist
6. The Burger
With the burger at Golden State, you get one side. I'm going to be honest with you: I got cucumber salad. It was pretty good.

OK, whew, now that I've confessed my sins, let's talk about the actual burger. The Harris Ranch beef was perfectly cooked with a relatively loose grind. Not a ton of char on the meat, but enough to give it some grit. The Cheddar melted well, and the creaminess of the aioli was balanced by the sugars in the ketchup. The arugula, normally a frowned-upon burger topping, actually gave it a needed peppery element. The bun was nearly perfectly toasted. The only issue, really, was the bacon. The burger didn't need it! The elements were really well-balanced, and it wasn't crying out for extra bells and whistles. But when the bacon (good applewood smoked bacon at that!) got involved, the elements didn't pair up as well. The saltiness was elevated past the balance of the arugula. The pork flavor took away from the beefiness. I don't think I've ever said that before, but the bacon threw it slightly out of whack.

Now keep in mind, these are minor quibbles. The burger on the whole was really well executed, but having enough confidence in the meat and structure to do the trick without needing a pork garnish would probably have put this in the top five. Look at me, eating cucumber salad and telling you not to eat bacon. Life is complicated.
Cole Saladino/Thrillist
5. Steakburger
Before you yell at me for not getting the Hickory Burger, know this: I did try the Hickory Burger too! It was very good. I like tangy sauces. But I reasoned that the Steakburger was closer to the conventional cheeseburger, and so this is the one I chose to review.

But before I do, let me just say that if I could just go to restaurants like Apple Pan for the rest of my life, I would die happy. This is the exact type of restaurant I should've gotten married in. Counter seats and drinks in those paper cones, and burgers wrapped in wax paper and stacks of cheese as tall as my daughter. It's so glorious. And so is the burger. The bun is toasty and basic, one of the standard Cali burger buns. The burger is thicker than I was expecting but not overly thick as to be burdensome, and has a great crust and a juicy, salty interior. The Cheddar doesn't have the same meltability as American, but it does the job. The only issue really is that the combination of the sweet pickle relish and hamburger dill pickles, alongside basically a wedge salad of lettuce, makes the bites slightly uneven, so at times you'd get a great mix of meat and cheese and mayo and all of those things, while other times you'd basically get salad dressing in sweet relish. That was really the only issue. Everything else about the place is beyond lovely.
Dustin Downing/Thrillist
4. Cheese burger with American and grilled onions
Despite Gonz's claims that Hinano was his favorite burger, I do believe that the cheese (space) burger at Cassell's was the winner in his mind. Watching him bite into it, and seeing his normally hostile eyes light up was a rare moment of unadulterated joy in our 12 hours together. And in so many ways, I agreed with him. It had the most flavorful cheese combination, a squishy, buttery bun, pickles and Thousand Island for acid balance, grilled onions with just the right caramelization. It was so, so damn good in so many ways. And yet it was overcooked. It was way overcooked, in fact, and that initial juiciness departed after the second bite. There was no pink in the meat. Gonz, playing PR flack for Cassell's, made up a number of excuses and conspiracy theories as to why this happened, even, at one point, trying to blame it on me ("maybe you didn't ask for medium?") but by the end even he had to admit defeat. Nevertheless, a perfectly cooked Cassell's burger, with American and grilled onions, is definitely worth traveling for.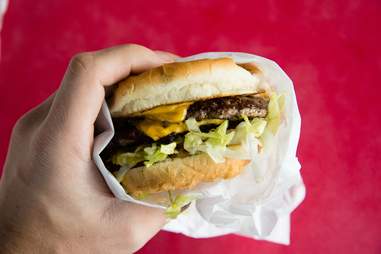 Cole Saladino/Thrillist
3. Double cheese with everything, onions grilled
This place is not close to anything. My only familiarity with Van Nuys before going to Bill's was the fact that everyone always mentioned it as the location where adult movies are filmed. Or where they used to be filmed before the industry really got niche and fractured, or something. Either way, it's not exactly a place you stumble upon.

But that is, of course, a tragedy. Bill's is a legend, as much for the burger as for its owner Bill Elwell, who is sarcastic and grumpy in the way that all great old people should be. If you've spent any time in Southern California, you'll recognize the style of the burger, the thin patty with the thick iceberg lettuce, the yellow American, and tomato and onion. The griddle on the patties is nearly perfect, thin and brown and buttery, and the meat is salty and fresh, and blends well with the cheese and mayo. The grilled onions and acid from the pickles balance everything well, and the bun never gets in the way. It is nearly a perfect version of the quintessential California burger, and absolutely worth a trip up to the former adult video capital of the world. The only problem: One other place in LA does that same style of burger even better.
2. The Burger
On the surface, nothing about this burger appealed to me. The last time I had it was many years ago, during the height of its fame, and -- to be honest -- I don't remember the burger as much as the scene, and the scene was horrible. Too crowded, too much attitude. So when I came back here, I did so begrudgingly. "There is no way this burger still stands up," I told Gonz on our way. "I'm kind of excited to dislike it."

"You have issues," Gonz told me, and then we spent the rest of the ride in silence, as he scrolled through pictures of his cat. The scene when we got to FO was nothing like I remembered. It was kind of crowded, but not packed. We found a table rather easily. We ordered delicious beers and the burgers. My friend Alyssa told an anecdote about a bar in Marblehead, MA using a strong Boston accent. My brother showed up and told us that he'd be in the desert by himself for awhile. Gonz posted pictures of his cat using different filters. Point being, things went pretty well. And then the burger came.

Now if you're not already familiar, the Father's Office burger is controversial. Outside of Daniel Boulud's burger, it was one of the original upscale burgers to get national attention 16 or 17 years ago. Burger purists like myself are supposed to disdain FO's use of blue cheese and arugula, the oval shaped bun, the lack of modifications. But I, friends, cannot speak ill of this burger. It is fantastic. The dry-aged chuck is cooked to juicy perfection, but held together in a loose grind. Those caramelized onions give it that French onion soup taste, which combines with the peppery arugula, the brushed garlic butter on the bun, and the bite of the blue cheese to intensify everything else you're experiencing. It's almost like the entire eating experience is ratcheted up to 100, like you're eating a burger on flavor HGH. It's not a burger you'd eat everyday, but it's as well composed as any burger I've had in America. 17 years after opening, Father's Office is still head and shoulders above most of the places that've tried to ape its formula.
Cole Saladino/Thrillist
1. Hamburger with American
I've been to a couple of Rose Bowls (nbd) and so Pasadena is somewhat familiar to me. It has an older feel than LA proper, and that feeling is certainly on display at Pie 'n Burger. The entire place looks like it was created by a set design team to evoke a certain type of nostalgia. Nearly the entire restaurant is a low bar built like a fence around the kitchen. A white and blue sign lists sandwiches above an impressive array of home baked pies, which sit in a display case at the far end of the bar. I really wanted to get boysenberry pie. Gonz did not. Things were tense.

Luckily, the burger calmed me down. In the typical Cali fashion, it was a thin patty. There were no real tricks to this thing. Just dill pickles, Thousand Island dressing, crisp lettuce, and tomato. And yet, the execution on this random rainy Wednesday was so perfect as to make me weepy. The bun was toasted and buttery. The meat had such a loose grind that it was basically held together by the American cheese. The pickles and dressing gave it an acid tang that complemented the browned salty meat and melded together in a nearly indescribable way. Perfect diner burgers are a thing of beauty, and Pie 'n Burger's is as close to diner perfection as I've seen.

I'm still a little sad I didn't get the pie though.
Sign up here for our daily LA email and be the first to get all the food/drink/fun Los Angeles has to offer.
Kevin Alexander is Thrillist's National Writer-at-Large and chief burger critic. Tell him about your favorite pies @KAlexander03.