May means different things to different people: Cinco de Mayo to some, the flowers that the non-existent April showers are supposed to bring to others, and, uh, National Burger Month to everyone. Yep: this is the month of the burger, which means that there are a ton of LA restaurants doing specials and crazy burgers all month -- and we're gonna tell you about 'em: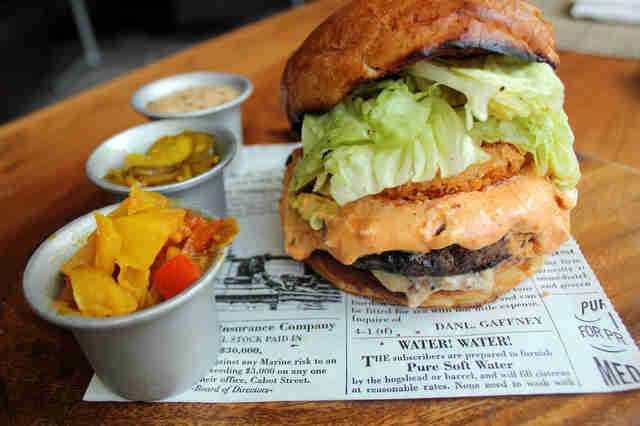 BOA-LT
BOA Steakhouse (address and info)
West Hollywood (& Santa Monica)
The fancy steakhouse is putting its own twist on the classic American BLT -- a prime beef burger, topped with bacon mayonnaise, house-made smoked pimiento cheese, fried green tomato, and lettuce on a brioche bun.

7 Layer burger
Hopdoddy Burger Bar (address and info)
El Segundo (& other locations)
You might need to loosen your belt a few notches after scarfing down this 7 Layer burger: layer after layer of refried black beans, pico de gallo, tortilla strips, sour cream, and guacamole as well as a ground beef patty piled Mexican dip-style on a freshly baked egg bun.
The Maron burger
The Oinkster (address and info)
Eagle Rock (& Hollywood)
WTF phenom Marc Maron teamed with this beloved sandwich spot to create this May-only burger, which is full of flavor with chipotle aioli, jalapeños, and New Mexico green chile relish. Wash it down with the horchata milkshake -- also limited to the month.
Banh Mi burger
Plan Check Kitchen + Bar (address and info)
Downtown (& other locations)
Plan Check's celebrating the month with a banh mi burger -- its signature patty is topped with house-ground heritage pork, diced pork pate, Sriracha mayo, cucumber, onion, jalapeño, pickled daikon, cilantro, and carrots.

Get a burger, give a burger
Umami burger (address and info)
Los Feliz (& other locations)
Not only is there an entire month dedicated to burgers, but on May 28th it's also National Hamburger Day, and Umami's using the day to help out -- buy a burger and you'll either get a free burger yourself, or you can donate the cost to Meals on Wheels. Which is probably what you should do. But two burgers sound great too.
Farmhouse burger
Del Frisco's Grille (address and info)
Santa Monica
The Santa Monica staple shines a spotlight on its burgers for Burger Month and this year it's going big: 1/2lb of wagyu beef and pulled pork sandwiched between your choice of bun: brioche or Texas toast.
The Brujeria Burg
Grill 'Em All (address and info)
Alhambra
Available just this month at this always-insane burger spot, The Brujeria Burg packs in a ton of flavor with chorizo chilaquiles, jalapeños, Cotija cheese, cream cheese (!!!), and a fried egg all on a 1/2lb beef patty.
K burger
K Ramen. Burger. Beer. (address and info)
Glendale
The sorta-secret new pop-up concept upstairs from Katsuya at The Americana is offering a full 50% off its signature burger for the month of May. It's topped with caramelized onions, tomato, American cheese, and a house-made spicy, creamy sauce that'd normally be worth the full price. Boom.

Sign up here for our daily LA email and be the first to get all the food/drink/fun Los Angeles has to offer.

Leila Najafi is a compulsive planner and FOMO sufferer. She believes a fried egg makes everything better, including her burgers. Follow her on Twitter and Instagram at @leilanajafi.