The 22 Best Things to Eat at Dodger Stadium, Ranked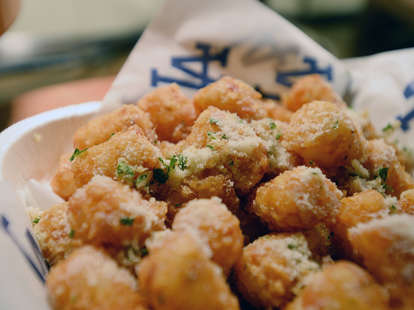 Our boys in blue are back, AND THIS TIME, THEY'RE HERE TO WIN (please win some games, guys). Last year, Dodger Stadium sold over 5 million hot dogs, and for the 2017 season, that number's expected to jump to 7 million -- but as we all know, there's a lot more to eat at Dodger Stadium than just meat in tube form, and even more if you explore nearby. With that in mind, here are 22 of the best DS ballpark treats, ranked.
22. Funnel cake
Trolley Treats, Field 46
Look, it's something we all know but don't really want to admit -- funnel cake is pretty gross. It's a good type of gross though, because sometimes on a nice spring day, with the breeze on your face and the sun on your back, you just want to drown yourself in fried dough topped with powdered sugar, chocolate, and whipped cream.
21. Lasorda's Pasta Platter
Tommy Lasorda's Trattoria, Right Field Plaza
Lasorda's Pasta Platter has never been ordered on purpose. This is what you get when you look over the menu at Tommy Lasorda's Trattoria and are too nervous to get a chicken Parm sandwich or meatball sandwich, but you don't want to get a hot dog since you're determined to eat something else this time, and when you get to the register the employee asks what you want and you nervously shout, "PASTA PLATTER." Somehow, though, the penne, marinara, meatballs, and Parmesan cheese end up being better than you ever expected, and everything is right with the world.
20. Pulled pork sandwich
Think Blue BBQ, Left Field Plaza
If you're in dire need of a barbecue fix, give Think Blue BBQ a shot over in the Left Field Pavilion. The shredded pork, onions, and pickles come coated in an absurd amount of BBQ sauce on a potato bun, all of which you need in your life. This is one of those situations where you'll want loads of napkins on standby.
19. Upgraded churros
Trolley Treats, Field 46
You already knew you could get churros at Dodger Stadium, but did you know you could get next-level, super-weird, upgraded churros? The Double Header is served with "blue" ice cream (that's the flavor. Blue.) and doesn't make a lot of sense, and the glazed churro is drizzled with chocolate and covered in blue & white sprinkles, which makes even less sense. But churros are delicious, so really, who cares?
18. LA Extreme Bacon Dog
Extreme Loaded Dogs, Field 48
There's something about not being full of drinks outside a bar at 2am that makes a dirty dog not taste as good as you want it to. Nevertheless, the LA Extreme Bacon Dog is a perfect way to pig out AND pay homage to LA's street-food scene. Extreme Loaded Dogs serves it the classic way -- wrapped in bacon and covered in grilled peppers & onions, mustard, and mayo. You may want to be a few beers deep before you tackle one.
17. Chick-N-Tots
Lots of Tots, Field 8
Tots are a winner; we all know this. But you know what else is a winner? House-marinated & golden-fried chicken bites, tossed in Buffalo sauce and blue cheese, which look like tots, have the crunch of tots, but also have that Buffalo chicken goodness you're craving now that you read this sentence.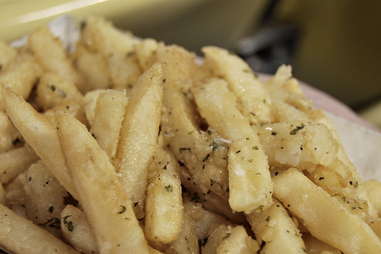 16. Garlic fries
Like, everywhere
You know how garlic fries go. They''e not the best in the universe, but at the end of the day, garlic and fries are two miracles of human ingenuity, so how bad can they ever be? Plus, you can find them every 10ft at Dodger Stadium.
15. Italian sausage
Executive Club Level Bar, Club 235
Probably the most different of all the park's multifarious meat tubes, the Italian is exactly what you're expecting: juicy Italian beef with grilled peppers and onions. Sure, it's nice to go outside the box and get something less obvious, but the real question is: Can you live with yourself for going to Dodger Stadium without ordering a Dodger Dog?
14. Base Bowls
Base Bowls, Field 45
Dodger Stadium has apparently caught on to how trendy it is to eat food out of bowls, so new for the 2017 season is a lineup of "Base Bowls" (go on, say it aloud). You can choose between a Hawaiian poke bowl (because there's apparently not enough poke in LA), a teriyaki chicken bowl, a Vietnamese rice bowl, and a kalua pork bowl. And pssst, the place sells Hi-Chews too.
13. Frito Pie Dog
Extreme Loaded Dogs, Field 48
Oh, did you not know about these? Yep, they're a thing. You love hot dogs. You love Frito pie. What is there even to think about?
12. Pulled Pork Dog
King's Hawaiian Grill, Left Field Plaza
The brand-new King's Hawaiian Grill is ready to rock for the 2017 season and is dishing up, among other things, a hot dog topped with heaps of BBQ smoked pulled pork. If you're sick of Think Blue BBQ, this is where you want to be. Downside: It's pretty difficult to eat cleanly. Upside: It's a damn hot dog topped with pulled pork.
11. Pizza
Tommy Lasorda's Trattoria & Brooklyn Dodger Pizza, Right Field Plaza & Lodge 166
Here's the thing about pizza: It's good even when it's not that great. This may not be Bestia-level pizza, but it's one of LA's most legendary ballpark snacks, and when push comes to shove, it's essentially impossible to top a greasy slice. You know what you're getting into here, so why not embrace it?
10. Cannoli
Tommy Lasorda's Trattoria, Right Field Plaza
Why are these so good? They're just your basic, run-of-the-mill cannoli, yet that rich, ricotta-y filling leaves you salivating for more. It truly doesn't make any sense -- order 15 of them just to be sure.
9. Brooklyn Dog
Brooklyn Dodger Dogs, Lodge 166
A bit different than your standard D-Dog, the Brooklyn Dog has a snappier casing, plus a little bit of that East Coast-style heat. The Brooklyn Dog is the perfect throwback to the Blue Crew's New York days, and a solid option if you've already eaten your weight in the classic dogs.
8. Carne asada fries
LA Taqueria, Reserve 17
This meat-topped fry basket has always been a hit, as well as some sort of sleeper-agent snack that nobody seems to know about until you see the family in front of you chowing down and then suddenly start to panic because you just bought regular fries without knowing they even sold carne asada fries, and now you think everybody is staring at you, including the players on the field, because to make a mistake this huge you must be some sort of colossal idiot who isn't really worthy of even being at Dodger Stadium. Or something like that.
7. Dodger Burger
Bud & Burgers, Field 47
One of the biggest hits (GET IT?!?) of the 2017 season is the Dodger Burger -- a burger with a grilled Dodger Dog slices, caramelized onions, and jalapeño poppers, if your brain can even fathom that amount of tastinss. If it seems like a big undertaking, that's because it is, but you can't chicken out just because you've eaten 16 hot dogs already. Loosen that belt and dig in.
6. Doyer Dog
Extreme Loaded Dogs, Field 48
"Let's combine hot dogs and nachos into one dish!" said some junk-food genius, probably. The Doyer Dog is just that: a hot dog topped with nacho cheese, chili, pickled jalapeños, and pico de gallo. Is it extremely difficult to eat? Yes. Is it extremely delicious to eat? Also yes.
5. Meatball sandwich
Tommy Lasorda's Trattoria, Right Field Plaza
Everything else that comes out of Lasorda's Trattoria ranges from OK, to just fine, to pretty good, but for some reason the meatballs are always top-tier. You can taste the hand-formed goodness when you bite through that maybe-stale bread, sweet marinara, and Parmesan cheese. We're sure Tommy will take the secret of whatever makes them so good to his grave.
4. Shock Top brat
Extreme Loaded Dogs, Field 48
New this year is a spicy pork bratwurst cooked in Shock Top beer and served with caramelized onions and spicy brown mustard on a warm bun. Even those not of the hefeweizen persuasion will love this bad boy -- and of course, you can always wash it down with whatever beer you'd like.
3. Elote
Think Blue BBQ, Left Field Plaza
If you don't like elote... how have you managed to live in LA this long? The Mexican treat has age-old ties to LA's street-food scene, so it only makes sense that it's a Dodger Stadium staple as well. This might be the one food in the park that tastes exactly the same inside as it does out in the real world: grilled corn covered in cotija cheese, lime, mayo, and chili powder. We won't judge if you skip the mayo.
2. Batting helmet full of nachos
LA Taqueria Express, Field 10 & Loge 167
You're not a true Dodger fan until you've looked into the eye of the beast: the batting helmet full of nachos. Science says that carne asada, refried beans, nacho cheese, pico de gallo, pickled jalapeños, and sour cream on top of crispy tortilla chips taste much, much better when they are served lukewarm in a commemorative souvenir batting helmet. Just resist the urge to wear it when you're done.
1. Dodger Dog
Every 10ft
Honestly, how could anything ever defeat the Dodger Dog? The iconic doggie has defined the Dodger Stadium experience for decades, with millions sold every single year. Sure, the park is filled with hot dogs all drenched in toppings (as indicated above), but the beauty of a true Dodger Dog is the simplicity -- you don't really need all those extra goodies, because it's already perfect on its own. Plus, they're available at the brand-new King's Hawaiian Grill. One hot dog to rule them all.
Sign up here for our daily LA email and be the first to get all the food/drink/fun Los Angeles has to offer.