For a city that's often stereotyped as quinoa's adopted homeland, LA's got itself a sweet, sweet... sweets scene. Case in point: donuts. East Coasters will bemoan our lack of their overrated-but-beloved Dunkin', but we're too busy stuffing ourselves with the work of numerous killer, small-time donuteers to pay them any mind. Here's where you can cop (get it?!) some of the best:
SK's Donuts & Croissant
Mid-Wilshire
What You're Getting: Glazed Old-Fashioned
This old-school, strip-mall 'nut-shop's been in biz long enough for regulars to remember when the 30-something dude behind the counter was a little baby and his DAD was the 30-something dude behind the counter, which means it's the right spot to go classic. They still make donuts throughout the day, so you can't go wrong with whatever's fresh, but who doesn't love an Old-Fashioned?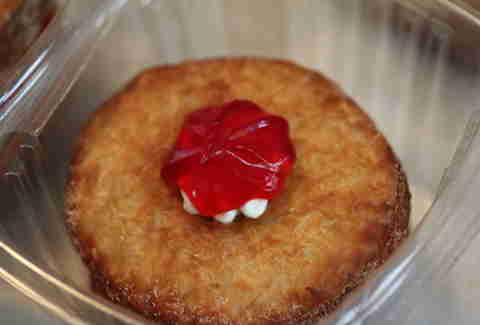 DK's Donuts
Santa Monica
What You're Getting: DKronuts
Another old-school spot with a similar name, but they've upped their new-school cred with DKronuts, the donut/croissant hybrid that they're making into sandwiches stuffed with everything from Nutella to blueberries... which are a superfood, so basically these are good for you.
Umamicatessen
Downtown
What You're Getting: Tres Leches donut
This kinda-fancy creation at Downtown's multi-stationed spot's an ultra-fresh, super-soft number that takes a solid 5min of prep to soak up its namesake milk sauce, giving each bite a creamy finish. Get your mind out of the gutter, this thing's delicious.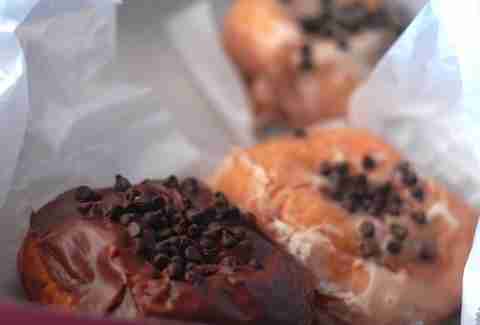 Stan's Donuts
Westwood
What You're Getting: Peanut Butter Pocket w/ Fresh Banana and Chocolate Chips
Single-handedly responsible for at least 5lbs of each UCLA freshman's 15, Stan's has been serving up fatty goodness since 1965, with crazy-delicious flavors that include several peanut butter-stuffed offerings. This guy, however, is the move thanks to its use of fresh fruit... and chocolate. Mostly the chocolate.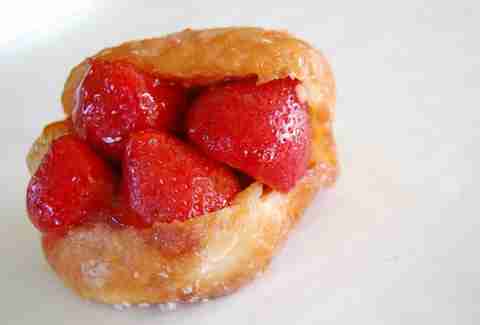 The Donut Man
Glendora
What You're Getting: Whatever fruit donut is in season
This cult-favorite window is in the middle of absolutely nowhere (apologies if you live in Glendora. For so many reasons...). But once you're there, you're all like, "Oh, you're actually putting real fruit in the middle of my doughnut? And you ALSO just made cinnamon rolls? SCORE".
Randy's Donuts
LAX-adjacent
What You're Getting: A photo outside
You can't go wrong with any of the donuts from Randy's (it's hard to go wrong with a donut, period), but the reason to hit the on-the-way-to-LAX stand's really to take a picture with their iconic, huge sign, which's been spoofed on The Simpsons and appeared in just about every TV show ever. Bonus points if you bring a tourist.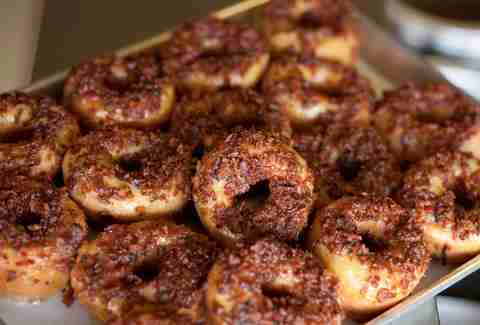 Nickel Diner
Downtown
What You're Getting: Maple Bacon donut
When this new-school diner opened a few years ago, the Maple Bacon donut was selling out within the first hour, every single day. It's easy to understand why, too -- it's perfectly sweet/ savory/ doughy combo has inspired a slew of imitators, but none of them have quite captured the glazed goodness of the original.
Golden Donuts
North Hollywood
What You're Getting: Classic Glazed
Y'know who knows his food? Nguyen Tran, the dude who runs Starry Kitchen. You know where he goes for donuts? This hole-in-the-wall in the Valley. "These donuts are truly exceptional, classic, and perfect," he says. Trust.