Every Downtown LA Restaurant You Need to Try Right Now
LA's got a ton of great neighborhoods, but few have undergone as massive a revitalization as Downtown LA. Courtesy of a building boom over the last decade and a half, DTLA's seen a slew of new housing, hotels, and museums -- but one of the most notable transformations in just the last few years is its metamorphosis into one the city's hottest dining scenes that's expanding at a dizzying pace.
It'd be impossible to call out every excellent DTLA restaurant worth hitting up (by the time you read this sentence, three more will have opened) but we've collected a helpful roster of many, many amazing venues that will fill virtually every need you have -- whether it's a hot spot helmed by a celebrity chef, a reliable sushi bar, or a life-changing taco shop. See you Downtown.
Best for life-changing hummus: Bavel
500 Matteo Street
The same duo behind Downtown's beloved Bestia opened this stunner of a space that honors their family roots with a menu of modern Middle Eastern dishes. There are flavor-packed powerhouses like slow-roasted lamb neck shawarma and marinated okra with whipped feta, but the real showstoppers are the couldn't-be-creamier spreads including a duck-laced hummus and smoky baba ghanoush. The dining room's suspended garden is pretty cool, too.
Best (and only!) way to try David Chang's food in LA: Majordomo
1725 Naud Street
The legendary Momofuku man himself has arrived on the West Coast with what's become one of LA's toughest reservations to land at this Chinatown beauty. He's mixed both Asian and American styles of cooking to create an ever-changing menu of seriously inspired dishes. Certain dishes seem to be staying put, though, like the fried butterball potatoes, egg-and-smoked roe on bing bread, make-your-own Jumeokbap (rice and seaweed balls) along with large-format plates including a $190 short rib served with a long list accoutrements. Order them and others.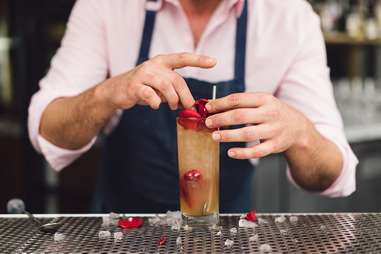 Best for tasty dinner inside an old rectory: Redbird
114 E Second Street
You'd never know that this bright and elegant space once housed clergymen (though the adjacent cathedral-turned-event-space Vibiana might give it away). Inside, longtime LA chef and restaurateur Neal Fraser churns out his take on modern American fare, with heavy focus on vibrant, layered dishes including chili-laced broccolini and foie gras with rhubarb jam and lychee. Bar director Tobin Shea also recently rolled out a massive new menu with 31 cocktails utilizing ingredients from the garden courtyard, so be sure to check that out as well.
422 E Second Street
In addition to looking the "LA sushi joint" part with its windowless strip mall location and line out the front door, this long-standing Little Tokyo restaurant never disappoints with some of the freshest fish in town. A lineup of serious sushi chefs slice up no-frills nigiri and sashimi, and lunch and dinner combo options are always a great deal.
Best under-the-radar chef's counter experience: Rossoblu
1124 San Julian Street
It doesn't get a lot of buzz – probably because it's tucked in the back of the sprawling dining room that's flanked by a giant wall mural -- but the low bar seats surrounding the open kitchen are some of this rustic Bolognese-inspired restaurant's best. It's there you can watch chefs grill steak and spot prawns and put the finishing touches on fresh pasta... and then, of course, eat it.
418/420 Spring Street
This bi-level space in the historic El Dorado building already oozes drama with its chandeliers, beveled mirrored walls, and velvet seats, even before you get a look at the menu. If you really want to feel like you're out for a Don Draper-style dinner, though, try one of the specialties they prepare tableside, like the whole Dover sole the server filets in front of you, or the black truffle-topped pasta that shows up inside a giant parmesan wheel and gets flambéed in cognac.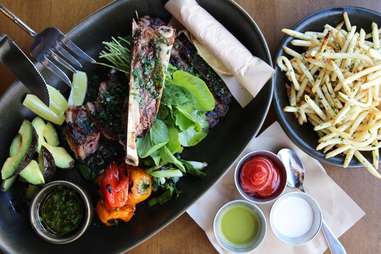 Best scene-y new spot: Dama
612 E 11th Street
From the gang behind the Westside's sexy Scopa Italian Roots (which they say is in Venice, but we know is actually in Marina del Rey) comes this gorgeous Latin-inspired spot just across the courtyard from Rossoblu. The bar is bustling, the patio is packed, and the design has an old Havana vibe that pairs perfectly with its menu of mainly small plates. Think seafood tostada, whipped heirloom beans, and a crispy calamari bocadillo.
524 S Main St
Maple-glazed bacon donuts! Brioche cinnamon toast! Corned beef and eggs! Homemade pop tarts! It's all here at this diner that looks likes like the quintessential diner-in-a-movie kind of diner. Yes, there are healthier options on the menu as well -- but you're not going here for the tofu scramble, so own your gluttony and dive into the deep end.
Best hotel restaurant: Nomad
649 S Olive Street
Eleven Madison Park's Daniel Humm is at the helm of this all-day restaurant inside the same-named glam hotel, doing bright seasonal dishes like kampachi crudo with white peaches or suckling pig confit with charred cherries. There's no shortage of spots to drink here, either, with the sophisticated Giannini Bar churning out creative cocktails on the ground level, and the view-heavy Rooftop Bar that also does a smattering of small plates and a duo of ice cream sandwiches.
400 S Main Street
It's not a vegan restaurant (or even a vegetarian one), but Josef Centeno's two-year-old addition to his Downtown dining empire is undoubtedly an ode to veggies, with highlights like cold-smoked baby carrots, grilled fava beans, a leek tart, and homemade pasta. Yes, you can order a meat dish, but that would be missing the point.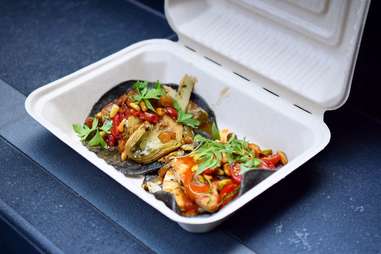 2000 E Seventh Street
After spending six years as one of the most beloved food trucks in town, Wes Avila's Guerilla Tacos has parked the truck and gone brick-and-mortar with a space in the Arts District. The taco menu changes frequently, with fillings ranging from carnitas and crab to out-of-the-box adds like Medjool dates, pickled pineapple, and pine nuts, along with a selection of equally-as-good tostadas.
317 S Broadway
There's more food here than you'll be able to take down in a single visit, so you'll have to go back to this food hall pretty frequently. Many of the classic, been-there-for-decades stalls like China Cafe and 65-year-old Mexican food joint Roast to Go are still worth a stop, in addition to new faves including pastrami purveyor Wexler's, Thai counter Sticky Rice, the forever-killing-it breakfast sando spot Eggslut, and Ramen Hood, which dishes out a vegan ramen that tastes as good as the real deal thanks to a broth made with sunflower seeds.
Best for underground Japanese food, art, and whisky: Mrs. Fish
448 S. Hill Street
After a year-long renovation, dual-level subterranean club Mrs. Fish has re-emerged as a sultry restaurant and lounge complete with multiple menus, bars, and dining spaces. The owners (the same folks behind rooftop spot Perch 15 floors above) have installed an over-the-top Japanese art collection, hung massive whimsical light fixtures, and kept the 5,500-gallon fish tank from the space's club days. Two sushi bars dole out pretty nigiri, sashimi, and souped-up rolls made with fish flown in from Tokyo's Tsukiji Fish market, while the whisky bar boasts several dozen Japanese imports. If you're doing a full-on dinner in the dining room, don't miss the kitchen's smoky uni pasta with lobster and bonito flakes.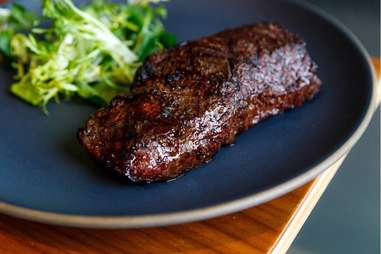 330 S Hope Street
Downtown LA was a very different place when the Patina Group's Nick & Stef's opened nearly two decades ago, and -- despite a mind-boggling number of newcomers to the area -- the steakhouse is still a nice option for a power lunch, blowout dinner, or martinis and oysters at the bar. And, thanks to a stylish makeover a few years back, it's looking better than ever.
710 E Fourth Place
In recent years, LA has become a city full of excellent wood-fired, Neapolitan-esque pies with inventive toppings at pizza palaces like Pizzana, Pizzeria Mozza, and Sotto -- and that's all well and good for those times where you feel like sitting down to a full $22 pie. What we don't have nearly enough of, though, are spots where you can pick up a really good slice on the go. Enter the Arts District's new Lupetti Pizzeria slinging plain slices for a glorious $3.50 a pop (along with Margarita and Sicilian slices for a bit more). You can also get whole pies and other classic pizzeria staples like a chicken parm sandwich -- and look for the place to open a bar next door, soon.
635 N Broadway
This new Chinatown storefront is one of only a few spots in town where you'll find tsukemen: a ramen dish where the broth is served separate from the noodles and toppings, which are meant to be dipped. The kitchen makes its own thick noodles in house, churning out rich, creamy broths; perfectly charred pork; and a marinated tofu to go with the vegan version. The interior is fun and poppy with orange seats, noodle baskets serving as napkin and chopstick holders, and a chalkboard illustration on how to properly slurp… just in case you need instruction.
Best jaw-dropping space: Otium
222 S Hope Street
Before you head inside, take a moment to admire this Bunker Hill beauty from across the sprawling plaza out front: It's a spectacular stand-alone, steel-glass-and-wood structure that sits in the shadow of The Broad. The space itself feels wine-country contemporary with its salvaged woods, olive tree-surrounded patio, and dramatic open kitchen centered around a wood-burning oven -- not all that surprising, since chef Timothy Hollingsworth spent more than a decade in Napa, including a stint at French Laundry. Here he's doing refined rustic fare -- from pork chops to pasta -- that you'll want to linger over.
136 S Central Avenue
There's no shortage of fried chicken in LA (and no shortage of a never-ending line at Howlin' Ray's just a mile or so away) but it's worth a stop at this new fast-casual spot in Little Tokyo. The first US venture by a popular Japanese chain, this place is all about karaage: ultra-crispy, marinated, breaded, and deep-fried boneless chicken. There's a sandwich on white bread smeared with a garlic sesame sauce; a bowl of the fried thighs simmered with egg and onion in broth; and some standout dinner sets where the karaage is served with a few house-made sauces, rice, salad, and sides.
Sign up here for our daily LA email and be the first to get all the food/drink/fun Los Angeles has to offer.