Celebrate Filipino American History Month at These 13 LA Restaurants
Here are the best Filipino restaurants in town.
Southern California claims one of the largest Filipino communities outside of the Philippines, and great Filipino food in LA has always been a mainstay—just take a look at Max's in Glendale or L.A. Rose Café in Hollywood. But thanks to a fresh guard of first- and second-generation Pinoy chefs who've debuted their own modern culinary concepts, the cuisine has enjoyed a newfound (and well-deserved!) mainstream spotlight over the last few years.
It's easy to see why Los Angeles has embraced the Pinoy palate. The Philippines absorbed a hodgepodge of influences after centuries of trade and colonization.
"Most Asian and Southeast Asian cuisines have defining traits, but our cuisine is a mix of Chinese, Malaysian, Spanish, American, and Indigenous flavors, techniques, and recipes," explains General Manager Chase Valencia, who opened acclaimed Filipino restaurant LASA along with his brother, Chef Chad Valencia, in 2017. And the flavor profile—sweet, salty, and sour with an emphasis on fermentation and pungent ingredients like garlic and vinegar—is bold and memorable.
In honor of Filipino American History Month (FAHM), we've compiled a list of 13 outstanding restaurants—from traditional, old-school establishments to progressive pop-ups and everything in between—still open and serving during the pandemic.
At Spoon & Pork, a charming, contemporary spot off Sunset that greets you with a neon pig sign outside and a tropical-inspired dining space inside, childhood friends Raymond Yaptinchay and Jay Tugas are reimagining the comfort food they grew up with in the Philippines. True to the restaurant's name, you'll be in hog heaven. The star of the show is the patita—a pork shank slow-cooked to fall-off-the-bone perfection, deep-fried for a crispy exterior, and slathered in chili-garlic sauce. But there are plenty of other soul-warming, stick-to-your-ribs dishes on the menu too, like hot adobo chicken wings served with pillowy rolls; a pork banh mi that goes hard with extras like crunchy peanuts, creamy pate, fried pork rinds, and tangy slaw; and bite-sized morsels of buttery pork nigiri dusted with furikake and chives. The best part? Everything tastes unapologetically rich and intensely flavorful without giving you a food hangover.
How to order: Outdoor dining, take out, and delivery via Postmates
No, this Grand Central Market favorite is not a bakery. But James Beard-nominated chef Margarita Manzke has nailed her much-acclaimed version of buko pie (a traditional Filipino dessert) so perfectly that the demand for full-sized pies is relentless. Her version boasts a flaky, buttery crust loaded with creamy custard and chunks of tender, young coconut meat, all blanketed in a rich crumble. The rest of the menu revolves around savory, fried-egg-topped rice bowls—such as BBQ pork ribs and charred eggplant—otherwise known as delicious precursors to a slice of coconutty pie. A Filipino happy hour called Pulutan starts at 4pm daily, where San Miguel beers set you back $3 and you can enjoy an array of Pinoy snacks, like spicy caramel-fish sauce wings and crispy pig ears. For Filipino American History Month, Manzke's donating her adobo fried rice bowls to families and essential workers affected by COVID-19 in partnership with Filipinos Feed the Frontlines, a nonprofit that partners with Filipino restaurants.
How to order: Outdoor dining or in-house pickup and delivery
Oi Asian Fusion just opened its eighth location at Rodeo 39 Public Market, making it one of the fastest-growing Filipino food concepts in the region. Those in the know have been enjoying their filling, wallet-friendly eats for years. Most of Oi's generously portioned fusion bowls—piled high with rice, yolky eggs, and your protein of choice, whether it's butter-poached crawfish or the crispy, marinated, thin-sliced beef called tapsilog—start at $10. And the buns—stuffed with juicy pork belly or lemon-mayo-slathered karaage—go for less than $6. When you're after something easy, casual, and economical to satisfy your Filiino food cravings, look no further than this consistently reliable spot.
How to order: Pickup or delivery via Postmates, DoorDash, Grubhub, UberEats, ChowNow, and Caviar
Named after the portmanteau of Historic Filipinotown, where it's located, HiFi Kitchen takes a new-school approach to Filipino food under the helm of owner/chef Justin Foronda—who grew up in the neighborhood. As a Los Angeles native, Foronda's love for the city and his roots is evidenced in every bite; his limited-edition Lakers-inspired items include bistek pancit (made with purple onions and gold bell peppers, naturally) and a spin on post-game hot dogs with ginataan nachos. In addition to balancing a full slate of events for FAHM and participating in Filipinos Feed the Frontlines, HiFi is offering two tasty fusion burgers inspired by Filipino dishes: a breakfast-y silog patty and a vegetarian-friendly roasted eggplant burg with puffed rice, cabbage, garlic spread, and pickles. Although meat—especially pork—plays a key role in so many Filipino entrees, Foronda's conscious about his vegetarian and vegan customers. In addition to chicken adobo and pork belly rice bowls, he offers an option with roasted cauliflower, coconut-braised taro leaves, crispy tofu, and pickled papaya—a dish even carnivores will love.
How to order: In-house pickup or delivery via Postmates
While Wanderlust's unique scoops are inspired by far-flung places and cultures around the globe, for the past couple of Octobers, Filipino-American owners Adrienne Borlongan and Jon-Patrick Lopez have honored their heritage with a special range of FAHM flavors. This month, Borlongan has masterminded a handful of seasonal and limited-edition scoops—her personal ode to growing up Filipino in the US—like Sapin Sapin (a Pinoy-style Neopolitan of malted ube, jackfruit, and sticky rice) and Brazo de Mercedes (meringue ice cream streaked with custard ribbons and speckled with toasted rice). From Oct 23-30, look out for Bilo Bilo, a frosty take on the popular Filipino dessert. Made with coconut milk ice cream, sweet potato, saba banana, jackfruit sherbet, and chewy ube mochi, it's sure to evoke a rush of childhood nostalgia to those who grew up eating the creamy-meets-glutinous snack and pique the taste buds of every customer, Filipino or not.
How to order: Take out or pickup via ChowNow
Opening a restaurant at any time is intimidating, but during a pandemic? Downright terrifying. That's exactly what chef Ria Barbosa did in April, taking over fellow Pinoy Charles Olalia's former Rice Bar space in downtown. At a time when eateries across the city are shuttering, Petite Peso has found its niche shilling rice bowls and Filipino-inspired fusion sammies -- like a French dip with a taste-bud-vibrating adobo jus and garlicky/gingery fried chicken squished into airy pan de sal. Delightfully crisp lumpia made with Impossible "meat" and a jackfruit bowl with collard greens and coconut milk, both of which are available as part of a takeaway family-style meal, help cater to the vegetarian and vegan crowd. Pro tip: Don't sleep on the pastries and desserts (an entire box of treats sets you back $28 and will make you the most popular roommate)—like Spanish money rolls filled with sweet brown butter and polvoron cream cookies.
How to order: In-house pickup or delivery via ChowNow, Postmates, DoorDash, UberEats, and Grubhub
You'd be hard-pressed to find salad on any Filipino menu in Los Angeles, but it's one of the standout dishes at Tatang and hints at the restaurant's unique culinary offerings. The salad in question, called Ca-Ma-Teese, is a mix of tomatoes and organic butter lettuce that gets a mouthwatering Pinoy makeover with charred eggplant, crispy garlic, salted duck eggs, and calamansi dressing. But don't worry, Tatang does all the classics too, with a focus on premium ingredients without sacrificing comfort-food flavor in the slightest. Their sisig replaces traditional fatty pork with chopped chicken. Their palabok is crowned with freshwater prawns and organic eggs (with an option to add poached Maine lobster). Their pata (a dish usually made with deep-fried pig trotters) utilizes prized heritage pork shank confit in chicken fat until tender and flash-fried to a crackling crispness. And their outstanding ube fries are mixed with organic carrot and bitter melon. To celebrate Filipino American History Month, Tatang's organized a sampler pack of ube treats from local Fil-Am bakers (including Takám's burnt Basque cheesecake and their sister brand Billie-Ann's soft-baked rice cake)—which you can order for pickup Oct 23-25 by calling 818-331-6771.
How to order: Outdoor dining and takeout or delivery via Postmates or UberEats
After serving in some of Los Angeles's most well-regarded kitchens (Republique and Bestia among them) and developing his Italian, French-American, and Californian palate, Chef Maynard Llera is finally paying homage to home. Kuya Lord—a pop-up he runs out of his house in La Cañada Flintridge—is the Philippines-born chef's take on traditional Southern Tagalog cuisine. For FAHM, he's bringing back his Lucban longganisa, a garlicky pork sausage that originates in his home province of Quezon. The dish is a mouth-prickling, insanely delicious celebration of Filipino flavors and ingredients—served with java garlic rice, housemade atchara (a pickled, fermented papaya), and spiced vinegar. This month, Llera also introduced Batangas Goto -- an umami-rich beef soup of shank, tripe, and tendons named for another southern province. While you may not recognize everything on Kuya Lord's menu, all you need to know is that everything is delectable—from his sweet and spicy pancit chami (a delicacy in Llera's hometown Lucena City) to his homemade kesong puti (originally from Laguna, a province neighboring Quezon). Traditionally made with unskimmed water buffalo milk, which is unavailable stateside, Llera's version of the soft white cheese uses sheep's milk—and its slightly tart flavor and creamy texture is eye-opening when spread on pan de sal or crumbled into salad.
How to order: Pickup only (follow @kuyalord_la for menu and location details)
An homage to the Philippines' night market vendors, this food-truck-turned-restaurant slings a variety of skewers, most of which cost $1. After ordering, heat up your food-on-a-stick in your own backyard or take them outside to the restaurant's shared grills (the perfect way to take in the street scene: lively conversations in Tagalog, Filipino dance music, and friendly smiles from the titas who run the place). The usual suspects—like BBQ pork and chicken—are flavorful, but definitely try the pork and chicken isaw (intestines best eaten piping hot off the grill and plunged in vinegar sauce), kwek-kwek (batter-fried quail eggs with jelly-soft interiors), and betamax (chewy congealed pork blood). Pro tip: Go early to snag a grill and a parking spot, which can sometimes be difficult to find in the area.
How to order: Outdoor dining or take out
Jollibee's all-over-the-place menu—burgers, noodles, chicken strips, steak—might confuse a novice, but this beloved chain (often called the Filipino McDonald's) offers a sense of childhood nostalgia for Filipinos abroad, along with tasty Filipino-enhanced fast food like beef patties made with soy sauce and garlic, or French fries served with banana ketchup. The Chickenjoy and Spaghetti combo is wildly popular; just know that Filipino-style spaghetti is sweeter than the Italian-American version you might be used to. Other must-tries include the pancit palabok (savory noodles dressed in pork cracklings and garlic sauce), Aloha burger served with a pineapple ring, and halo-halo: a glorious shaved ice treat with ube ice cream, condensed milk, flan, and fruit.
How to order: Pickup or delivery via DoorDash
Since this once-temporary pop-up turned into a permanent fixture in Chinatown a few years ago, it's become a symbol of the Fillipino food movement taking over LA. The Valencia brothers' vision of Filipino cuisine spans all the stuff they grew up eating, made with seasonal, local California produce and starring nuanced flavors specific to Filipino cooking: acidic, bright, salty, fatty, rich. The result is a sophisticated, second-generation take on Pinoy classics, as well as dishes that might not be as familiar to non-Filipinos. LASA's quarantine menu is a roll call of some of their greatest hits—like their lechon kawali (twice-cooked, beyond-tender pork belly accompanied by spicy vinegar soy), crispy catfish sando (breaded, fried, stuffed into a brioche bun and served with fermented hot sauce that's also available for purchase by the bottle), and veggie pancit tossed in calamansi juice and chili crunch for acidity, depth, and texture all at once. Wash it all down with their curated range of natural wines, designed to pair perfectly with Filipino flavors.
How to order: Outdoor seating, pickup via Toast, and delivery via Postmates and DoorDash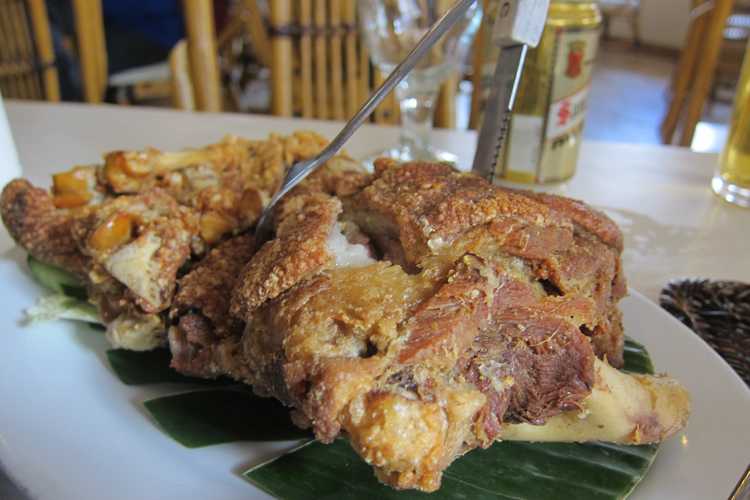 The Original Barrio Fiesta of Manila

| Flickr/Mark & Andrea Busse
Name-dropping this no-frills restaurant to any Filipino-American will automatically earn you brownie points. The Original Barrio Fiesta of Manila is where you go for true authenticity—so expect heaping, family-style portions, and food cooked the way your Filipino friend's mom might make it. The enormous menu has a little something for everyone—from kare-kare, a rich meat stew made with oxtail and an addictive peanut sauce, to crispy pata, an enormous deep-fried pork knuckle that comes with plenty of crunch, to the famous fried chicken—all of which you should wash down with a glass of citrus calamansi juice. Just be sure to prep your refrigerator for all the leftovers. Heads-up: There's another location with the same name in Glendale under different ownership.
How to order: Take out only
Los Angeles is teeming with stellar Filipino bakeries—from Valerio's, renowned for its sweet, cloud-soft pan de sal, to Red Ribbon, the go-to cakery for birthday parties. This family-run diner, which specializes in hearty breakfast classics and take-home pastries with a modern Filipino twist, earns a spot on our list for its famous, melt-in-your-mouth ube pancakes—a bright purple stack sprinkled with ube cookie crumbs and drizzled with house-made ube cookie butter. But that's not all they have: If you're leaning savory, try the silog plates—a popular breakfast that means "fried rice and eggs" in Tagalog—with house-made tocino or smoked sausage. And if you're on an ube break, flapjacks come dressed in some of the Philippine's most well-known flavors and ingredients—like buko pandan, caramelized plantains, and sliced jackfruit—all available from its full menu until the end of the month. You can also recreate those decadent ube pancakes at home—since the pandemic, they've started selling their dry mix online.
How to order: Take out or delivery via Postmates, Grubhub, Seamless, and DoorDash