All the Gooey, Cheese-Loaded Treats You Need to Eat at Oozefest This Weekend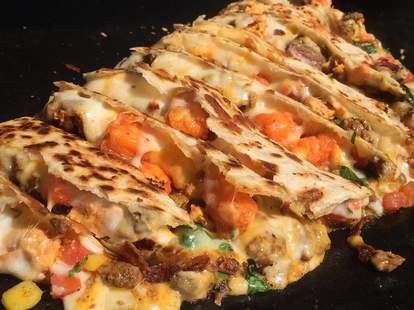 Life is about to get very cheesy down in Santa Ana. This weekend marks the triumphant return of Oozefest, a huge festival celebrating all things cheese, where over 50 SoCal eateries bring their craziest queso-loaded creations for you to consume, along with tons of local breweries to help you wash it all down.
Organized by Foodbeast, the second annual fest will be three times bigger than last year's and will feature everything from that rainbow-hued grilled cheese and queso fundido chorizo donuts to waffles stuffed with mac & cheese. There will even be the first-ever out-of-Watts appearance from All Flavor No Grease with its legendary, extra-cheesy quesadilla. You can also participate in a no-hands pizza eating competition, and if eating a year's worth of cheese in a weekend isn't enough for you, they'll also have a nacho cheese dunk tank. Again: we said "nacho cheese dunk tank."
Taking place in the streets outside of Santa Ana's 4th Street Market on October 15th and 16th, the Oozefest will be divided into two sections: the Marketplace and the VIP area. Tickets to the VIP section are $50/person and will offer access to unlimited tastings -- some of which are exclusive offerings to the event -- including Bruxie, The Iron Press, Slater's 50/50, Slapfish, Chomp Eatery, Nacho Nation, Cafe Calacas, Shuck Oyster Bar, Treatery, Elbows Mac n' Cheese, TLT Food, Kebab Place, and tons more. You'll also have access to beer and cider, including specialty brews for the fest, from the likes of The Good Beer Co., Laguna Beach Beer Co., Reverend Nat's Cider, Modern Times Beer, Saint Archer Brewing, and more.
Admission to just the Marketplace is $5/person where you can purchase cheesy eats from Kogi BBQ, All Flavor No Grease, Mess Hall Canteen, Jeni's Splendid Ice Cream, and others.
"Despite all the ridiculous food items in VIP, Keith Garrett [of All Flavor No Grease], the now famous quesadilla slinger from Watts is leaving his front yard to come to Orange County for the weekend," says Elie Ayrouth, co-founder and publisher of Foodbeast. "I love his attitude though -- he's not doing anything but slanging really dope quesadillas, and he's the one dude who's capable of pulling that off."
So whether you're an occasional grilled cheese dabbler or a certifiable, my-life-is-a-fondue-pot cheesehead, here's a look at just some of the cheesy goodness in store for this weekend: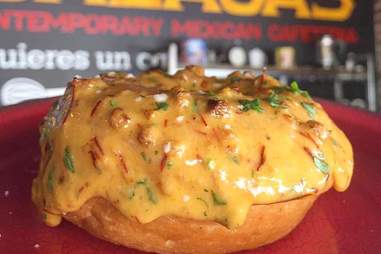 Courtesy Foodbeast
Queso fundido chorizo brioche donut from Café Calacas
Caciocavallo cheese on savory donuts with truffle oil from Citizen Kitchen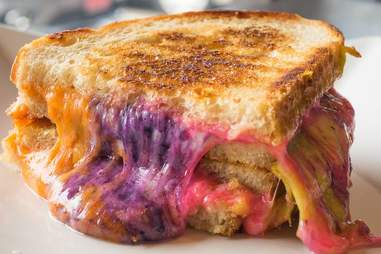 Courtesy of Foodbeast
Unicorn Melt from Chomp Eatery
Pizza churro from The Naughty Churro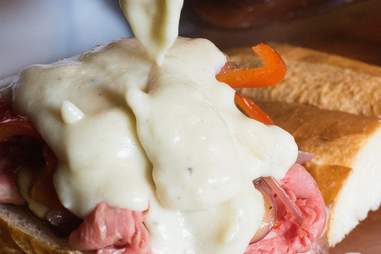 Courtesy of Foodbeast
Lamb cheesesteak sandwich from Side Door
Buffalo mac & cheese fried chicken waffle sandwich from Bruxie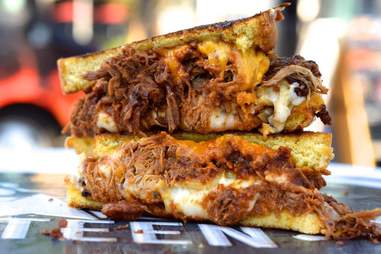 Courtesy of Food Beast
Pulled pork mac & cheese sandwich from Mess Hall Canteen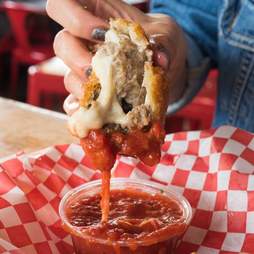 Courtesy of Foodbeast
Deep fried cheese-stuffed meatballs (aka "Balls Deep") from Sgt. Pepperoni
Courtesy of Foodbeast
Kimchi grilled cheese from Kogi BBQ
Lobster taquitos from Slapfish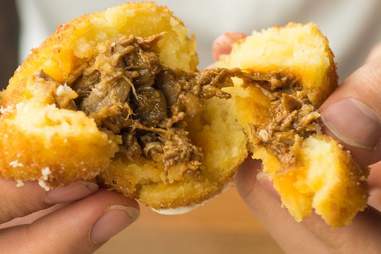 Courtesy of Foodbeast
Duck croquetas from Chapter One
Blue crab grilled cheese from TLT Food
Sign up here for our daily LA email and be the first to get all the food/drink/fun Los Angeles has to offer.