The Rams' return to LA means not just an actual football team to root for, but an actual reason for non-USC kids to make their way over to Exposition Park on a regular basis. It's not really a food neighborhood, but there's a smattering of worthwhile spots to eat at -- which is why we've broken down where you may want to eat before the game (or, if you're a USC student, every single day):
3850 S Figueroa St
Forget Figueroa Philly's proximity to the stadium; these cheesesteaks are some of the best you can find in LA, period (oftentimes voted No. 1 outright). You'll find all the staples of great cheesesteaks, chicken melts, and even some burgers on the menu. Don't fear for your wallet either -- everything here is under $10.
3742 S Figueroa St
Perfectly authentic Korean? Not really. Perfectly tasty and delicious Korean? Most definitely. CG is a build-your-own-bowl-or-wrap kind of place, where you can pick from a variety of Korean-style meats like bulgogi, spicy pork, and spicy chicken, and load them up with all kinds of banchan. And cheese, for some reason. That's also an option.
3655 S Grand Ave
A family-owned Yucatanean spot, Chichen Itza has been a destination for USC kids (and a Jonathan Gold fave) for the past 15 years. You'll find tons of Southeast Mexican flavors, like baked tamales with eggs and tomatoes, and (debatably the prize of Yucatanean cooking) cochinita pibil, aka citrus/achiote-marinated pork with spicy, pickled red onions.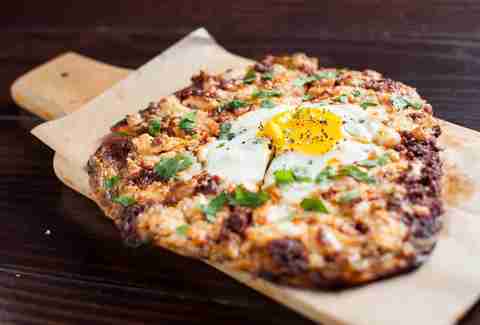 2308 S Union Ave
If you want to elevate from the fast-food level, hit up BacaroLA. You can brunch it up before the game with plates like shakshuka and smoked chipotle cauliflower (with bottomless mimosas, of course), or some heartier fare like lamb-stuffed eggplant and seared scallops.
2314 S Union Ave
More of a Japanese comfort food shop than an actual sushi bar, Ebaes lets you get down on everything from tonkatsu ramen to yellow curry with crispy chicken to spicy tuna handrolls. You can also do a little combo meal during lunch, with one half-size ramen, one of the small plates, and a house salad for $9.50.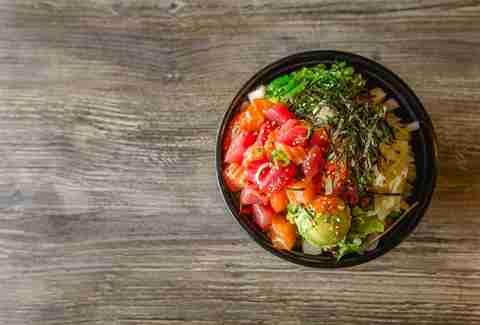 3782 S Figueroa
We were all about AhiPoki when it opened in Hollywood earlier this year, and now it has a brand-new spot at USC. Build your own fish bowl up as high as you want, because AhiPoki is one of the few spots that lets you put as many toppings as you can stuff in a bowl -- which includes free scoops of crab and avocado.
3742 S Flower St
Though sushi, shabu-shabu, and hookah isn't your standard combination, Lotus lets you pregame and enjoy the everyday happy hour from 5-6:30pm (also 10pm-midnight on Wednesdays). You can load up on two-for-one sake, $3 Hites, $1 edamame, half-off rolls, and $15 hookah.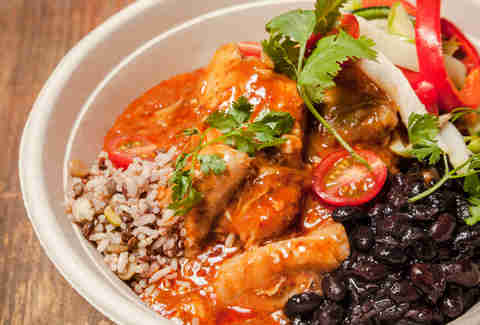 1101 W 23rd St
You'll find an assortment of creative bowls at Everytable, all inspired by the flavors and cultures of LA. You can get stuff on the lighter side, like the Vietnamese chicken salad (lemongrass chicken, mung bean noodles, pickled carrots & cauliflower, kale, radish, mint, cucumber, and peanuts in a spicy chili-lime vinaigrette), or the heavier side, like the Jamaican jerk chicken bowl (smoked chicken, rice, beans, kale, carrots, yucca, plantains, and spicy jerk BBQ sauce), or just straight-up cure your post-Rams-loss hangover with posole.
2215 S Vermont Ave
Rotisserie-style Peruvian cooking is what's going down at Caveman Kitchen. Grab some Peruvian standards like lomo saltado (rib-eye sauteed with onions, tomatoes, and fries) or grab a full-on rotisserie chicken with rice, black beans, and tortillas. Or just forego the Peruvian stuff and go with one of the signature burgers, all under 10 bucks.
2498 S Figueroa St
USC and non-USC folk alike flock to this all-day breakfast joint. The flapjacks are absolute heaven, with loads of different ways to do 'em. You can go with favorites like the Aloha Boy (with pineapple puree, butter, toasted coconut, and powdered sugar), the WTF (with sweetened cream cheese, seasonal berries, and powdered sugar) or the Roo's Favorite (chocolate chip 'cakes with brown sugar butter, whipped cream, and -- you guessed it -- powdered sugar).
Sign up here for our daily LA email and be the first to get all the food/drink/fun Los Angeles has to offer.