The 6 Best Indian Restaurants in LA
According to the owners of Badmaash.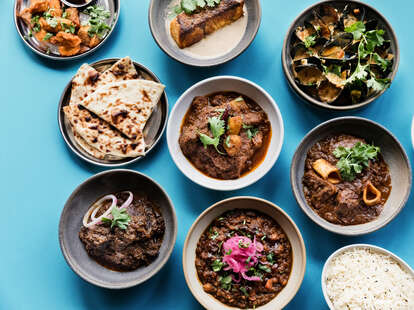 "We're the Wu Tang Clan of family-owned restaurants!" declared Nakul Mahendro, who owns and operates Badmaash — a modern take on Indian cuisine with two restaurant locations, alongside his father Pawan Mahendro and his brother Arjun Mahendro.
Hyperbolic though it may seem, the claim holds weight. Just like the all-star rap group, Badmaash is tight-knit, community-minded, and committed to doing things their way. It makes sense—badmaash translates to naughty or rebellious in Hindi, which describes the family's diasporic take on Indian food that results in dishes like their famous Chicken Tikka Poutine, a pile of masala french fries drenched in piping hot beef gravy and cheese curds then topped with tandoori chicken tikka and cilantro.
"We wanted to do an Indian restaurant that reflected our perspectives as Punjabi Indians who grew up in Toronto and then moved to LA. At the time, LA had this void of authentic Indian food, with a lot of places catering to the palates of people outside of the culture. With Badmaash we really just wanted to be this unapologetic voice of Indian food and culture, and not put ourselves in a box or play to stereotypes," Nakul said.
The influence of Badmaash's expansive view towards Indian food is undeniable: over the last few years Chicken Tikka Poutine has popped up across the pond, with Indian celebrity chef Sanjeev Kapoor releasing his own recipe, and British-Indian chef and food author Simon Majumdar creating a how-to video for this flavorful fusion dish.
This Saturday, November 14, marks the beginning of Diwali, a five-day-long Hindu festival that celebrates the spiritual triumph of light over darkness, good over evil, and knowledge over ignorance—a sentiment we can certainly get on board with following our hellacious presidential election. So we tapped Nakul to weigh in on some of his favorite Indian restaurants in the city:
When it comes to your main Diwali dish, Nakul recommends Badmaash's Punjabi Chickpeas. This popular holiday meal is their version of Channa Masala, specific to the city of Bombay, with tamarind, chutney, and pickles sprinkled on top of garbanzo beans that have been stewed into a super-soft mush. Order it with fresh Tandoori Naan or Rosemary Naan on the side.
How to order: Order pickup and delivery through Caviar or DoorDash.
"Sweets are a huge part of the Diwali celebration and If you show up to Surati Farsan on Diwali, you'll be waiting at least 90 minutes for their sweets," Nakul advised. Thankfully this stalwart in Little India has listed Diwali specials on their website, making it easy to get your sweets shipped directly to your doorstep.
Nakul recommends Surati Farsan's jalebi, vibrant orange funnel cakes that are cooked in a huge cauldron with bubbling ghee until they're nice and crispy then immediately doused in a sugary syrup and served hot (though they retain their crispy sweetness for a few days afterwards), but their shrikhand puri, sweet curd yogurt with cardamom and pistachio flakes are also worth adding to your order. The location has a festively lit outdoor seating area, but call ahead for reservations made around the Diwali holiday.
How to book: Call 562-860-2310 to make reservations for patio dining, order pickup via ChowNow, or order on their website for shipping across the country.
Many people don't realize that Indian cuisine varies greatly depending on which region you're in. While Northern India, where you'll find the state of Punjab and the country's capital of Delhi, is known for using more meat and dairy products, Southern Indian food places more emphasis on vegetables and seafood and is known to be the spicier of the two.
Nakul recommends family-run Mayura Indian Restaurant for Kerala-based Indian food with huge portions. The restaurant even has separate vegetarian and non-vegetarian kitchens. Try the uthappam, South Indian-style dosas that are thicker than typical crepe-like dosas and come with your choice of toppings.

"At Mayura, you're getting the full experience," Nakul says, "Auntie (Co-owner Dr. Padmini Aniyan) is always dressed to the nines and seems to treat every day as if it's an auspicious occasion. Every customer is treated like royalty and you'll always find her fluttering around making sure that everyone is satisfied."
How to book: Courtyard reservations and pickup orders can be made through their website.
Found in the heart of Little India on Pioneer Blvd, look no further than Podi for satisfying your dosa fix. Named after the coarse spice powder that the restaurant makes in an assortment of flavors and sprinkles on their dosas, Idly Uthappam, and white rice, Nakul says that, "They're known for their South Indian specialties, but their dosas smack."
How to book: Call 562-860-3999 or 714-351-2300 for takeout.
On the same block as Podi is Udupi, another popular pick for dosas that specializes in South Indian vegetarian cuisine. In Nakul's eyes, "Udupi is the classic dosa joint. They have all the classic Southern Indian dishes and it reminds us of being home in Toronto." Order their Spring Dosa for a crispy, spicy take on a spring roll that's stuffed with fresh-grated vegetables.
How to book: Reservations for patio dining and takeout and delivery orders can be made on their website.
Across the street from Udupi and Podi on Pioneer Blvd is Ashoka the Great, named after the last Indian emperor of the Mauryan Dynasty, and known for their North Indian-style curries and tandoor-cooked breads that are especially timely with SoCal's winter chill gradually settling in.
"The food is great and I always have a good time there," Nakul said. "The young man that runs the restaurant for his family goes by Captain and is just like my brother and me: he's really proud to be serving North Indian food in the heart of Little India on Pioneer Blvd. He even wears a pendant in the shape of the street sign."
While Ashoka's famous buffet service is on pause indefinitely, the restaurant has opened a formal outdoor dining area that's festively decorated for Diwali with red and yellow flowers and twinkling lights.
How to book: Call 562-809-4229 for reservations, order pickup through their website, or delivery through UberEats, GrubHub, Postmates, and Doordash.