It's been a long time since we told you about all the boozy brunches in LA, and even longer since we told you about the best brunches PERIOD in LA -- long enough that it's time we dropped some brunch NEWness on you. Here are LA's eight best new brunches, all of which you should be eating RIGHT NOW... err... RIGHT TOMORROW (because duh, most of them only serve on Saturday/Sunday).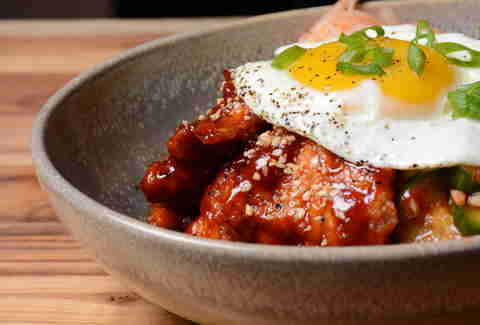 Pasadena
What you're getting: Korean fried chicken
Pasadena's newest homestyle favorite starts its brunch game this very weekend, with the menu highlighting an egg-topped Korean fried chicken with short grain rice and kimchee cucumbers; they've also got an ancho omelette with smoked gouda, and booze including the vodka-based "Easy Lover," aka not you after brunch.

Mid-Wilshire
What you're getting: Gravlax tartine
This is one of the best new date spots in LA for a few reasons, all of which extend to brunch: it's got a sick patio, it's got killer cocktails, and the chef is banging out deliciousness like a home-smoked gravlax tartine and Eggs In Purgatory, with pecorino and spicy tomato sauce for an extra zing-zang.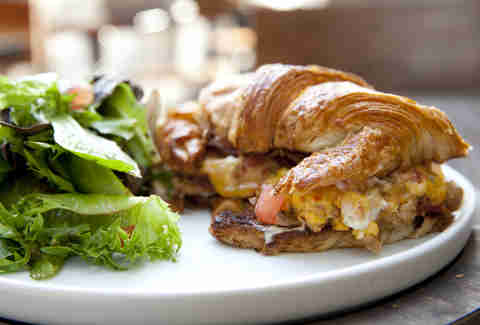 Santa Monica
What you're getting: Charred shishito mac & cheese
This new Westside beer garden is making your mid-morning survivable with a Croisandwich filled with chicken sausage and bacon, and a gooey mac, which you're ordering "for the table."

Santa Monica
What you're getting: Bocadillo de chorizo
This Santa Monica standby may have the best new brunch deal in town: $15 gets you three courses of choose-your-own-disaster brunch, which means, if you wanted to, you could start with a chorizo-and-cheese dish, continue on with a chorizo-and-cheese-and-egg dish, and finish up with the chorizo-and-cheese-and-egg sandwich. Yes.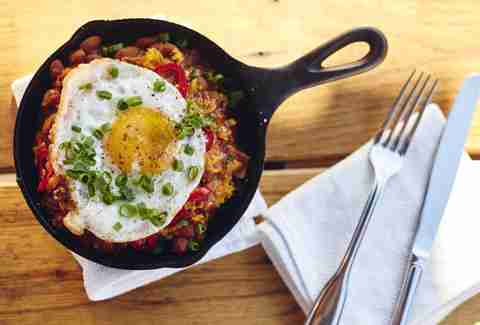 Studio City
What you're getting: Hangover Hoe Cake
The Valley's new go-to for smoked meats gets in the morning game, pro-style, with a smoked pork Benedict and an epic Hangover Hoe Cake, which is doused in chili, cheddar, green onions, and Fresno chili. Also -- of course -- it's topped with a fried egg.

Downtown
What you're getting: Beer-battered waffles with plantains and dulce de leche
Hair of the dog has never been more delicious: this new Downtown outpost of the Mexican mini-chain's brunch includes four beer-battered waffle variations, as well as a chorizo breakfast burger with Oaxacan cheese.
West Hollywood
What you're getting: Wakey, Wakey
This WeHo barstaurant is armed with a heavy drinks program at its new brunch: the Wakey, Wakey's got bacon-infused bourbon, coffee dust, and maple syrup, while the Coffee Is For Closers melds Stumptown brew with Irish whiskey. The food game is on-point, too: check out the sweet potato gnocchi with confit pork belly and pancakes topped with almond cream and amaretto syrup.

West Hollywood
What you're getting: Pasta
Pasta? Yep: this steakhouse does a breakfast version with pappardelle, broccolini, eggs, and bacon that's the perfect marriage of breakfast and lunch. So, brunch.
Sign up here for our daily LA email and be the first to get all the food/drink/fun Los Angeles has to offer.
Jeff Miller's favorite meal is whichever one has eggs. Hit him up at @jeffmllerla on Instagram and @ThrillistLA on Twitter.