Where the hell to go in LA's Chinatown
Nothing makes you go ¯\(°_o)/¯ more than LA's Chinatown. It's one of the largest and oldest Chinatowns in the entire country, but for years it's also been one of LA's whatever-est neighborhoods. Well, not anymore: with a recent resurgence in food/booze/super-nerd awesomeness, the area's again got a lot going for it, starting with these 15 must-visits that mix the oldness with the newness.
 
Best late-night dim sum: Won Kok
210 Alpine St
Not only is the name super fun to say aloud (ha ha ha), but you'd think more places would follow the example of this Chinatown pioneer, which keeps a ready-to-go steamer full of sticky rice, shu mai, and har gow, even after last call: they're open 'til 3am nightly, which means that sweet, savory salvation's just stumbling distance away.
Phoenix Bakery
969 N Broadway
This old-school bakery is one of Chinatown's best spots for inexpensive Chinese delicacies like steamed pork buns, flaky egg tarts, and almond cookies, but the move is to special order one of their spongy, lightweight cakes. Trust.
 
Best for traditional Chinese: Zen Mei Bistro
800 Yale St
There's hole-in-the-wall, and then there's super-super-hole-in-the-wall. This place is the latter, and they've got ridiculously easy-on-the-wallet Chinese food, including lobster that falls right off the shell and spicy-salty pork chops.
Starry Kitchen
Best non-traditional Chinese: Starry Kitchen
943 N Broadway
This formerly Downtown-based joint operates out of Grand Star Jazz Club's kitchen (for now, they're Kickstarter-ing their own place!), where they're doing roast pork belly fried rice and garlic noodles made with schmaltz (Jewish for chicken fat!). Stay after to watch the place turn into a funky dive bar. Or don't. We're not the boss of you.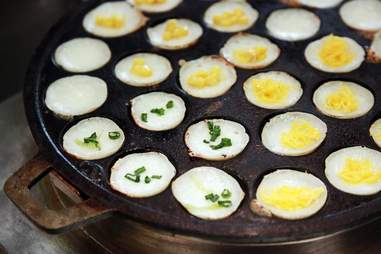 Mae Ting's Coconut Cakes
1100 N Main St
Speaking of LAX-C, on weekends you can find this stall in their parking lot, run by a Thai woman who whips up amazing street-style nosh like skewers, papaya salad, and their famous coconut cakes, which are crisp on the outside, pudding-like on the inside, and we want, like, right now.
 
841 N Broadway
If, for some reason, you ever needed shark cartilage or fish oil, this little market is the place to go. It's also packed with traditional Chinese medicines, herbs, and teas, and a load of other cool/exotic-sounding/hard-to-find/you-have-no-idea-what-that-is-but-it-looks-amazing-type stuff.
Chego!
Best hidden restaurant from a famous chef: Chego!
727 N Broadway
Deep inside Far East Plaza, Roy Choi's rice bowl concept serves up amazingly soul-satisfying Asian-meets-Western mash-ups, usually based on rice or noodles and some kind of richly flavored meat topped with sauces. And eggs.
Phillippe The Original
1001 N Alameda St
You don't go to Chinatown without at least considering a visit to this cafeteria-style deli that claims to have invented the French dip, and offers a nostril-clearing house-made mustard to go with their double-dip sandos.
939 N Hill St
This cash-only bar is probably the only place in the city where you can geek out about craft brews under a ceiling strung with glowing Chinese lanterns.
Eastside Market Italian Deli
1013 Alpine St
There's a giant-sandwich-making Italian deli in the heart of Chinatown, and by giant-sandwich-making, we mean you're basically gonna have to use a fork and knife. Pro tip: get the popular D.A. Special, a pile of meatballs, roast beef, pastrami, and peppers stuffed between bread and doused in marinara.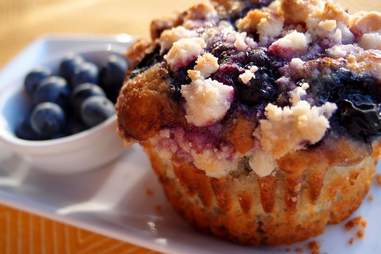 Chimney Coffee House
1100 N Main St
Thai tea lattes and snacks like green tea brick toast (basically a giant carb vessel smothered in matcha ice cream and syrup) are the go-tos in this out-of-the-way crazy cafe.
Ooga Booga
943 N Broadway
This gem hidden on the second floor of a nondescript building stocks indie magazines, graphic novels, art, clothes, and other rare super-nerd finds. In other words, you could walk out with anything from a DVD about cats to a silk-screened Wu-Tang Clan poster.
 
Best chachkies: LAX-C
1100 N Main St
Despite its name, this supersized Asian emporium has nothing to do with our airport, and everything to do with selling mostly Thai spices, bulk produce, and snacks, including Lay's potato chips in flavors you won't see at Trader Joe's.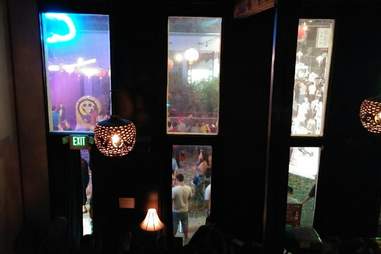 Charles Lin
475 Gin Ling Way
Impress a date at this dimly lit, rendezvous-worthy, recently renovated bar that's tucked away in an alley and hawks terrific craft cocktails with Street Fighter-inspired names, like Red Dragon Highball and Kahn Punch.
Yang Chow 
819 N Broadway
This old-timer joint's known for its slippery shrimp -- a Westernized take on a Chinese favorite that involves dunking shrimp in a spicy-garlicky-sweet batter and deep-frying each morsel to a crisp.
Sign up here for our daily LA email and be the first to get all the food/drink/fun Los Angeles has to offer.
 
Tiffany Tse is a freelance contributor for Thrillist, and also the deputy editor at Clique Media (Who What Wear, Byrdie, and Domaine). Check out what's she doing on Twitter at @twinksy and Instagram at @twinksy.