Everywhere You Need To Eat and Drink in LA's Chinatown
Happy Lunar New Year!
Built in its current location in the 1930s (the original Chinatown was demolished to build Union Station), LA's almost-century-old Chinatown was on its way to a revival when the pandemic struck last year. COVID-based xenophobia hit Chinese businesses especially hard, and the ongoing shutdown meant that popular events like Chinatown's Summer Night series were put on hold.
A year later, businesses in Chinatown districts across the country are still struggling to stay afloat. With the Chinese New Year arriving on February 12, it's the perfect time to support your favorite Chinatown restaurants and help make sure they're around to celebrate in the years to come. Traditionally, the Lunar New Year is an opportunity to sweep away the misfortunes of the past and call in future health, happiness, and prosperity—a sentiment that we can certainly get on board with in these trying times. Here are 16 Chinatown restaurants that are worthy of your attention on this lunar holiday and beyond:
Johnny Lee's casual Cantonese joint Pearl River Deli draws a loyal customer base for its classic Cantonese dishes like char siu and soy sauce chicken, but there are fun modern renditions like the Macau pork chop bun as well. There are always a few weekend specials that make Saturday visits worthwhile and for Lunar New Year, Pearl River Deli will be offering their own version of the Tray of Togetherness, traditionally a platter filled with various sweets symbolizing good luck and unity. They're also offering poon choi, a traditional Cantonese one-pot meal for celebrations filled with seafood and barised meats.
How to order: Order takeout on their website.

Phoenix Inn opened in Chinatown in 1965 and have now proliferated into a chain of dessert boutiques and restaurants around the area. The family still maintains the quality that made their original location a success, with traditional dishes like cold steamed chicken and a selection of desserts displayed in a refrigerated case. For Lunar New Year, Phoenix will be selling taro and daikon cakes and traditional Chinese New Year cookies. The restaurant locations (including Chinatown) will also have the traditional Cantonese festive meal, Poon Choi, a pot filled with both symbolic and luxurious ingredients such as abalone. The specials are only available to pre-order on their mobile app (not on third party services).
How to order: Order takeout and delivery via DoorDash, GrubHub, UberEats, Postmates.
Los Angeles has a thriving coffee culture, but Steep LA is trying to bring traditional Chinese tea culture to town. Steep LA specializes in freshly brewed, premium loose leaf tea from China and Taiwan, accompanied by a small menu of snacks and dishes from the owners' childhood. For Lunar New Year, Steep will be offering a special set with a whale radish cake, longan sweet rice cake, two bags of loose leaf tea, and other sweets and pastries. The set will be $55 and comes with a free Chinatown tote bag.
How to order: Order takeout or get certain items shipped via their website.
While chef/owner David Wang's family are among the pioneers who introduced Chinese fast food to the states in the mid-1990s, he decided to stray from tradition after falling in love with Taiwanese street food during a trip to Taiwan. Noticing that there weren't many Taiwanese spots in LA outside of San Gabriel Valley, Wang decided to open his restaurant in Chinatown. Popular dishes include beef ban mian noodle soups, rice bowls with braised pork belly, and popcorn chicken, while the more adventurous go for the century egg tofu salad.
How to order: Order takeout on ChowNow.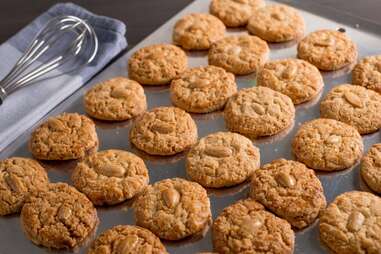 One of Chinatown's OG spots, this family-run bakery has been in operation since 1938, originally intended to be a gathering place for newly immigrated Chinese people, serving the traditional pastries that reminded them of home. While it was their almond cookies that put the bakery on the map, loyal customers also return for the strawberry cream cake and sugar butterflies—think crispy, deep fried egg roll wrapper coated in syrup.
How to order: Order takeout in person or pre-order via their website.

Chinese-Cambodian restaurant Kim Chuy has been a mainstay of Far East Plaza since the 1980s, when it made history as the first Teochew-style restaurant in the US, representing flavors from the Chaoshan region in the eastern part of China's Guangdong Province. The restaurant is celebrated for its noodle soups with more than half a dozen noodle options, a variety of broths, and customizable toppings. Aside from the noodles, the pan fried leek cakes are also a popular order.
How to order: Call 213-687-7215 for takeout or pickup and delivery via Postmates.

Tucked a couple of blocks away from the main drag of Chinatown, Jade Wok doesn't get much foot traffic. Those in the know, though, know to come here for the house made tofu. Two large slabs of tofu with a consistency reminiscent of custard are fried and then submerged in a meat and mushroom gravy. The dish is self-proclaimed as the best tofu in town on their menu, and we're the last ones to argue that.
How to order: Order pickup via phone or pickup and delivery via GrubHub.
The daytime pop-up from Vivian Ku (of Joy and Pine & Crane fame) brings Taiwanese breakfast (already popular in San Gabriel Valley) to LA proper. It quickly became one of Chinatown's top destinations with egg crepes, chive and egg pockets, daikon rice cakes, soy milk, and more. While it's currently a pop-up, they are hoping to plant more permanent roots in Chinatown in the future.
How to order: Order takeout via Toast Tab or in person.

This Chinatown staple is most famous for their sizzling rice soup and slippery shrimp. The slippery shrimp is considered an iconic dish in LA's culinary history and consists of a generous helping of wok-fried, cornstarch-coated shrimp served with a garlicky, tomato-based sauce. Don't pass over their other menu items, though, from steamed fish with ginger and scallions to the always crowd-pleasing crispy orange chicken.
How to order: Order takeout or delivery via Caviar.

This family-run, no-frills Chinese restaurant is well-known for having the best prices for quality food. The menu is fairly large from wonton soup to fried pork chop to walnut shrimp. While there may be nothing surprising on the menu, everything is done well at a great value, and that's something we all could use during these hard times.
How to order: Order takeout in person or via phone at 213-626-7113. Cash only.
This little coffee shop is operating as a pop-up inside the Paper Please stationery store with espresso drinks, matcha lattes, and signature lattes. True to its name, Thank You Coffee has also donated beverages to healthcare workers at various LA hospitals. The pop-up was initially started while they awaited the opening of their Anaheim location, but now they are planning to stay in Chinatown as well. On Tuesdays, they deliver bottled lattes and more around the city.
How to order: Order takeout in person. Order delivery via Instagram DM to @thankyou_coffee.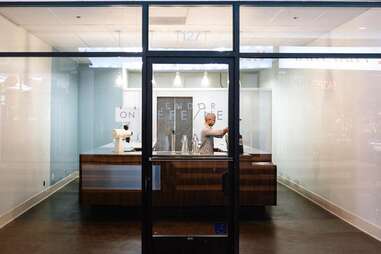 Jack Benchakul opened the minimalistic Endorffeine coffee bar in 2015 and he's been caffeinating the customers of Far East Plaza ever since, personally brewing every cup and occasionally offering desserts. Endorffeine has also recently started canning their tea and coffee drinks, including the ever-popular vanilla pandan coffee and matcha coconut tea.
How to order: Order takeout in person. Delivery via Instagram DM to @endorffeine.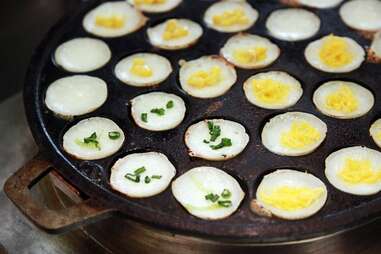 You can find this street food stall at the edge of Chinatown, but the short trek is worth it for their namesake coconut cakes, kanom krok. The small coconut and rice flour pancakes are made to order in a special pan and they come out crisped around the edges. The stall also sells meat skewers and Isaan sausages.
How to order: Order takeout in person.
Chef Wes Avila of Guerrilla Tacos fame recently opened his own takeout shop inside Mandarin Plaza, slinging tortas, sandwiches, and burritos. Avila isn't sticking to just one type of cuisine here, evident in dishes like Baja shrimp po'boys or the vegetarian Saguaro with tempura-fried squash blossom, ricotta, and salsa macha.
How to order: Order takeout via their website.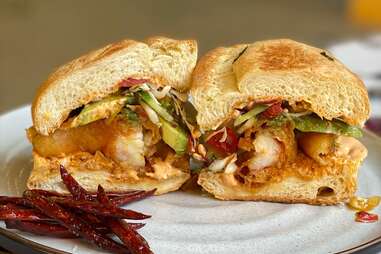 Chef Wes Avila of Guerrilla Tacos fame recently opened his own takeout shop inside Mandarin Plaza, slinging tortas, sandwiches, and burritos. Avila isn't sticking to just one type of cuisine here, evident in dishes like Baja shrimp po'boys or the vegetarian Saguaro with tempura-fried squash blossom, ricotta, and salsa macha.
How to order: Order takeout via their website.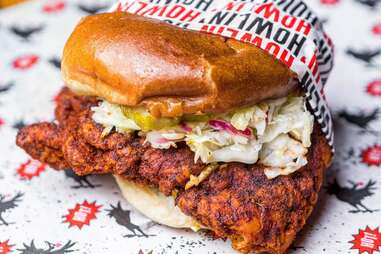 A Nashville hot chicken joint may not be the first thing to come to mind when visiting Chinatown, but we'd be remiss to not include the most popular hot chicken in town. It's easy to spot Howlin' Ray's by the long lines they have all day (even during lockdown, it's hard to miss the Postmates drivers waiting for orders outside of the restaurant). The short menu leaves little room for debate: order The Sando at your preferred level of spice with a side of crinkle-cut fries.
How to order: Order delivery via Postmates only. Howlin' Ray's does not take any walk-up orders.

This historic deli has been operating for more than 100 years (though Philippe's moved to its current location in 1951). The must-order item is, of course, the French Dip sandwich, which Philippe claims to have invented. The vibe is a trip to the past and worth checking out in person when things reopen, but in the meantime the sandwiches and other menu items are available to-go.
How to order: Order takeout via ChowNow; order delivery via Postmates. Not in LA? The French Dip ships nationwide via Goldbelly.
Sign up here for our daily LA email and be the first to get all the food/drink/fun Los Angeles has to offer.
Fiona Chandra is an Indonesian-born freelance food and travel writer based in Los Angeles. Follow her on Instagram.