As if dating in Los Angeles wasn't challenging enough as is, you also have to deal with the fact that this food-obsessed city has its fair share of singles who know their morels from their chanterelles. That means you're gonna need some "foodie" date ideas in your dating arsenal, and THAT means you're gonna need to read this.

Brewer's Suppers
Chloe's at Golden Road Brewing (address and info)
Los Angeles
If you've only eaten in the pub or on the patio at the Golden Road Brewery, you're missing out on a well-kept secret: the beautiful and expansive private event space known as Chloe's. A cross between an upscale British pub and a German chalet, this hidden spot plays host to periodic special events that are open to the public, like the quarterly Brewer's Suppers, featuring a four-course prix fixe meal with (not-surprisingly) beer pairings. Sign up for the newsletter to stay in the loop, and email ASAP to secure a spot for you and yours.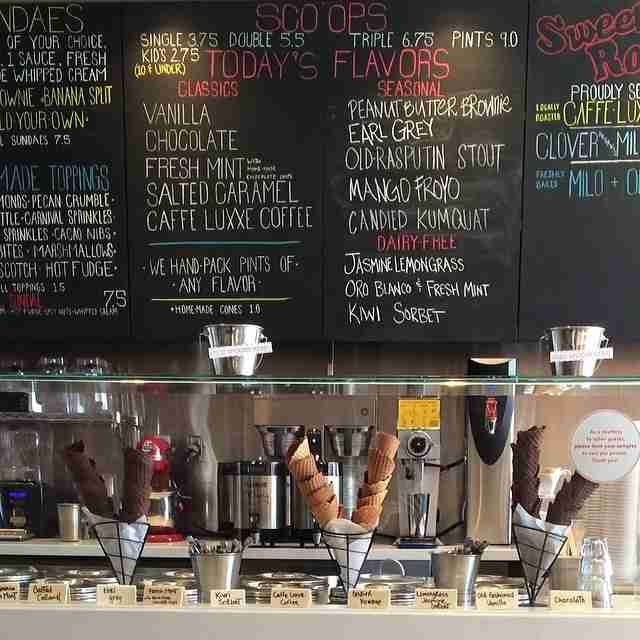 Ice cream making tour
Sweet Rose Creamery (address and info)
Santa Monica
Starting this month, this Santa Monica small-batch creamery will be offering free behind-the-scenes tours of its shop on the second Saturday of every month at 10am, so... ICE CREAM FOR BREAKFAST!!

Edible foraging
Urban Outdoor Skills (address and info)
Various locations
These guided hikes take place at parks around the county, where an educated food enthusiast will show you and your date the wild edible plants, flowers, seeds, mushrooms, and nuts (as well as the plants to avoid!), which you'll collect and then, as a group, use to create unique food and beverages, including primitive breads, preserved cactus flowers, and wild beer. Yes, that's right. Wild. Beer.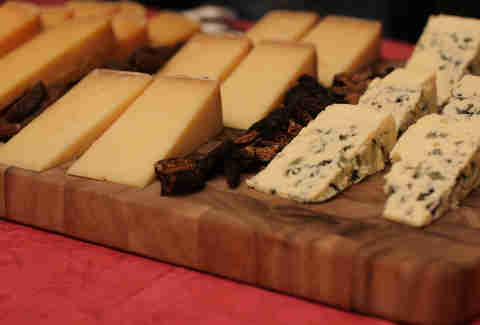 Cheese and booze pairings
Milkfarm (address and info)
Eagle Rock
From Friday to Sunday at this new-ish artisan cheese shop on Colorado, you and your date can sample the funkiest and sharpest of cheeses paired with wine and beer -- you'll also want to check out the killer cured meats selection, rotating grilled cheese and sandwich offerings, and frequent special events where you can meet cheese makers, artisanal food producers, and brewers.

Harvest Wine Dinners
Tender Greens (address and info)
Hollywood
You and your farm-to-table-savvy date have likely already enjoyed the locally grown, choose-your-own-adventure meals of Tender Greens, but now you can establish your locavore cred EVEN FURTHER by attending one of the seasonal, al fresco Harvest Wine Dinners. Beginning on April 26 with spring offerings, you can join other in-the-know food peoples at the Hollywood location for a feast featuring a five-course fete with sustainable meats, free-flowing wine and beer, and fresh produce harvested from vertical planters located on the very same patio where you'll be dining. Yeah, that's pretty local.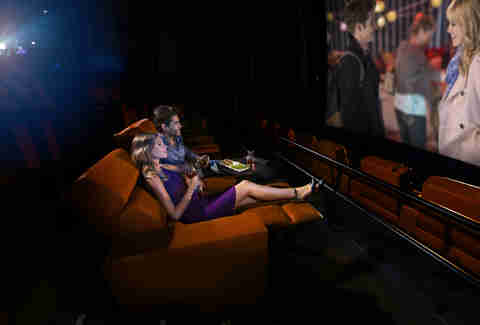 Celeb chef meals and a movie
iPic Theaters (address and info)
Westwood and Pasadena
The eat-and-drink-awesome-food-and-...drink-while-you-watch-blockbusters theater just enlisted three high-profile chefs -- one for each of the next three months -- to create a special dish that will be paired with creative cocktails while you watch. This month features Top Chef-er Antonia Lofaso, while Thai expert Jet Tila helms in May, and Ben Ford takes over in June, when you can eat one of his creations while hopefully watching his dad Harrison's latest movie (Indiana Jones 5?????).
Whole hog feast
Terrine (address and info)
Mid-Wilshire
Remember how we told you that this new-ish spot on Beverly with a killer patio and Avatar-reminiscent tree is perfect for brunch, charcuterie, and dates? Well, now you've got another thing it's perfect for: whole hog dinner dates on Monday nights, which include special hog-centric dishes like tomahawk pork chops, pig ear salads, and suckling pig platters, all of which will be paired with a selection of special Redbreast Irish whiskey cocktails.

French-Moroccan hideaway
The Little Door (address and info)
West Hollywood and Santa Monica
If you haven't already wooed your date with the super-romantic hidden courtyard of The Little Door on W 3rd, you now have two stunning spots where you can whisk her away for a French-Moroccan-inspired evening without shelling out for a plane ticket. At both the original neighborhood favorite and the new, equally charming Santa Monica location, you can feast on the new three-course prix fixe menu on Sundays and Mondays for $40 (!!!!) per person, which is a big deal because, well, totally-worth-it dinner here usually isn't $40 per person. Lamb with merguez sausages and chicken tajine paired with Moroccan wines and a candlelit Spanish tiled patio? Oui, oui.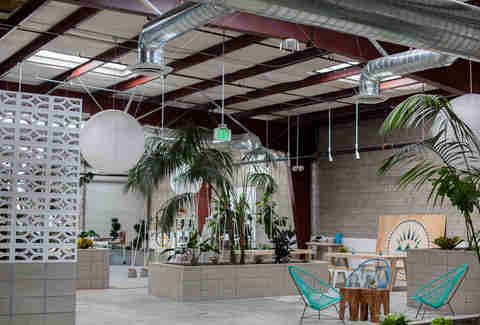 Urban spa retreat and dinner
The Springs (address and info)
Arts District
For your next date with a free-spirited vegan (hi, LA), hit this new age-y wellness spa (wait, what?) where -- once you two have indulged in the many detox options available at The Springs (you know, deep tissue massages, infrared sauna, and sound baths) -- you can unwind further with a new plant-based food menu from an acclaimed chef who's doing dishes like coconut wontons and a mushroom Reuben. Bonus: sake cocktails with healing botanicals!

Winemaker dinner pairings
Faith & Flower (address and info)
Downtown
This prime Downtown date spot (that doubles as one of the best restaurant openings of 2014!!!) just launched its "Terroir to Table" series (available only one night each month) wherein it'll collaborate with different winemakers to offer new releases and hard-to-find varietals, while expertly pairing them with seasonal off-menu dishes. You and your date will get to enjoy these exclusive pairings in Faith & Flower's private dining room, where you can have a chance to ask the guest vintners all sorts of personal wine-related questions, like, "Is this really 'oak-y'? And what does that even mean?"
Mezcal Mondays
Tacoteca (address and info)
Santa Monica
Whether all you and your date know about mezcal is that it's kinda-sorta like tequila, or if you're already onboard with the smoky magic of Mexico's lesser-known hooch, then it's time to get schooled at Tacoteca's new Mezcal Mondays series. On the first Monday of every month, you and whoever swiped right will get to sample a different brand of mezcal with discounted tasting flights, while you're learn about the merits of the varieties. You'll also want to stick around for the creatively tasty menu offerings from the dudes behind the mini-empires of Guisados and Umami.

Fried Chicken Night
The Churchill (address and info)
Beverly Grove
Since you and your special friend have already made it through our expertly-judged list of fried chicken joints, you'll want to expand your crispy poultry acumen at the newly minted fried chicken nights at longtime local favorite The Churchill, which feature buttermilk-brined and hickory-smoked birds. Go with the family-style whole bird option, which comes with a mountain of gruyere mashed potatoes, low country-style green beans, and short-rib gravy, all of which can be washed down by a selection of suggested beer pairings.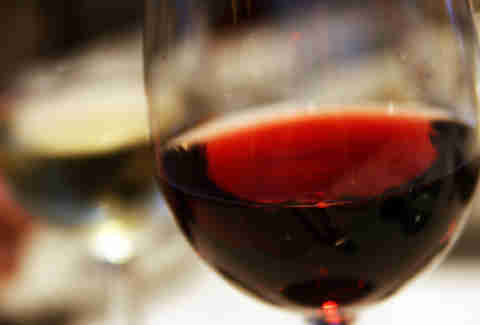 Wine-tasting classes
Patina (address and info)
Downtown
One of LA's longest-standing white-tablecloth restaurants offers a monthly tasting with its award-winning sommelier, who will teach you about a selection of five exclusive, high-end wines from different regions of France, so you can finally stop making up fancy-sounding words to describe your Trader Joe's wine selections. Stick around for dinner afterward, and you'll each receive a complimentary glass of one of the class offerings, which you'll be even more grateful for once the bill arrives.
Caviar class
Petrossian Restaurant & Boutique (address and info)
West Hollywood
If you two are 1) caviar fans and 2) willing to drop some coin, you're definitely going to want to go lux with the "Caviar 301" class at this WeHo French favorite. On the third Thursday of every month, you can indulge in a tasting of the Petrossian's most expensive caviars along with an epic, caviar-centric, seven-course dinner for $125/person. The deal even throws in a caviar martini, flute of Champagne or vodka, or glass of white wine for each of you to sweeten the deal.
Sign up here for our daily LA email and be the first to get all the food/drink/fun Los Angeles has to offer.
Danny Jensen is a regular Thrillist contributor who definitely considers cheesemonger to be a romantic word. Share your food nerd adventures with him on Instagram and Twitter.