LA's history with great food trucks predates the halcyon days of 2008 and Twitter: taco loncheras have been the lifeblood of the city for decades, which is why even though we're long past the sell-by date of the Twitter-truck revolution, this list of the best food trucks in LA still shines bright with excellence:
Recommended Video
This Restaurant Invented a New Style of Sandwich
Kogi BBQ
We'd be remiss to start with any other truck. Roy Choi's Kogi truck is almost undisputedly the leader of the the Twitter food truck revolution in LA and is still an absolute powerhouse of creative fusion cooking, leading to the nationwide trend of wrapping, like, everything in a corn tortilla (still, that short rib one hits the spot, hard).
Pico House
The chefs behind Pico House's meat & grain bowls have resumés that include moderately famous restaurants like Bestia and Blue Hill, so it's no surprise that they're killer. The top order is the Union Lamb, with harissa braised lamb, sautéed onions and peppers, carrot puree, mint, tomato, cucumber, with red wine vinaigrette and goat cheese (every bowl comes on top of their specially chosen/insanely delicious grain mix).
Guerrilla Tacos
Chances are that your friends have already told you to eat at Guerrilla -- and if not, you need better friends. This Jonathan Gold-approved taco truck does weekly menus, always showcasing fresh & local ingredients, usually in combinations you won't find anywhere else, including scallop tostadas with Santa Barbara uni to to sweet potato tacos with almond chile and fried corn.
Yeastie Boys
Though this beloved hand-rolled bagel haven found a permanent home inside the West Hollywood Alfred Coffee, the truck is still movin' and groovin', so don't get too nervous if you're an Eastsider. Once you've found it, you can grab a Game Over (scrambled egg, peppered bacon, tomato, beer cheese, and jalapeño spread on one of their legendary cheddar bagels); they're usually in Silver Lake and Downtown two days a week each.
Jogasaki Sushi Burrito
This truck made headlines when it launched a few years ago, and deservedly so: their massive rolls are like amazing poke bowls, minus the chopsticks. Grab a Spicy Salmon Delight, with spicy salmon, avocado, and cucumber wrapped with soy paper, or, if you're super crazy, some of the Spicy Tuna Nachos, with spicy tuna and avocado on a bed of Doritos (yup) with eel sauce.
Mandoline Grill
Mandoline's banh mi are some of the best truck bites in the city, with choices of tasty grilled pork, Hawaiian BBQ chicken, or tofu. You can also pop any of those proteins in a taco, a bun, or even on top of tortilla chips, with scallions, jalapeño, mint, cilantro, and Sriracha aioli for some Vietnamese nacho action.
The Grilled Cheese Truck
The Grilled Cheese Truck has become an an LA staple, more for what they put on melted cheese than the cheese itself: the go-to is the Cheesy Mac & Rib, with sharp cheddar, house-smoked BBQ pork, Southern mac & cheese, and caramelized onions on French bread. And stay for dessert, because the menu also includes a (thankfully cheese-less) S'Mores melt.
Mariscos Jalisco
The long-serving, Gold-beloved Mariscos Jalisco is an unassuming Boyle Heights-based seafood truck that sneakily serves up some of the best Mexican seafood in all of LA. MJ's tostadas, shrimp tacos, and ceviches are now the stuff of legend, thanks to a fiercely loyal following and nearly unbeatable prices.
The Lime Truck
After Daniel Shemtob won The Great Food Truck Race, he started slinging his tacos, fries, and other street bites all over the place, and then opened brick-and-mortar spots all over the city. Whether you're in the restaurant or at the truck, you're definitely going to want to get brown sugar and soy-braised pork belly tacos, which balance sweet and savory near-perfectly.
Komodo
Initially written off as a Kogi rip-off, Komodo's tacos have stood apart for their creativity -- for instance, they serve Alaskan fried cod with grapes, roasted almonds, and sour cream salad, and Indonesian pork rendang braised in coconut milk, with tomato/cucumber salad, green onions, and fried shallots. Super hungry? You can grab 'em in massive burrito form, too.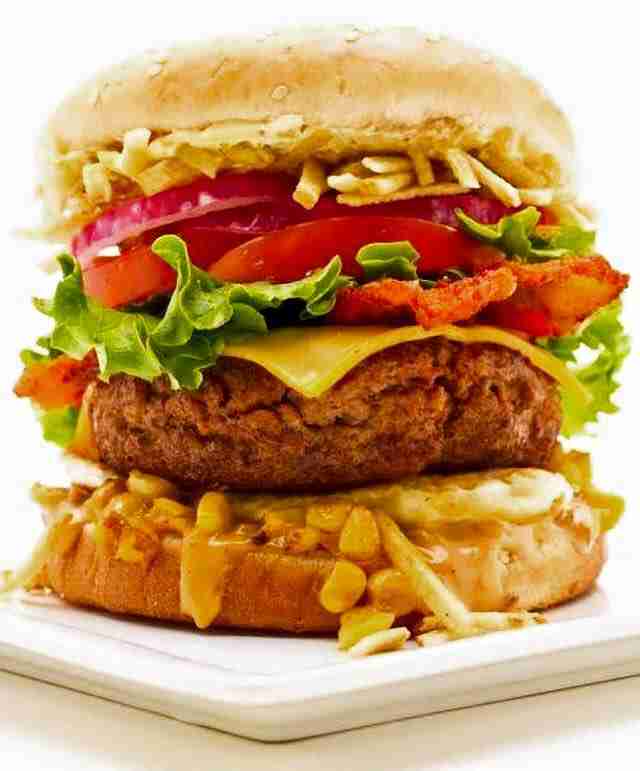 Ta Bom Truck
There aren't enough great Brazilian restaurants in LA, and Ta Bom is trying to singlehandedly change that -- on wheels. The huge menu boasts a variety of different appetizers and specialty dishes, like beef pastels (empanada-like flaky pastries full of ground beef), and fried chicken & cream cheese coxinhas (trust us, it works). If you brought your appetite though, you'll want one of their plates -- you can have chicken or sausage, each served with white rice, black beans, fried plantains, salsa, and farofa with salad or fries and a drink.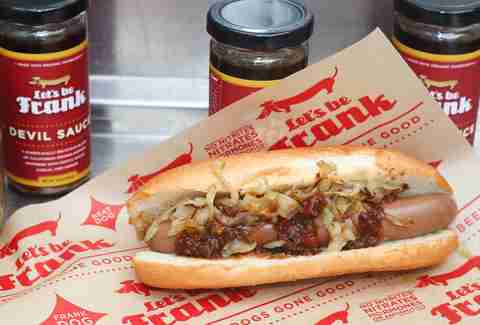 Let's Be Frank
Sue Moore, one of the geniuses behind Let's Be Frank, used to be the meat forager at Chez Panisse. If that's not enough to convince you that this next-level hot dog cart (OK it's not a truck, but whatever, it'd be wrong not to include it) is worth your time, then we don't know what is. The meat is family farmed, humanely raised, much cleaner, and just as delicious as your typical street meat.
The Lobos Truck
Lobos' waffle fry nachos made our list of the best nachos in LA, but that doesn't mean they don't have more to offer. If you're not getting all up in said nachos, you can also get all up in one of their monster burgers (like the Big Lobo, with two Angus patties, cheddar, jack, a fried egg, guac, and tomato on brioche), some fresh salads, or some Spicy Mac (mac & cheese with completely homemade, completely kickass Diablo sauce). And do we even need to tell you to finish it off with a salted caramel bacon brownie? We don't, right? We don't.
Leo's Taco Truck
You'll love anything you get from this taco institution, but you probably won't love anything more than the al pastor that has made Leo's so beloved. You'll see it getting sliced from the trompo, a huge, vertical gas grill. Served with pineapple, it's truly one of the tastiest tacos in the city -- and at $1, one of the cheapest as well.
Sign up here for our daily LA email and be the first to get all the food/drink/fun Los Angeles has to offer.