The best oysters to slurp in LA this weekend
Los Angeles The world may be your oyster, but without our pearls of wisdom to guide you to the best oysters in LA this weekend, you'd be lost at sea. Here're a couple of new raw bars, and three ways to save your hard-earned clams (wait, that doesn't even make sense) on a few oyster specials. Okay, we're done now.
Faith & Flower: Not only does this recently opened, Downtown joint have one of the best new steaks in town, but they're also serving up $1 oysters during social hour, Sunday-Thursday, from 5-6:30pm. Continue Reading
Tipple & Brine: In case the name didn't clue you in, this newly minted Ventura joint delivers booze and oysters straight to your mouth. In addition to partaking in their daily rotating selection of 5-7 sustainable oyster varieties from around the country, you're gonna want to get in on their Scotch Oyster Luge, a single malt and oyster pairing that involves drinking the Scotch from the shell.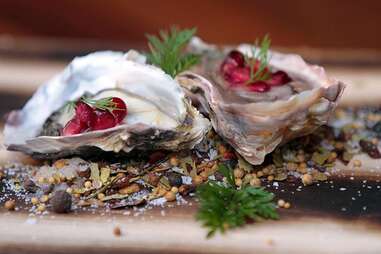 City Tavern Downtown: The new DTLA outpost of Culver City's ass-kicker gastropub offers a crustaceous twist, with the addition of a raw bar. Nab a large booth during their 3-6pm happy hour all week, and enjoy fresh-shucked oysters paired with $6 cocktails and vino, or go big with a 32oz milk jug (milk not included) filled with any craft beer from their 28 taps.
Littlefork: You want Littlefork's smoked-meat poutine goodness, but you need their $1.50 oysters. Available daily from 5-7pm and again on Friday and Saturday from 10pm until closing, their oyster hour also includes $1.50 Molson bottles (eh?!), rotating $5 wine selections, and seasonal cocktail specials.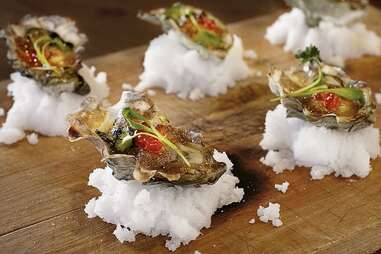 Scratch|Bar: You already know that Scratch|Bar rocks a late-night happy hour with their duck fat popcorn, but did you know they also do an oyster "happy hour"? From 5-7pm, seven days a week, they offer a rotating selection of $2 shell surfers. Might we also suggest their pork belly and oyster bite? Thought so.