Beyond the kebab: LA's best Persian restaurants (and what to order)
According to the US Census, half of the country's Persian population lives in Los Angeles. HALF. And yet somehow, it's next to impossible to find a good Persian restaurant in LA that isn't just a glorified kebab stand. But not all-the-way impossible thanks to this list of LA's nine best Persian restaurants.
What to Order: Chicken Tahchin
Imagine chicken pieces mixed with basmati rice, yogurt, and saffron, all baked slowly until the rice mixture becomes lightly custardy and a crispy golden-brown crust forms around the outside. That's Tahchin. And it's served topped with tangy sautéed barberries, like the Persian boss that it is.
What to Order: Any sandwich
The prime move at Attari is to have a sandwich in the sunny courtyard for lunch. Some come with kotlet (a patty of potatoes and chicken or beef) or kuku (a Springy frittata of greens and fresh herbs), and they all come on a fresh baguette. Advanced move: try either the tongue, or the brains. Because, come on, tongue and brains.
What to Order: Dizi
Iranians get all nostalgic about 1) Dizi (rhymes with Young Jeezy), a tomato-based, simmered-for-hours soup that comes with crisped lavash flatbread to tear up and mix in, and 2) goosht-o-nokhod, a mix of garbanzo beans and lamb pulled from the soup and pounded together into a mash. At Nersses Vanak, you can have them pre-mash it for you in the kitchen, but opt to do it yourself. After all, how often do you get to take a blunt metal instrument and go postal on your food? Don't answer that.
What to Order: Haleem
Haleem is pure comfort food, with just the right amount of weird: a savory breakfast porridge of wheat and shredded turkey, served with cinnamon and powdered sugar.
What to Order: Ash Joe
We know, asking you to forgo succulent grilled beef for a vegetarian dish is a tall order, but hear us out. We don't know who Joe is, but his namesake dish, a hearty soup of barley, legumes, greens, and rice topped with fried mint and caramelized onions, will make you feel warm and cozy from the inside out.
What to Order: Persian Pizza
This Westwood hangout is all about modern Tehrani food, including the capital city's spin on pizza. Here, the personal-sized pies come sauce-free, broiled until the cheese is browned and bubbly, and topped with exotic delights like chopped up hot dogs, green bell peppers, corn, or sesame seeds. Make like the locals and squeeze on crazy amounts of ketchup and ranch before chowing down.
What to Order: Oliviyeh sandwich
This sandwich spot near Santee Alley is a classic LA culture mashup: alongside Mexican-ness like huaraches and tortas, you can also order Persian sandwiches with fillings like kosher sausage and halal mortadella. Try the Oliviyeh sandwich: house-made bread stuffed with a Persian picnic favorite that's potato salad, chicken salad, and egg salad, all rolled into one.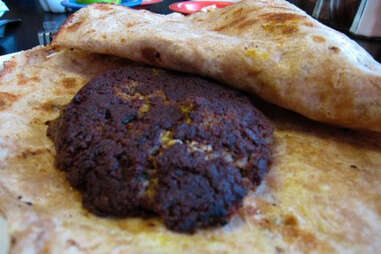 What to Order: Biryani
On Saturdays and Sundays, this strip mall Persian spot in Reseda serves biryani -- not the rice dish you'd usually get for ordering the same thing elsewhere, but actually an obscure specialty of Isfahan that you won't find anywhere else. Here, it's a rich patty of ground lamb (seasoned w/ cinnamon and other warm spices) that's deep fried (!!) and served on top of homemade bread. So basically, a Persian burger. And while it looks terrible (see above), it tastes delicious, because, yep: fried lamb. Believe!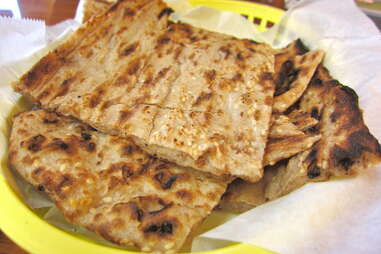 What to Order: Anything with sangak
The kebab at this Pico Corridor kosher resto is fine, but the prize here is the bread. Mahaleh's got a real sangak oven -- its floor is covered in hot pebbles, and the dough is stretched across them, giving the chewy, several-feet-long flatbread its bumpy, holey texture and bits of char. We'll give you permission to order kebab here, because hot sangak that's been sitting under kebab, soaking up its meaty, saffrony juices, and getting all fatty and soggy is maybe the best thing ever.
This list -- and all the rest -- look even sexier in our iPhone app. Get it now!
Tannaz Sassooni writes about good food and good times in Los Angeles on her blog allkindsofyum.com. Follow her at @tannazie.