A while ago, we told you about the best Thai restaurants in LA, which almost all happened to be within a two-square-mile block in Thai Town. But LA is, like, a billion square miles, which is why this list is even more helpful, probably: these are LA's 14 best Thai restaurants NOT in Thai Town.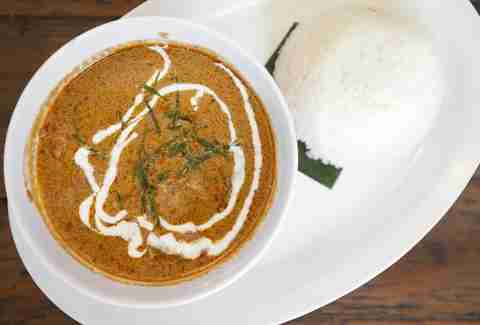 Downtown
What you're getting: Kanom krok
The tasty street fare at this Grand Central Market joint makes you feel as if you're in Bangkok (except without the backpackers and Ping-Pong shows). The creamy panang beef curry and coconut rice are musts, but even-mustier is its meal-ending, freshly made, piping-hot kanom krok (aka plump, palm-sized morsels of fried coconut custard).
West Hollywood
What you're getting: Grilled pig collar
Another Thai spot with a menu based on snack-style street food, this one's basically a pork lover's paradise. Fill your stomach with crunchy fried pig tail, fatty grilled pig collar, and a sour sausage/raw cabbage combo, which is much better than it sounds. No, like, a LOT better. (Also, make sure to check out its equally great sister restaurant, Night + Market Song, in Silverlake.)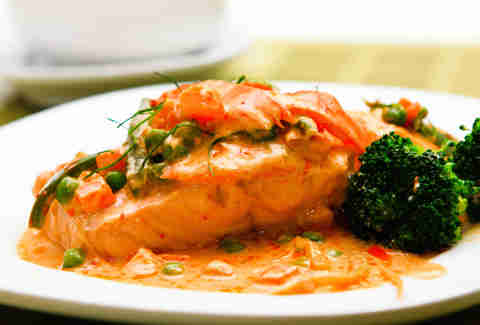 Westchester
What you're getting: Poached salmon curry
The rich and creamy (yet not overpowering) curries at this family-owned Thai restaurant are lick-off-the-plate worthy. Our picks? The poached salmon curry, swimming in a red coconut-y sauce reduction and Ayara's Toast -- an appetizer of ground pork and shrimp fried over elephant-shaped bites of toast. Annnnnnnnnnnd you're drooling.
Multiple locations
What you're getting: Siam Spring Rolls
There's no Thai dish that this place can't rename with a cutesy moniker (i.e. Garlic Goodies, Duck Delight, and Siam Spring Rolls), and also no Thai dish that isn't worth eating, which makes the Natalee Delight the go-to order; it gives you a sampling of its best appetizers, like beef satay, shrimp cakes, and stuffed wontons.
Multiple locations
What you're getting: Any $10 lunch special
Head here for bang-for-your-buck lunch specials, which include dishes like steamed fish in curried coconut milk and spicy basil pork. For a 10 spot, they'll give you super-generous portions, plus a drink, salad, rice, and -- in case you're not comatose yet -- fried dumplings.
 
Koreatown
What you're getting: Larb
When you're in the mood for Northern Thai food with a kick, head to this K-Town spot and order any of its larb salads, which are dressed with a pungent mix of lime, mint, onion, cilantro, and serious runny nose-inducing spice. You've been warned.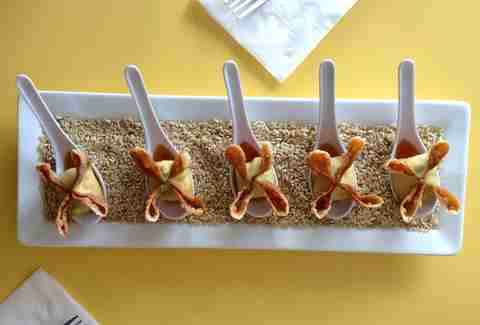 Culver City
What you're getting: Khao soi
What the restaurant lacks in space it makes up for in menu options -- like more than a dozen different variations of flavorful noodles, curries, and rice dishes. You can't go wrong with the khao soi (egg noodles steeped in a rich yellow curry sauce) and delicious pumpkin curry.
Silver Lake
What you're getting: Deep-fried taro
Yes, there's too-cool-for-you hipster art on the walls at this neighborhood spot, but don't expect dumbed-down Thai food here. Instead you'll find dishes for the slightly more adventurous Thai eater, like deep-fried crispy taro and a rambutan/shrimp salad tossed in a creamy coconut-lime dressing.
 
Norwalk
What you're getting: Nam kao tod
In-the-know Thai people (and soon: you!) swear by this place, and its nam kao tod (think crispy rice salad) is the stuff of legends. It's made with deep-fried rice and fermented pork sausage, as well as a hodgepodge of unpronounceable Thai herbs and sauces that give the dish its signature spicy, lemony bite.
Pasadena
What you're getting: Pork fried rice
"Moist" -- that universally hated word -- is really the only way we can describe this hole-in-the-wall's Thai-ifed fried rice, which always comes perfectly fluffy and flavored with fish sauce.
Carson
What you're getting: Pad Thai
Sure, you have to drive all the way to Carson for it, but this place serves a killer pad Thai -- neither too dry, nor too soggy -- thanks to fresh, chewy, al dente noodles (plus, it doesn't skimp on the shrimp). Oh, and since it's known for BBQ, you might also want to get its juicy, fall-off-the-bone spare ribs.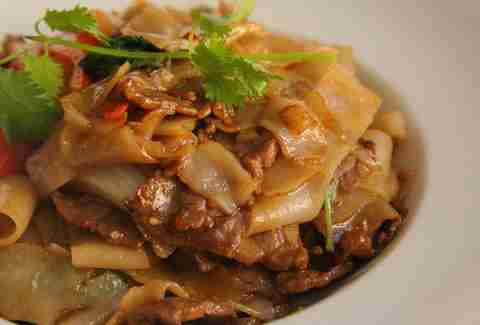 Toluca Lake
What you're getting: Drunken noodles
This hidden gem's located in Toluca Lake -- which means, of course, it also serves sushi and pomegranate and lychee martinis. But its Thai fare is super solid, including tangy tamarind-flavored Chilean sea bass and drunken noodles that clearly took advantage of all those martinis.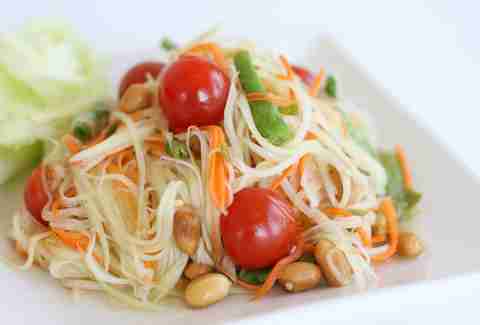 Mar Vista
What you're getting: Tom kha kai
Right after pad Thai, tom kha (coconut/lemongrass soup) and tom yum (hot and sour soup) are the most recognizable Thai dishes stateside. Thankfully, Ekkamai makes both exceptionally well, filling its classic tom kha with aromatic flavors and its tom yum with extra limy zing.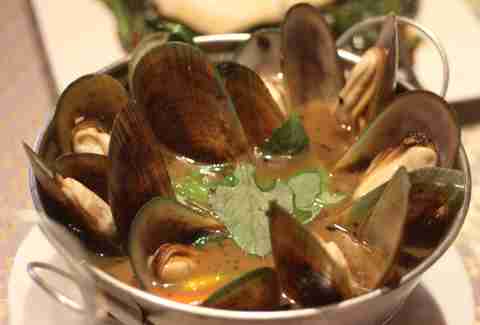 Westwood
What you're getting: Crying Tiger Beef
This spot's most-raved-about dish is the Crying Tiger Beef: thin, tender, well-marinated strips that you can wrap up in lettuce leaves. As for dessert, if you still have room after its tangy/sweet mango sticky rice, go for the homemade Thai donuts, which are churro-like morsels covered in condensed milk and crushed peanuts.
Sign up here for our daily LA email and be the first to get all the food/drink/fun Los Angeles has to offer.
Tiffany Tse is a freelance contributor for Thrillist and still remembers watching her first Ping-Pong show (Bangkok, circa December 2006). Find out what she's up to on Twitter at @twinksy and Instagram at @twinksy.