What LA lacked in water this April *sad face*, we made up for in awesome new bars and restaurants *still sad face... but less sad*, from a beer garden at The Grove, to a new spot from the Animal guys, to a VW bus serving tacos inside of an East Valley restaurant. Wait, wut? Exactly.

Mid-Wilshire
Rising from the ashes of St. Nick's (RIP), this upscale restaurant with Dia de los Muertos decorations, a high-end tequila program, and a massive menu (get the sweet corn tamales and chicken mole enchiladas) serves cocktails with flaming sugar skulls inside of them. FLAMING SUGAR SKULLS.

Santa Monica
The Tar and Roses crew drops a seafood-centric spot on the Westside, dishing out amazingness like an albacore banh mi, plus charred octopus (w/ potatoes and smoked paprika) in a spot that looks like it could be the inside of a high-end yacht's galley.
Studio City
There is a VW bus serving tacos in this East Valley barstaurant. REPEAT: VW BUS SERVING TACOS.

Mid-Wilshire
Is this the best makeover ever (hint: yes, it is)? The old Johnny Rockets at the Grove has been transformed into a freaking BEER GARDEN, with a massive patio and an equally large beer list with dozens of craft brews as well as a food menu with a killer Applewood-smoked bacon burger and Bavarian pretzels.
Mid-Wilshire
The geniuses behind BLD bring you another acronym-y soon-to-be-favorite, this time standing for Ice Cream Donuts Coffee, which kind of tells you everything you need to know about what this small-but-amazing spot from a lauded pastry chef is serving.

Santa Monica
You've definitely read online about drinking coffee with butter -- and this spot started the trend. See if the hype is real/fake/some semblance of the two, and also hit some, uh, broths and salads while you're there. Speaking of which...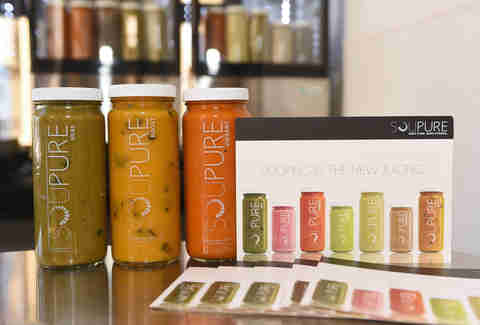 Brentwood
Apparently broths are the next-big-thing, which makes this all-broth shop-kiosk in Brentwood the, uh, next-big-thing?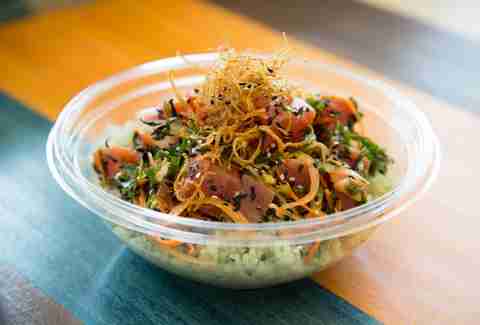 Santa Monica
If you've ever been to Hawaii and come back bummed that you can't get the awesome raw-fish dish known as poke on the mainland, you're in luck: this Westside 'monger is busting out variations including albacore and salmon, all prepared by a chef who did time on Top Chef and at the W.
Mid-Wilshire
If you've ever been to Hawaii and come back bummed that you can't get the awesome raw-fish dish known as poke on the mainland, you're in luck: this Mid-City 'monger is busting out variations on the staple including albacore and ahi, all prepared by a chef who did time at Röckenwagner and Boa.
Mid-Wilshire
The newest project from the Animal boys may not have a secret burger, but it's got its own chronic deliciousness: bubbly-crusted pizzas topped with burrata and bacon, homemade meatballs, and al dente pastas, as well as breakfast pizzas and a massive to-go wine bottle shop.
Studio City
The dudes behind Mercado and Yxta's newest project is... wait for it... a Mexican concept (!!!), only this time leaning more seafood-centric (think lobster tacos and oysters con queso).
Santa Monica
The first standalone LA location of the well-liked Grand Central Market stand sources meat from its own NorCal farm, which means grass-raised steaks, goat tartare, and off-cuts available both as dishes and at an expansive butcher case.

Sherman Oaks
A duo of top cheese-ers from spots in London and San Francisco have opened up shop in the Valley, educating patrons about the origins of goudas and bleus and plying them with sandwiches and charcuterie, too.
Mid-Wilshire
Looking for your next wine bar date? This La Brea spot has you covered, with a massive international vino list and classic food like steak frites.

Mid-Wilshire
This Sawtelle favorite has gone Mid-City, bringing with it a basic-but-quality menu including a ton of varieties of pho and banh mis (obviously), as well as grilled lemongrass & sesame steak buns and baby clam on sesame crackers.
Los Feliz
Yo: churro ice cream sandwiches. That's it.
Sign up here for our daily LA email and be the first to get all the food/drink/fun Los Angeles has to offer.
Jeff Miller wants Churro Borough right now. If you're there, rub it in at @jeffmillerla on Instagram and @ThrillistLA on Twitter.
Other Stuff You'll Like In Openings Cheat Sheet