As Omar Little once said, "I got the shotgun. You got the briefcase. And Thrillist got a list of the 13 hottest restaurant and bar openings in LA this May. It's all in the game though, right?" Oh, indeed. From a new po-boy spot, to a club that looks like the inside of a yacht, to a patio that'll straight blow your mind, here's all the best stuff to open last month in Los Angeles.
Recommended Video
The Definitive Eggnog Recipe You Need for the Holidays
Hollywood
Replacing the NoLa-centric Five0Four is... the NoLa-centric Royal, courtesy of... the same owners. So what's different? A new facade (with distressed window panes and a living wall), new drinks (from Scopa Italian Roots' main man Pablo Moix), and a new po-boy-centric menu with Spanish chorizo & gulf shrimp sandwiches.

Koreatown
This sort-of-speakeasy-ish cocktail bar is just behind the Normandie Club and focused on "the cutting edge of mixology," which means 50 classic drinks + some fancy-schmancy bartender inventions. And, coming soon, 10 hotel rooms attached to the bar.
Downtown
No BS, this place is super-killer: it's the chef from Fig making amazing Mexican food, including lemon-pepper chicken chicharrones and amazing carnitas tacos.

Mid-Wilshire
This new pizza place in the former Cube space (from the former Cube owners) is notable not just for its insanely good spicy-sausage-and-broccolini pie (seriously, INSANELY GOOD) but the fact that it's also serving up Cube's famous fried chicken recipe. Ha-cha-cha.
Hollywood
The latest from Eric Greenspan, this seafood-centric spot does clams/mussels in your choice of broths (leek & white wine, tomato fennel, etc) as well as a whole branzino and -- for non-fish eaters -- a chimichurri skirt steak, all on a killer outdoor patio.
West Hollywood
Open now where The Horn used to be, this new barstaurant is named after the 10 drinks on the menu created by the 10 bartenders who work there (clever!). Drinks include the Basic Bitch (coconut water, vodka, blueberry), and foodstuffs include bar classics like flatbreads, burgers, and mac & cheese.

Downtown
This new chicken & waffles spot isn't anywhere near a Roscoe's, which means you're gonna definitely destroy its down-home goodness, including sauces like chipotle BBQ and jalapeño vanilla bean syrup.
Hollywood
Formerly Colony (RIP), this oontzery has been given a seaward overhaul and now looks like the inside of a yacht; the biggest party is Sunday, when XIV Yacht Club takes over with big-time DJs like EC Twins on the ones and twos.
Santa Monica
Aiight, this place isn't BRAND new -- it opened a few months ago -- but we missed it then and have been paying the price since, especially because it just launched a new lunch menu with blue crab & shrimp ceviche, a smoked pork torta, and a crazy-good pho jammed w/ Wagyu, shortrib, and brisket.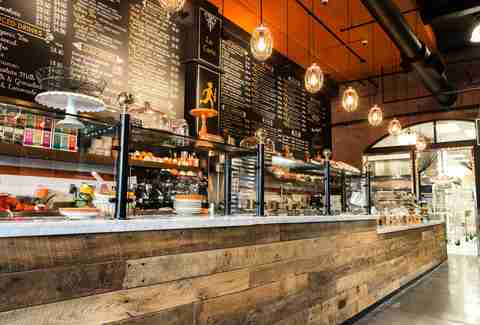 Downtown
This Parisian bakery is clearly going for next-Bottega Louie status, with fresh-baked bread going into classics like a gooey croque madame.

Exposition Park
Not exactly a restaurant, this app-meets-food truck (from the Rolling Hunger guys) has a truck setup at USC with ordering (of stuff like burgers and tacos) available by app, and free delivery to the 'hood around it, with more to come in SaMo and throughout LA.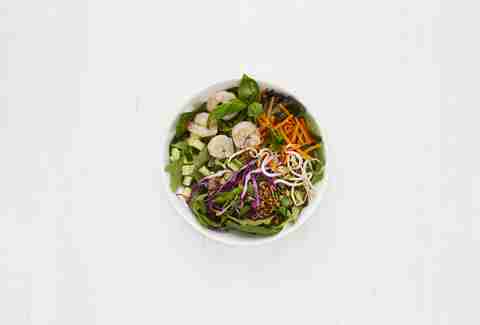 Mid-Wilshire
This Washington DC import (weird, right?) is serving up ultra-seasonal salads and bowls, with ingredients sourced from local farmers for healthy-but-delicious eat-iness like the spicy-cashew-dressed Rad Thai salad.

Manhattan Beach
South Bay notches up another killer spot with this herb-and-vegetable-garden-abetted resto, serving up ultra-fresh American fare.
Sign up here for our daily LA email and be the first to get all the food/drink/fun Los Angeles has to offer.
Jeff Miller wishes Manhattan Beach were closer to his apartment. Follow him on Instagram at @JeffMillerLA and Twitter at @ThrillistLA.