11 New LA Brunches You Should Hit This Weekend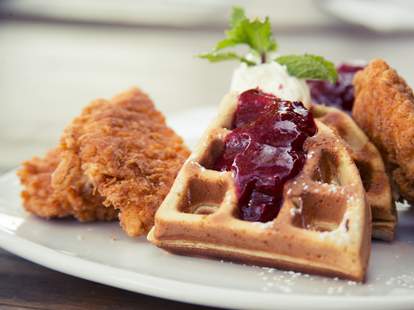 Hitting brunch in LA this weekend? No-brainer. Where you're hitting brunch in LA this weekend? That's more of a some-brainer. Or at least, it is for everyone not reading this list of 11 new LA brunches you absolutely have to hit this weekend. Bazinga.
(And in case you ever hit all 11 of these, you can always start chipping away at our Ultimate 2015 Brunch Guide.)
The Larchmont
Larchmont Village
It's got an egg-topped, Vietnamese-flavored farro, a peanut-butter crunch French toast called "The Stoner" for some reason, and one of
the best new burgers in LA
. If you only go to one of these 11, this is probably the one you want to go to.
The Little Door
Santa Monica
Not only is it
super-romantic-y at night
, but it's now got your morning-after handled as well, with a baby artichoke omelet and seared fois gras with poached eggs.
Mid-Wilshire
Lobster hash? Uh-huh. Challah French toast? Uh huh-uh-huh.
Cadet
Santa Monica
This recently opened new-American spot also recently opened weekend brunch, and with it, a crab & avocado tartine, a wood-grilled bavette steak & eggs, and cocktails (cocktails!!) like a St. Germaine-and-togarashi-laden michelada.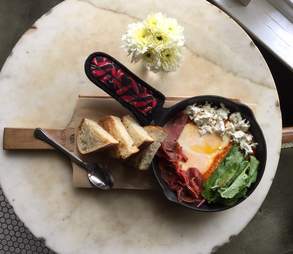 Bowery Bungalow
Silverlake
If you're looking to get your new Middle Eastern brunch on, venture to this, well, Middle Eastern-inspired restaurant, which is doing stuff like egg-topped tomato stew known as shakshuka and orange blossom-flavored five-grain pancakes.
Larchmont Village
The space formerly known as Girasole has been rebranded as Vernetti, but the focus is still Italian-ish: their just-launched brunch includes a morning carbonara with black pepper, guanciale, and egg, and a creamy sausage-laden biscuits and gravy.
Bar10
West Hollywood
The steakhouse The Horn used to be here, but now it's a barstaurant serving up new brunch-iness like Tex-Mex bowls and chicken & waffles with a side of honey.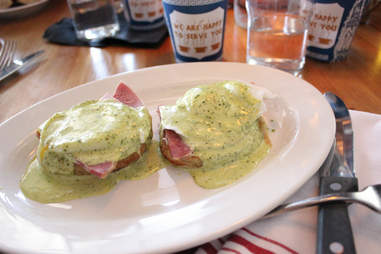 Freddy Smalls
West LA
The tiny-but-beloved WLA bar has a brand-new brunch program, featuring a cast-iron egg frittata and a chicken Parm sandwich available at the bar and at its windowed booths.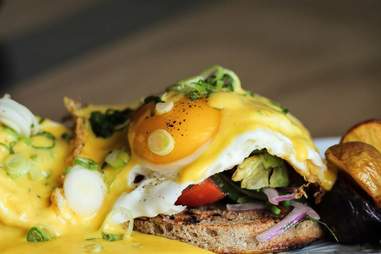 Los Balcones
Hollywood
The 10-year-old Peruvian staple just rejiggered its weekend menu, which means vaguely ethnic-sounding dishes like panettone French toast (panettone = sweeter bread) and pichuberry pancakes, which are cherry-esque.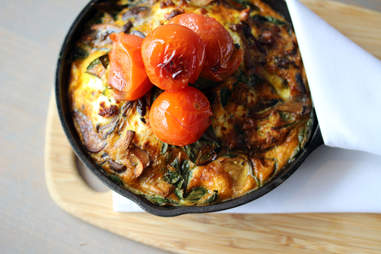 Love & Salt
Manhattan Beach
This wood-laden, Italian-inspired restaurant's new breakfast-meets-lunch options include Nutella toast with strawberries & sea salt (Hey. O.), a smoked fish board with house-made bagels, and wood oven-baked eggs with grilled bread.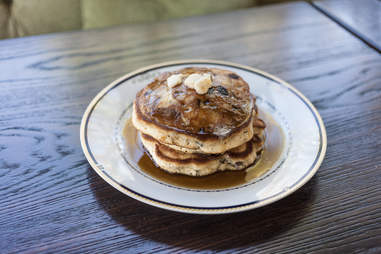 Ox & Son
Santa Monica
Yo: it has chocolate bacon bourbon pancakes. You don't need to know ANYTHING ELSE.
Sign up here for our daily LA email and be the first to get all the food/drink/fun Los Angeles has to offer.
Jeff Miller thinks a runny egg makes literally everything taste better. Watch his intake at @jeffmillerla on Instagram and @ThrillistLA on Twitter.