Thank God: A Ton of Delicious New Brunch Options Are Open in LA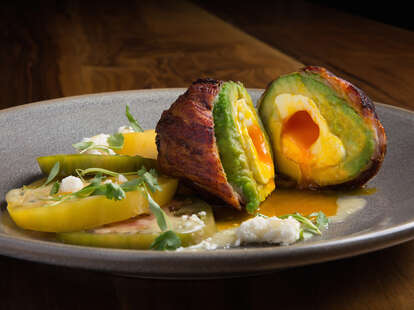 Courtesy of Gaelen Casey
Look: it's February, the sun is shining, it's beautiful out, and you'll be damned if this weekend's time is going to be wasted either debating about where to have brunch or having the same ol' brunch you had last weekend. Which is why we're here to help, with a bunch of brand new brunch options to make your weekend even better. You're welcome.
West Hollywood
Wait... did they just put a poached egg inside an avocado? They did, and the ultra-California menu at this beautiful new Sunset Strip spot doesn't stop there: they've also got a bee-pollen-and-peanut-butter-and-banana-and-honey-topped whole wheat toast and much more.
Echo Park
This just-opened homespun spot's got an all-star team behind it, including the owners of Spare Room and chefs from Rustic Canyon, and they're busting out breakfast greatness like Semolina Pancakes with chestnut honey and duck egg toast with 'Nduja (pork sausage), raclette, and oregano.
Mid-Wilshire
The fast-food-for-people-who-don't-like-fast-food spot has wizened up to the breakfast game and has added egg-takes on their already killer roast-beef sandwiches; basically, if you were even thinking about McDonald's McMuffins you should hit this roadside stand for to-go brunch action, like this steak 'n' egg sandwich, instead.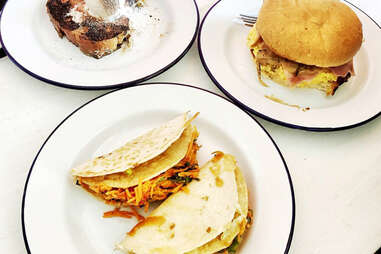 Silverlake
If you live in Silverlake, then you've no doubt seen the lines at this tiny mini-mall brunch-only shop from the Animal guys and Ludo Lefebvre, but what they're serving makes the wait worthwhile: hash brown chilaquiles, churro French toast, and much, much more.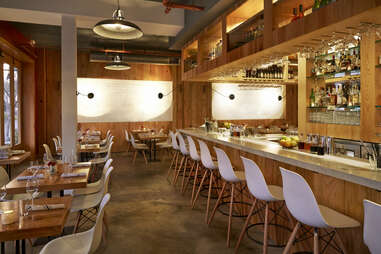 Hollywood
The beloved cured-meat-and-eggs spot has moved from their tiny original spot to a massive new location in Hollywood proper, which means new food selections (Marin Sun pork shoulder chop with eggs & grits) and a full bar with a brand new cocktail menu, including bottled dirty martinis and the Colorado Bulldog, with vodka, coffee liqueur, and heavy cream.
West Hollywood
The recent addition to the Mondrian's got classics like huevos rancheros, as well as a remoulade-drenched blue-crab sandwich with bacon.
West Hollywood
Look, if this photo of their egg-topped bison burger doesn't get you excited about hitting the Strip for brunch, then probably nothing will. Except their patio.
Mid-Wilshire
The beloved vegan restaurant/celeb hang (Jay-Z! Adam Levine! That guy from that one thing!) has finally dropped seven-day-a-week brunch, and even if you're a meat-eater you'll want to hit it: they have chicken and waffles that taste like the real thing, and a bagel with smoked lox. But not, like, actual salmon. Yeah.
West Hollywood
Michael Cimarusti's beloved East Coast-style seafood spot is finally doing brunch, and as you can imagine, it impresses: the line-up features smoked mahi-mahi Benedicts, a crab & lobster omelette, and, for non-seafood lovers, steak & egg with a mashed potato cake.
Venice
The beloved casual Venice landmark's been completely re-done, but still boasts a killer patio as well as a to-go counter serving up top-notch pastries; you can also sit right at the open-kitchen counter and watch chef Jason Neroni (Superba Snack Bar) make insane breakfast dishes, like a roasted brussels sprout and bacon skillet topped with two duck eggs.
Highland Park
It's definitely playtime at this second location of the Glendale fave: a former Patina chef's doing next-level eats like a braised short rib sandwich with cheddar, caramelized onions, and horseradish aioli and pancakes with lemon zest, ricotta, and whipped cream.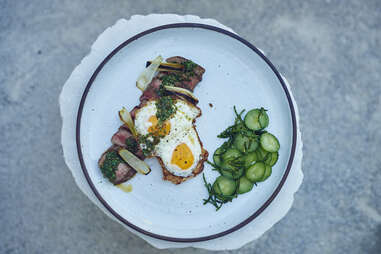 Downtown
This beautiful new American restaurant behind the Broad has a weekend brunch that befits its gorgeous interior, with wood-oven duck leg hash and kiwi-and-gin swizzles.
Mid-Wilshire
This dark-horse neighborhood spot in the middle of the city has become a local favorite, and upped their menu with a recently dropped brunch with maple bacon buttermilk pancakes and a smoked salmon eggs Benedict, which tastes even better alongside the $25 bottomless mimosa addition.
Sign up here for our daily LA email and be the first to get all the food/drink/fun Los Angeles has to offer.
Jeff Miller is the editor of Thrillist LA and will top anything with an egg anytime, brunch or not. Talk to him about his cholesterol at @jeffmillerla on Instagram and @ThrillistLA on Twitter.