5 new hot dogs to patriotically scarf down this 4th of July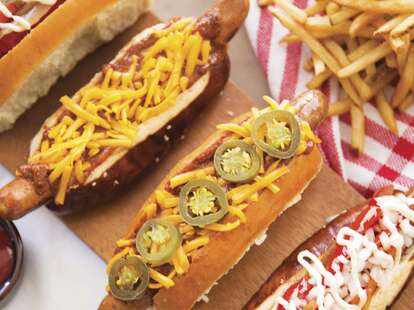 Los Angeles 155 million hot dogs are going to be consumed this 4th of July, according to the National Hot Dog & Sausage Council, which is apparently a thing. Since you obviously want to be a part of that crew, hit one of these spots that's serving up the best new hot dogs in LA.
Dog Haus: Head to the Dog Haus Biergarten in Pasadena to witness its July 5th hot dog-eating competition, or start your own at its just-opened Canoga Park location, which includes new dogs like the Pig & The Fig, an Emmental cheese-stuffed sausage topped with fig and onion relish, wild arugula, and whole grain mustard. Continue Reading
Hula Dog: You're gonna have to go South for these puppies, but they'll be worth it. This recently opened Newport Beach stand does doggy-style more different than anything you've ever seen, with its eponymous Hula Dog -- where they shove a dog into a "Hawaiian-style" bun (that's like a cylinder with a hole popped all the way through it) topped with craziness like mango and starfruit relishes.


Picnik: Despite their populist charm, hot dogs have long been disparaged since they "supposedly" use undesirable parts found at the beginning and end of a pig. Thankfully, Chef Michael Puglisi embraces all the delectable gifts our porcine friends offer in his brand-new Nose to Tail Dog, which consists of pork shoulder, trotters, ears, tongue, cheek, snout, skin, liver, and a little heart. Actually, make that a lot of heart. Awwww!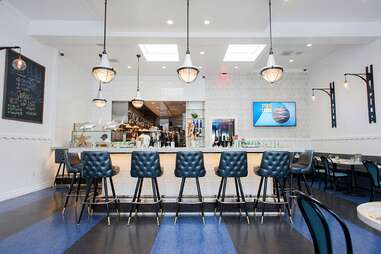 Blue Plate Oysterette: While you'd generally be forgiven for considering surf before turf at this New England-inspired favorite (which just opened a new location on West 3rd, right by Robata Jinya), you will not regret ordering up The Big Dog this weekend -- this home-wrecking colossus boasts a 1/2lb Waygu beefstick dressed up with pickles, slaw, and sauerkraut.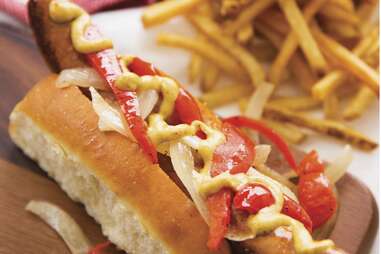 Fritzi Dog: Hit this gourmet farmer's market stand for Top Chef Master Neal Fraser's newly revamped menu, which includes the just-launched Maple Turkey Dog, the explosively delicious jalapeño chicken sausage, and sides including Brussels tots (?!?!?) and cali-flower popcorn.