Sometimes, all you want is a great burger. And sometimes, all you want is a great under-the-radar burger. And still other, completely different times, all you want is a new burger. This is for those "still other, completely different times": 15 LA burgers that all dropped in the last six months.
The Boner Burger
Animal (address and info)
Mid-Wilshire
Remember this off-menu pile of ridiculousness from Animal? The one with jack cheese, poblano chili, caramelized onions, and zesty "420 Sauce" on toasted rye? And the grind also includes bone marrow? Yeah you do.

Royal Burger with Cheese
Royal (address and info)
Hollywood
Sorta like a Royale with Cheese, except it's po-boy-style (basically in a hoagie bun), with a grass-fed patty, pickles, lettuce, grilled onion, and Gruyère.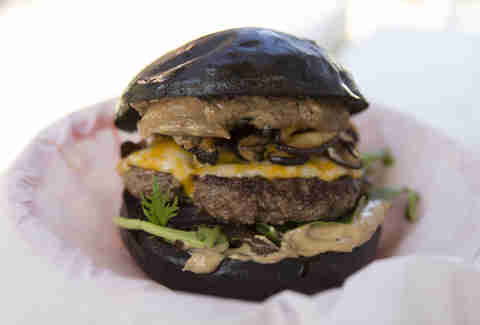 Bet it all on Black Garlic
The Oinkster (address and info)
Eagle Rock/Hollywood
Each year, this ground beefstitution spends a week blasting out next-level, one-day-only burgers, and this guy -- only available this Wed, so mark your calendar -- is no exception: a Bob's Burgers-inspired patty sandwich with black garlic cream cheese, black garlic aioli, onion, and mixed baby greens on a black garlic-toasted black burger bun. Another winner? The burger pictured at the very beginning of this story -- Thursday's pastrami-and-pulled-pork-including Ultra-meatum.

Hamburguesa
Hamburguesas Punta Cabras (address and info)
Downtown
The Tacos Puntas Cabras guys now have a burger stand, too, which means a super-simple menu (Burger! Turkey burger! No-exclamation-point veggie burger.) -- with ridiculous add-ons like green curry guacamole and cactus-molcajete salsa.
Clogger Burger
Springfield USA -- aka Universal Studios (address and info)
Universal City
Universal Studios just opened up a living, breathing re-creation of Springfield, which means after grabbing a Duff or two at Moe's Tavern (yup) you can meander over to Krusty Burger (YUP), where you can pick up this double-meat, D'oh-ble-cheese, double-bacon monster.

Bergin's Burger
Tom Bergin's (address and info)
Mid-Wilshire
The beloved Irish bar just got a new chef who's totally upped (northern-ed?) its food game, which now includes this ultra-juicy brioche burg' topped with Tullamore onions and super-sharp melted Irish cheddar.
The Boss Burger
Soleto (address and info)
Downtown
This airy pizza spot is now doing a nutsnutsNUTS burger with a blend that's not just beef, but beef and beer-infused Italian pork sausage (come on), topped with bacon, crispy onions, and "Boss Sauce," made extra spicy thanks to Asian chili paste.

Tommy Lasorda Burger
Plan Check (address and info)
Downtown
Sorry SlimFast: Tommy's burger is a monster patty with American(ized) cheese, lettuce, tomato, onion, bacon spread, and a right-there-on-top big red hot dog, available only during baseball season. Code blue or Go Blue? How 'bout both.
The Brunch Burger
The Larchmont (address and info)
Larchmont Village
The Larchmont burger has been a longtime Thrillist fave, but with a new chef and a new brunch comes a new recipe, which sounds as tantalizing as the old one: a whoa-there-fella grind that includes grass-fed chuck, brisket, sirloin, bone marrow, and roasted beef fat, naturally, all topped with caramelized cheddar and dill pickles.

O&S Burger
Ox and Son (address and info)
Santa Monica
This SaMo newbie's signature burger is topped with raclette cheese, pickled onion, and truffled aioli, with a side of fresh Kennebec fries that you shouldn't not also stick in the burger.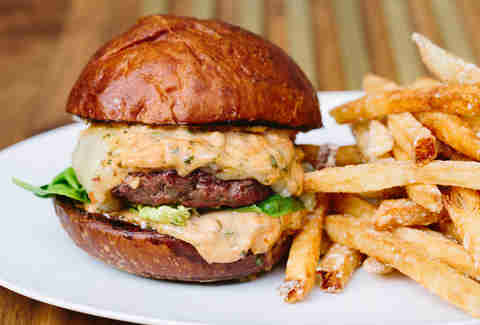 Burger
Redbird (address and info)
Downtown
Here's all the menu says: "Double patty. Cheddar. Fries." But it's by Neal Fraser, a Top Chef Masters alum. So what it really should say is: "Fucking amazing double-patty. Ridiculously absurd cheddar. Ultra-crispy fries."
Behemoth Burger
Bowlero (address and info)
West LA
This burger weighs 5lbs. THIS BURGER WEIGHS FIVE POUNDS. This burger. Weighs. Five. Pounds.
Butchered Burger
Baltaire (address and info)
Brentwood
This newish steakhouse is doing a prime brisket, chuck, and short rib grind, topped with the classics: bread & butter pickles, gribiche sauce, red onion, sliced tomato, shredded lettuce, and cheddar.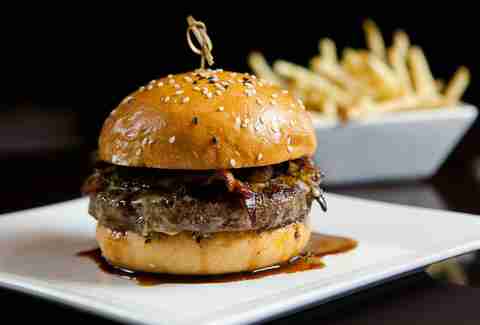 The Bourbon Burger
Eden Burger Bar (address and info)
Glendale
To celebrate its three-year anniversary, this local strip-mall fave dropped this aged, grass-fed, cheddar-topped guy, which's piled up with bourbon bacon, a smoked onion wafer (???), tobacco mushrooms (?????), and a bourbon-barrel stout glaze.

Pub Burger
Sweeney's Ale House (address and info)
Encino
"What's up with the West Valley?" This. This beef-chorizo-blended, pub-cheese-and-jalapeño-bacon-topped burger. This is what's up with the West Valley.
Sign up here for our daily LA email and be the first to get all the food/drink/fun Los Angeles has to offer.
Jeff Miller is drooling right now. Check out more pics of some of these on his Instagram at @jeffmillerla or on Twitter at @thrillistla.