Saying something happened on "the Eastside" is tricky in LA (since there are a lot of Eastsides), unless you get really specific. So, here are the best recent openings on the Eastside/ok, kind of the Eastside, kind of mid-city/basically anything East of La Brea.
Fifty Seven (click here for address and info)
Downtown
A super-killer date spot, Fifty Seven's in an old ketchup factory (!), but there're no burgers here: they're gonna rotate visiting chefs test kitchen-style, which right now means you can have crab-abetted halibut from the guy behind the Michelin star-winning NY institution Eleven Madison Park.
Recommended Video
Mac & Cheese With Bell Pepper Bowls, Because Dishes Are the Worst
Madera (click here for address and info)
Hollywood
This seasonal bistro in Hollywood has a ridiculous, foliage-laden patio and a massive dining room that looks like something out of the movie Clue. Expect salami flatbread with Fresno chili, a skirt steak with salted sunchoke, and a bunch of other foods that don't require any (Colonel) mustard.
Heroshop (click here for address and info)
Downtown
The dudes behind the sit-down spot Black Hogg have gotten into the sandwich game, which means high-end heroes like the absolutely-must-order-first BBQ heritage pork bahn mi. They've got other to-go-friendly stuff like a rice bowl with blood sausage and peppers, which you can order second. We guess.
Pine & Crane (click here for address and info)
Silverlake
This rustic Taiwanese gem is breaking out simple-sounding-but-it's-totally-not Asian goodness like a wonton noodle soup with perfect dumplings, a minced pork on rice number, and sautéed pea shoots.
El Condor (click here for address and info)
Silverlake
The L&E Oyster Co/Bar Covell dudes bought up El Conquistador (who's conquering who now, huh???), did a little revamp, and added next-level Mexican food including squash-blossom quesadillas and a queso fresco-topped pork milanese.
Justice Urban Tavern (click here for address and info)
Downtown
Justice comes swiftly and deliciously via this communal-tabled tavern, which pairs shrimp chorizo and craft beers with outlets galore and free Wi-Fi. Might be time to re-explore your company's working remotely policies.
Carb & Nation
Various Locations
This new truck (yes, we're actually telling you about a new truck) has one of those menus where every single thing sounds great: a miso-glazed pork belly bun, chorizo-stuffed, bacon-wrapped dates, and made-in-truck craft sodas like a refreshing ginger, lemon, thyme number.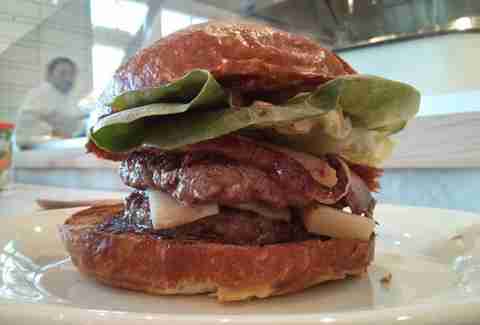 Belcampo Meat Co (click here for address and info)
Downtown
This new stall in the Grand Central Market has one of the best new burgers in town, as well as a deli case with odd cuts like neck and, uh, head. Like we said, odd.
Jeff Miller is Thrillist LA's senior city editor and he's going to to be doing one of these for the Westside in two weeks, so don't freak out. He's at @jeffmillerla on Instagram and @ThrillistLA on Twitter.