Want new burgers? New pizza?? New 1200-degree-broiled 16oz ribeyes with black truffle butter and bearnaise sauce??? Well then you're gonna want this list of the 13 best new restaurants to open in LA this October.
Beverly Hills
The next time you're debating where those rich people who like to pay for your stuff should take you, end the debate at this schmancy new Beverly Hills surf-and-turf-ery, where they've got thank-God-you're-not-paying white truffle caviar deviled eggs, sea scallops w/ Parmesan risotto, and a 1200-degree-broiled 16oz ribeye.

Silverlake
The dude behind Mercantile, Twins Sliders, and the Bowery (but NOT the Bungalow! Confusing!) just opened this restaurant that looks more "cool parlor that rich people have" than "white-tablecloth eatery". Get the "shishkatori" -- skewered meats with Middle Eastern spices, cooked over Japanese coals.
Mid-Wilshire
What if we were to tell you that the guys behind LA's best burger (at Golden State), best BBQ (at Bludso's) and best breakfast burrito (at Cofax) had just opened a NY-style pizza slice shop? You'd want to go to there, right? Well, that's what we're telling you. Tally ho.

Mid-Wilshire
In the old wine-and-beer-only Sheddy's space (RIP, old friend) comes this glossier, not just wine-and-beer-only boozery -- a comfortable, classed up space with wall-length banquettes and a menu-less cocktail program from an A-Frame vet.
Various locations
Don't hold the fact that he used to cook for George W. Bush against the chef of this new food truck, because then you won't get to eat Cajun alligator and braised short rib sliders. You want to eat those things, don't you??

Malibu
Naturally, this new Malibu Italian joint has an excellent sea-adjacent patio, and naturally they've also got you covered in the fritto misto/spaghetti carbonara/chicken Milanese front as well. Naturally.

West LA
This Japanese tapas spot has you covered for Eastern deliciousness on the Westside -- think: koji-marinated lamb chops and spicy octopus with cucumber.
Hollywood
Another Mexican restaurant on Cahuenga? Yep, and this one's killer: Mercado is a mini-chain that's already proven itself Mid-City and in Santa Monica, and they're not departing from what works here in Hollywood, with top-notch guac, slow-cooked carnitas, and a monstrous tequila list.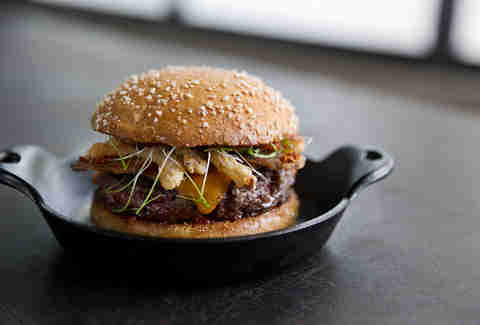 Downtown
The mouth-watering gastropub mini-chain expands Downtown, fiiiiiiiiinally, with exclusive options including the K-BBQ Burger (a pork belly meat-bomb featuring kimcheese -- Gruyere processed with wine and dried kimchee for seasoning), and a short rib pot roast dish with caramelized cauliflower and flaked wasabi.
West Hollywood
Because at some point you've been in Vegas and been all "man, I wish they'd drop one of those killer restaurants from the Bellagio onto the Sunset Strip so I could stuff my face with bigeye tuna pizza and rock shrimp hand rolls on a nutso patio without having to fly all the way to Vegas", this happened.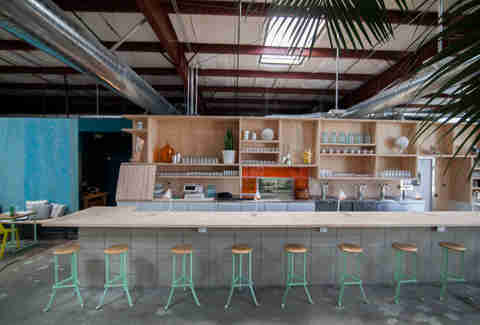 Downtown
Okay, stick with us here: this yoga studio (stay with us...) slash juicery (seriously, keep reading) slash vegan eatery (c'mon, just one more...) slash wine and beer bar (yesss!) is now open and ready to appeal to health-conscious winos who 1) apparently exist?, and 2) also like craft IPAs as well as actually good-sounding, plant-based foods like mushroom-miso pho.

Pasadena
For the next time you're thirsty, even if it's just for water and you don't feel like drinking tonight, hit this cocktail bar/small-bites spot anyway, since it's from the guys behind Gus's BBQ and a barman from Portland's lauded Woodsman. Once you're there, get crazy with a drink menu that includes the Lumberjack's Breakfast (Scotch, Applejack, and maple syrup... FTW, right?) and a sesame ginger aioli-boosted shrimp toast.

Mid-Wilshire
The fast-casual Hermosa concept is now open Mid-City, with crazy-delicious (and just crazy!) tacos, including breakfast handhelds w/ goat cheese crema and bacon and lunch stuffs like Thai peanut chicken with a honey and chile-based sauce.
Sign up here for our daily LA email and be the first to get all the food/drink/fun Los Angeles has to offer.
Jeff Miller is the Senior City Editor of Thrillist LA and is as disappointed as you are that there's not a new ramen spot on this list. You can follow him at @jeffmillerla on Instagram or @ThrillistLA on Twitter.