OK, look, we're all feeling like this El Niño thing was a non-starter, which is bad for our water supply, but good for our new-restaurant supply, since there's no reason for the deluge of new openings to be put on pause for some stupid rain. Which is why all these great spots managed to open up this February:
Recommended Video
This Mojito Hot Toddy Is the Destroyer of Colds
Downtown
This coffee shop-cum-beer bar (yep!) has caffeinated options for you in the AM and 12 drafts in the evening (or AM -- we're not judging!!) It's also got bar food and sandwiches at night and small breakfasts as well, including "Naughty Toast" -- not what you'd say at a bachelor party, but rather brioche with Nutella, strawberries, and bananas.
West Hollywood
One of the few legit, NY-style bagels in the city (from a New Jersey transplant, naturally) has finally moved from a truck to a brick-and-mortar location, operating out of the Alfred in the Alley space and serving up options that go far beyond the basic schmear, like a maple-roasted butternut squash, crispy prosciutto, and house-made honey-chipotle cream cheese on a plain bagel for breakfast, and a turkey sandwich with house-made pickled cucumber and onion jam at lunch.
Echo Park
This wood-laden barstaurant covered in rock posters delivers late-night Eastside options that aren't taco-truck tacos or eggs from Brite Spot, instead offering everything from killer fried chicken and ribs to spaghetti and meatballs (as well as a locally focused tap beer list) until 1am.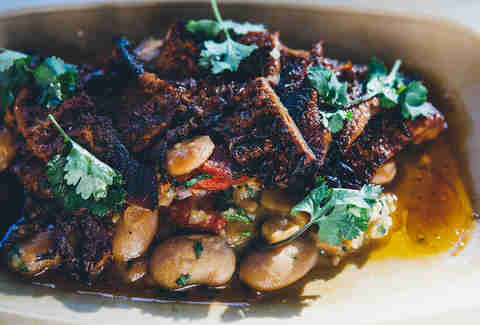 Mid-Wilshire
Replacing the Short Order burger spot at the Farmers Market, Moruno comes from the team behind this restaurant you may have heard of called Mozza, which means it's one of the few legit sit-down spots right by the Grove, with a gorgeous interior and dishes like lamb leg marinated with turmeric and whole fish a la plancha.
Downtown
You remember when Church & State was the hottest restaurant in DTLA? Those owners are back after a couple-year break with this gorgeous spot that boasts a giant atrium and is serving up Southern French seafood and more, including John Dory with organic quinoa and lamb sirloin with couscous, rutabaga, scallion, raisin, mint, and harissa.
Hollywood
Everything is made in house, from bread to butchered beef, at this new XL strip-mall spot, which also boasts a giant new patio (summer alert!!) where you can get next-level American-Cali classics like brisket chili and in-house corned beef sandwiches.
West Hollywood
Any time Top Chef winner Michael Voltaggio even hints at opening something new, it's big news. Even though his newest location is an extension (and rebrand) of ink.sack on Melrose, it's still a big deal, not just because of new sandwiches like the turkey-based Rachel, with kraut, Swiss cheese, and Russian dressing, as well as classics like the pictured spicy tuna with nori and dynamite sauce, but because now you can get them when you're out drinking on Sunset.
West Covina
Even though it's in an outlier location for Korean food, Galbi Grill's setting itself up to be a scene-wide KBBQ player with marinades made with all-natural ingredients for certified Angus beef and Duroc pork BBQ, as well as prepared dishes ranging from spicy tuna rolls to Philly cheesesteaks.
Echo Park
We told you once already about Winsome in our round-up of the city's best new brunches, but it's worth reminding you, since not only is there a killer breakfast sandwich with applewood-smoked bacon and herb butter, but the restaurant, which is run by the dudes behind Spare Room, with a chef from Rustic Canyon, is also serving up a dinner menu loaded with the likes of grilled rockfish with toasted semolina couscous, Aleppo chile aioli, shellfish broth, and bacon oyster crackers.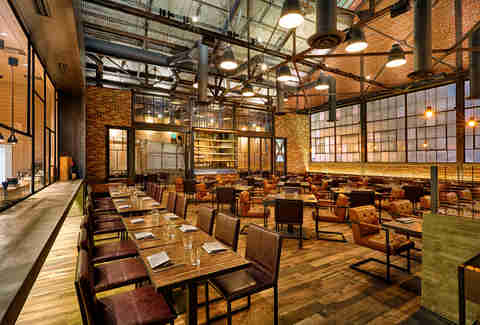 Downtown
It's no surprise this new Italian restaurant is already one of the hottest reservations in town: it's the follow-up from the team behind the beloved Factory Kitchen and shares aesthetics with its not-so-distant neighbor Bestia, with a wood-laden, previously-a-warehouse space. The dishes have a rustic bent, like handmade gnocchi with melted Castelmagno cheese and chives and wood-oven-roasted pork shank with rosemary potatoes.
Downtown
The beloved SF Chinese-influenced truck's garnered raves for huge Asian flavors, and just hit LA as a brick-and-mortar, with cola-braised pork buns and pickled-daikon-and-lotus-root-laden bowls among the fast-casual offerings.
Sign up here for our daily LA email and be the first to get all the food/drink/fun Los Angeles has to offer.
Jeff Miller is the editor of Thrillist LA and will eat anything Chinese-influenced, anytime. Take a look at @jeffmillerla on Instagram and @ThrillistLA on Twitter.