Recommended Video
The 'Black Mirror' Killer Pizza Truck Is Real Now, Thanks To Pizza Hut
I
I

n many ways, 2016 seems like the year the rest of the country caught up to the fact that the food scene in LA is among the best in the country: It was hard for a month to pass without a story in Lucky Peach, the New York Times, or Bon Appétit "discovering" either a neighborhood like the San Gabriel Valley or a new-ish restaurant like Baroo getting insane accolades.
Of course, if you've been living in LA for the last decade or so, none of this should be a surprise -- and this year's batch of superlative newbies should only serve to cement our status as a food-tourist destination. Let's revel in it. (Speaking of superlatives, that's how we decided to dole out our props for Thrillist's best restaurants of 2016. Enjoy.)
Best new restaurant
Erven
Address and Info
Santa Monica
Though it blew up as a nationwide trend this year, it's not like LA is new to plant-based (read: vegan) food: Cafe Gratitude's tempeh-stuffed bowls are essentially a how-the-city-is-run punchline at this point, and nice no-meat restaurants from Gracias Madre to Crossroads have made splashes in the past few years.

But Nick Erven's new no-frills restaurant right off the main drag in Santa Monica (and in the same spot as the former Real Food Daily, which is almost like spitting on a coffin) is a revelation: a chef-driven spot with no meat that not only doesn't apologize for its lack of flesh (like the aforementioned Crossroads, which has been recently promoting a burger that bleeds like real meat -- delicious, but still) but doesn't even need meat substitutes to sell itself. It's almost vegan by accident, and that's the way Chef Erven -- himself a meat-eater and the former chef at the now-defunct St. Martha, a restaurant known for its shortrib -- wants it. The kale cavatelli is perfectly unctuous, with crisp kale and chewy noodles that can take on any order at Bestia. The "spaghetti" -- really a ramen -- has a broth made of yeast instead of pork. You won't miss the fat. Non-pastas, including vegetable dishes like Brussels sprouts with tofu and a bowl of falafel, all feel like the absolute best version of the dish you can imagine; there's no cutting flavor or texture corners on each dish's journey from menu to plate. And their desserts are similarly revelatory, especially a cookie sandwich with a toasted marshmallow sauce that's not made from marshmallow at all -- it's somehow rendered from chickpeas. Seriously.

Erven isn't just our pick for the best new restaurant in LA because it's next-leveled a trend, it's the best new restaurant in LA because it stands apart from that trend. Take a carnivorous friend or two, order a few things each, and ask them if they miss the meat. Confidently, we can say they won't -- because that's exactly what we did. And they didn't.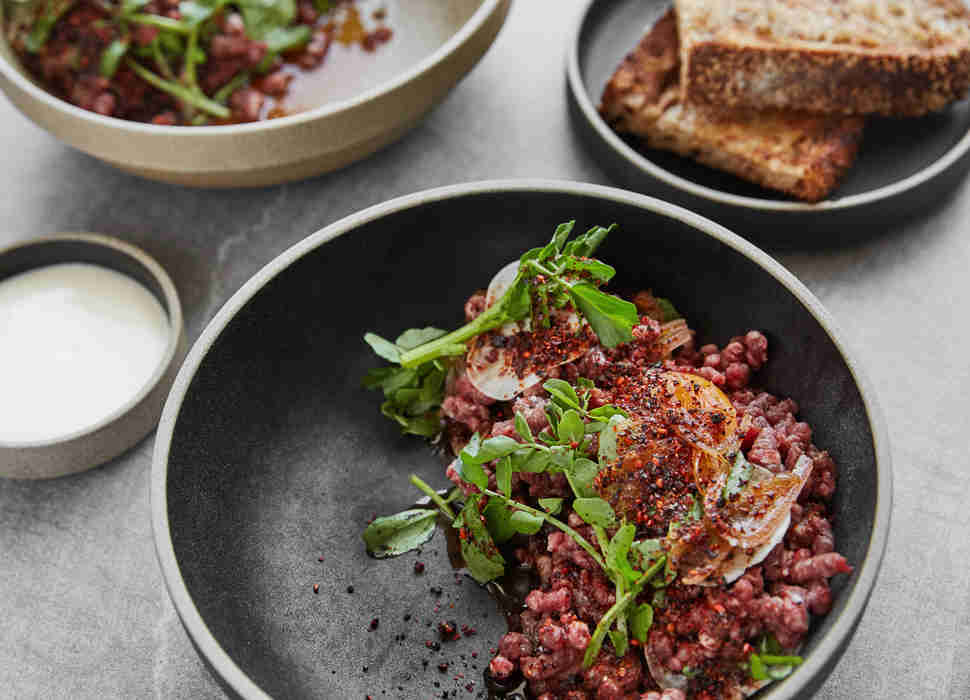 Best new date spot
Here's Looking At You
Address and Info
Koreatown
There are a few key elements that go into a great date spot: It's got to be good looking, for one, but not so good looking that it's distracting. It's got to have fascinating flavors -- otherwise, what are you going to talk about? -- and great cocktails to get that conversation going. It should have dishes that appeal to picky eaters and foodies alike -- after all, how are you going to judge your date's taste if you can't see what they pass on -- but each dish should burst with flavor, because if it doesn't, what's the point?

Here's Looking at You is a perfect date spot, because it nails all of these points, and more. Located in a tight space on a Ktown corner, and cheffed and run by Animal expats (of course), the meaty menu gives you the option between sweetbreads and tartares and trout and bonito, all served to share (of course) and all with flavors both familiar and otherworldly. The staff is attentive, the room is gorgeous, and whomever you take will like you more for having taken them there. And if they don't, you will know, definitively, they are not the one anyways.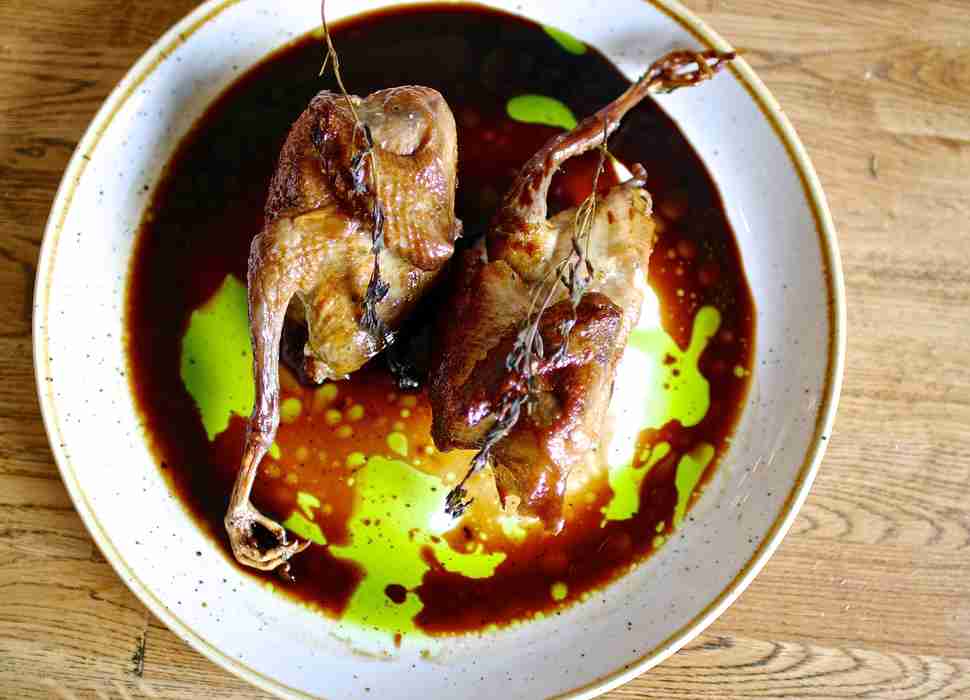 Biggest surprise
Kali
Address and Info
Melrose
When Kali opened up earlier this year in a narrow space on Melrose, few would have expected its chef, Kevin Meehan, to become a food festival favorite and one of the most exciting new chefs in the city. It's not that his food before Kali was unheralded, it's that it was undereaten: Previous to opening the restaurant, Meehan had focused on a popup that never seemed to gain the critical prominence of other underground eating clubs like Wolvesmouth or Barbershop.

Well, no more: Meehan's emerged as an unmistakeable talent, his take on new-American/Californian/chef-driven/whatever-we're-calling-it-these-days a definitive highlight of the city's new bites this year. His signature dish -- a cheesy, earthy black barley "risotto" -- is one of the ugliest plates of food you'll ever be served at a fine restaurant, but ignore the fact that it just looks like a brown pile of mush and dig in. Your tastebuds will open up in a way they haven't before, and you'll ask yourself "where did this come from??" It's a question diners have been asking, thankfully, all year.
Best new spot to take out-of-towners
71Above
Address and Info
Downtown
LA's reputation for urban sprawl is unparalleled, but the city is often underecognized for how beautiful that sprawl can be from above. Which is why this restaurant -- which is on the 71st floor of the same building that hosts the new Skyslide attraction Downtown -- is worth heading to with guests who may ask themselves how you manage the city. The glistening lights below offer up all of the city's hopes and dreams on a large scale; the seafood-focused menu from former Cliff's Edge chef Vartan Abgaryan will please those hoping for deliciousness on a scale much smaller.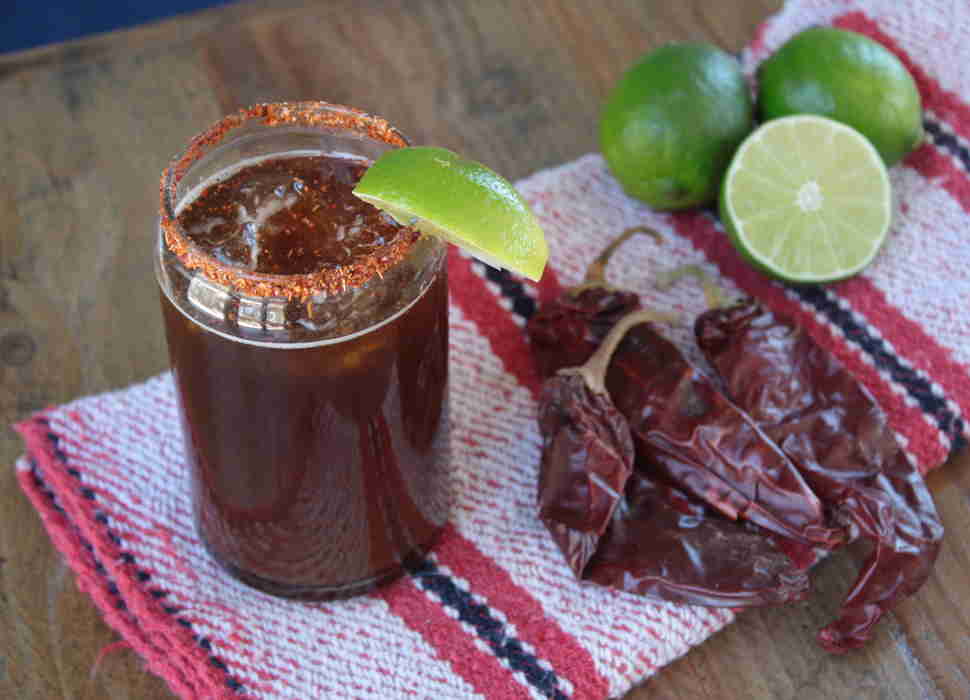 Best new outdoor dining
Salazar
Address and Info
Frogtown
Even if it didn't have a massive, gravel dining patio as its main dining space, Salazar would be notable for more than its excellent mostly barbecued Mexican food -- the spot from Mexicali chef Esdras Ochoa is really the first destination restaurant opening in Frogtown, the emerging arts district near the LA River that's the latest rapidly gentrifying 'hood in LA. But Salazar does have this outstanding patio, which is the perfect place to have a spicy margarita or three, a carne asada taco or three... and since it's unlikely you live near there, share a ride home with a friend or three. (Also, if you haven't checked it out, they have the absolute best new restaurant website of this or any other year.)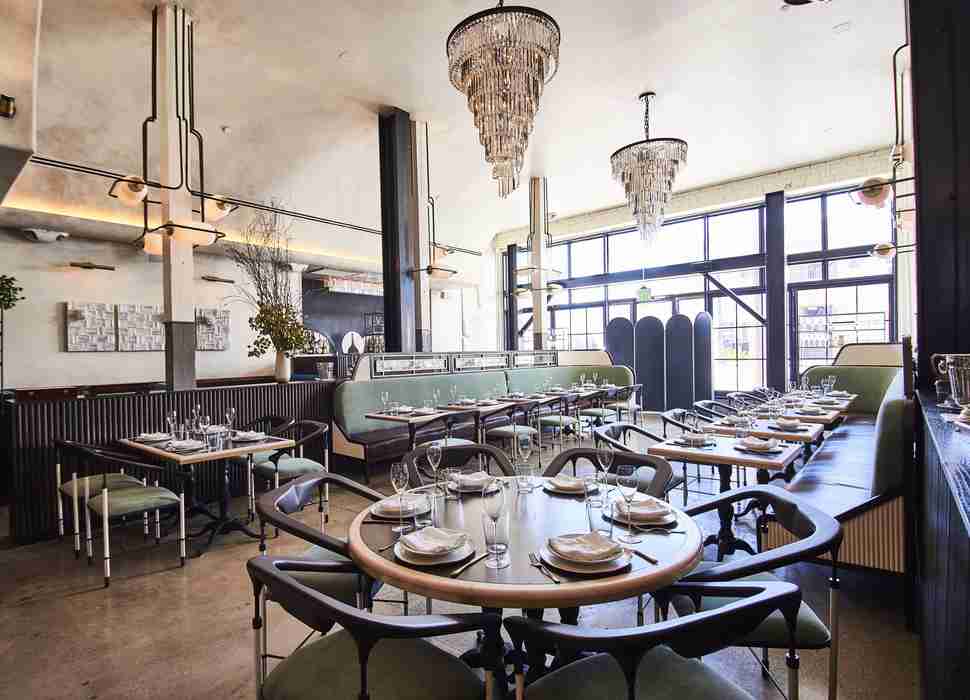 Best sequel
Gwen
Address and Info
Hollywood
Remember back to three years ago, before Curtis Stone opened Maude, now solidly one of LA's best fine-dining destination restaurants? It was unclear whether Stone would take LA seriously as a food city and whether he would take his dayjob as a restaurateur as seriously as the TV gigs that made him famous. The dust has long-settled, and anyone who's been in to Maude while Stone's working the stoves knows for sure he's the real-deal -- which is why his follow-up restaurant, Gwen, was one of the most exciting openings of the year.

Located in a somewhat cursed location (RIP, District and Mercantile, etc.), Gwen's a majestic, huge, two-story room -- a far cry from the tiny space that houses Maude -- and like any bigger-and-better sequel, Curtis and his brother Luke are doing more here: There's a butchery, and a tasting menu, and a bar with bar bites. If Maude was Star Wars, Gwen may be Stone's Empire Strikes Back -- which means we're excited for the whole franchise, since there's no possibility of prequels existing in the restaurant world.
Best new burger
Wolf
Address and Info
Melrose
There were some great new burgers this year, and this category was an honest tossup between Wolf's decadent avocado-topped monster (aka the 10k Burger) and Winsome's burger, a sesame-seed-bunned runny-cheesed affair with incredibly tasty pickled shallots piled on top. But Winsome doesn't have a gooey egg on top of theirs. Checkmate.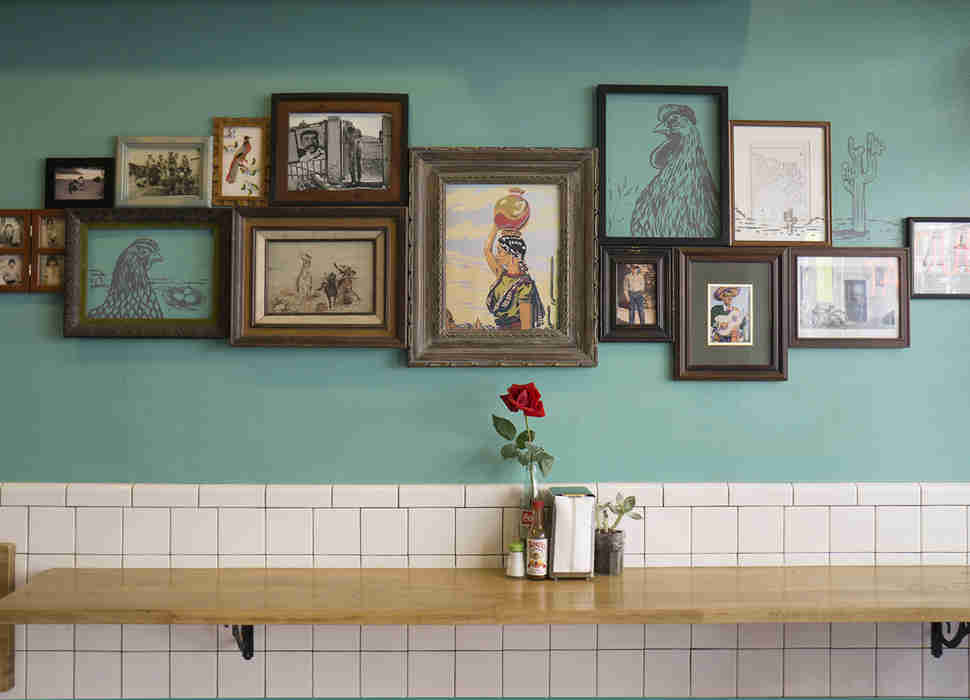 Best new under $10 meal
Sonoratown
Address and Info
Downtown
"This place is so good I've been here three times this week," the 20-something dude with the hipster haircut said before our first meal at this hole-in-the-wall Sonoran spot -- barely more than a window -- Downtown. And after we ate the chimichangas, fried into fresh flour tortillas, and tacos filled with mesquite-grilled carne asada tacos and headed to pick up our car upstairs, the 50-something parking attendant said, "those tacos -- great, eh?" It's no surprise everyone agrees: What they're doing at Sonoratown is something special, and with a menu that allows you to stuff your face for less than a Hamilton, it's absolutely worth every cent.
Best new import (NY edition)
Smorgasburg
Address and Info
Downtown
Sorry, Catch: Despite your hard-to-get-rezzie, the NY import of the year is this much-more populist option, an open-air market dedicated to chefs doing things they can't do anywhere else. That means that Instagram-worthy foods like an oddball raindrop cake are next to Indian-style tacos and down the hall from the best pastrami in the city (that'd be from Ugly Drum, our hope to get the stall-to-brick & mortar upgrade that's come to the best stalls in NY). Organizers have also started to put on special themed days, bringing the city's best burgers, ice creams, and more to their slice of parking-lot heaven. The only downside? If you're not with a crew, there's only so much you can try. Bring friends.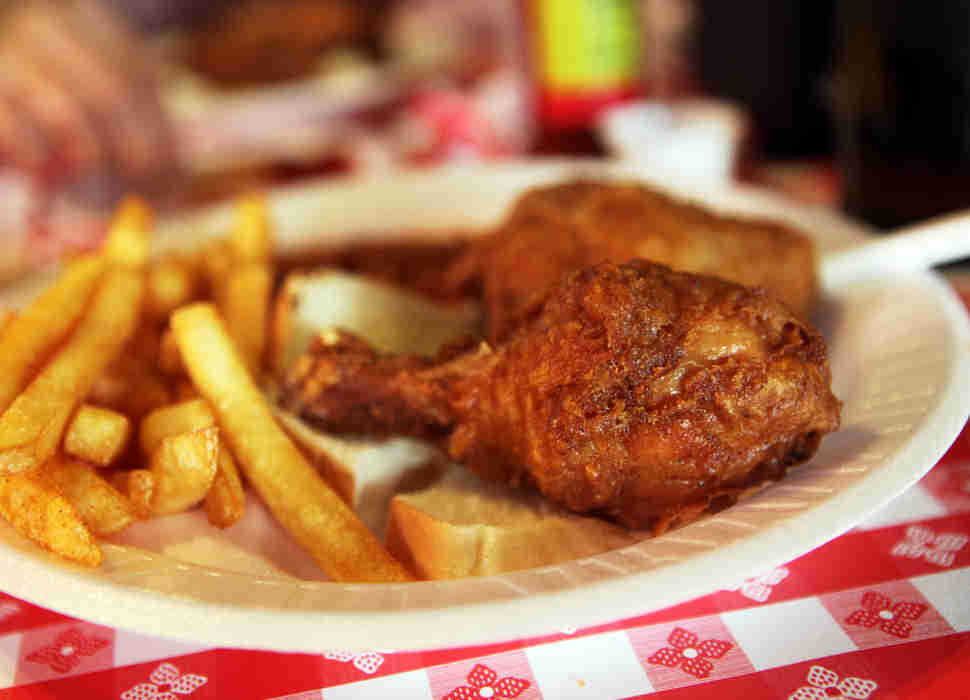 Best new import (Everywhere Else edition)
Gus's Fried Chicken
Address and Info
Koreatown
When the food world heard that Tennessee's infamous Gus's Fried Chicken was landing in a sorta-food-dead zone right on the outside of Koreatown (yes, we are aware that the official designation for its hood is "Country Club Park," so no need for comments, OK?) anyone who'd ever visited the South did a little paunchy jump for joy: After all, Gus's is renowned for crispy-on-the-outside, moist-on-the-inside fried chicken that's just a bit spicy and bursting with flavor. The LA location comes as the city experiences a fried bird renaissance, and immediately established itself as a worthy competitor to locally beloved spots like Honey's Kettle and Howlin' Ray's. To which we say, with a bit of Southern charm: welcome.
Sign up here for our daily LA email and be the first to get all the food/drink/fun Los Angeles has to offer.