Because you just picked up a follow from the @PharrellHat Twitter account and're looking to celebrate, here are eight spots to do it at, all of which opened this month and are almost guaranteed to make you happy, happy, happy, happyyyyyyyyyyyyyyy.
Recommended Video
Choose From 21 Different Chicken Milanesas At This Argentinian Restaurant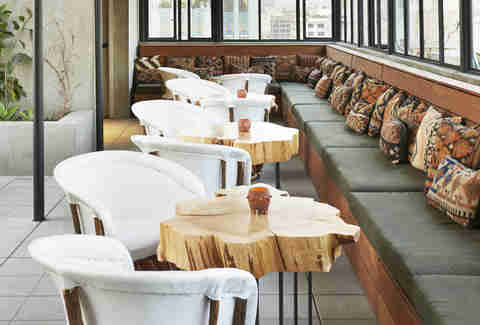 Ace Hotel (click here for address and deets)
Downtown
The hipster hotel chain's opened up a new location Downtown in a super-unique building that used to be the original United Artists office. It's kind of an all-in-one location: there's a beautiful, old theater booking edgy acts like Spiritualized, a rough-edged restaurant called LA Chapter that's based on a fave NY spot, and an absolutely stunning rooftop bar creatively named... Upstairs.
Bonefish Grill (click here for address and deets)
Northridge
This award-winning chain somehow avoided LA until now -- its first local location just opened in Northridge. Two must-orders: shrimp w/ edamame hummus and mahi topped w/ lobster thermidor.
Gracias Madre (click here for address and deets)
West Hollywood
From the peeps behind the ultra-healthy Cafe Gratitude (keep reading! seriously!) comes this Mexican taqueria with 100+ mezcals and tequilas (TOLD YOU!), to pair with still-kinda-healthy (but still delicious) grub like mole enchiladas and stoneground masa tamales.
El Nosh (click here for deets)
Multiple Locations
Que tal? This new truck from restaurateurs Eric Greenspan and Roberto Trevino is a Jewish-Mexican take on a taco truck, with dishes like yucca latke w/ mango creme and a smoked salmon and cream cheese quesadilla. Oy vey!
Vaucluse (click here for address and deets)
Hollywood Hills
This Australian-themed barstaurant (in a space that used to be Charlie Chaplin's home!) is doing all sortsa Dundee-approved deliciousness, from double-cut Australian lamb chops w/ sweet potato and blackberry sauce to daily happy hour specials like two-for-one beers and $5 mini-pizzas on Tuesdays from 4-7pm.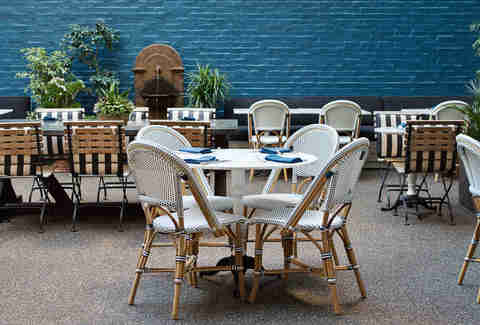 The Palihouse (click here for address and deets)
West Hollywood
The 6yr-old hotel/restaurant's gotten a total reboot with a new interior (more lounge seating! Banquettes!!) and more importantly, a totally rejiggered menu. Meanwhile, a former Fig chef's totally killing it with sticky ribs w/ spicy tomato chutney, and beef braised in ginger beer with roasted kohlrabi.
The Forum (click here for address and deets)
Inglewood
No, this isn't a new restaurant or bar, but since you're not the boss of us, we're gonna include it anyway... mostly because it's a $100 million re-do of the iconic former home of the Lakers. The Forum's been remade into the United States' biggest indoor concert venue, with totally redone acoustics, upholstered seats (!!!), and stellar food from local, awesome vendors like CoolHaus, Bludso's, and Cole's. Also, yes, they took out the bathroom trough, so, $100 million well-spent!