This June, things got hot in LA. We're obviously talking about the weather, which felt like it was in the billions of degrees, but the restaurant openings were equally fiery, which means LA is finally host to some amazing food we've been waiting on forever, including arguably the best fried chicken in town and a super-buzzy new Japanese restaurant. Here are the best openings of the month.
All of the restaurants on this list are part of our ongoing quest to find this year's best new restaurants in America, and we're combing through every opening in every Thrillist city. Get involved on Instagram -- #BestRest2016 -- to let us know your picks and your favorite dishes at each of these new spots.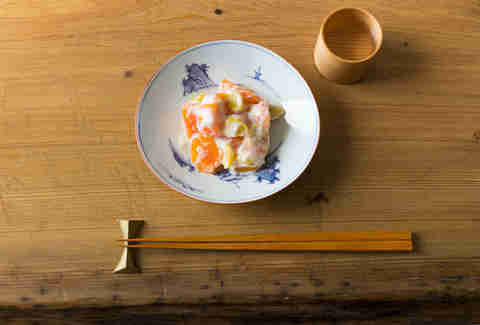 Downtown
The chef at this new Japanese spot Downtown used to do time at Urasawa and L'Orangerie, so on resume alone it's clearly worth checking out. They're doing small-plates "kappo-style" here, which means it's like a casual izakaya, food-wise, but with all the seats facing the kitchen on a massive bar. Dishes include sea-bream sashimi and fried monkfish kara-age.
Crenshaw
If you think the only worthwhile chicken from Tennessee is Nashville-style hot chicken, Gus's -- a Memphis import -- will definitely change your mind. The Southern favorite's opening on Pico and Crenshaw is nothing less than a shots-fired to both standbys like Roscoe's and relative newcomers like Howlin' Ray's, with ultra-crispy, spicy-but-not-too-spicy birds as well as glorious sides including bacon-laden collard greens and killer mac & cheese.
Silver Lake
This time of year, any new craft ice cream shop opening should be greeted with rapturous applause, but this small shop is not just doing craft SOFT SERVE ice cream (including unusual flavors like sweet corn almond and yuzu honey), but it's from Warren Schwartz, formerly of Patina -- so you know it's gonna be great.
Santa Monica
This westside extension of the surprise-hit Melrose date spot allows anyone who doesn't want to cross the 405 Eric Greenspan's fantastic seafood-and-noodle mashups, as well as some dishes not on the original's menu, including crispy octopus and Moorish chicken.
Silver Lake
Don't be scared of this vegan NY import -- such well-regarded publications as, well, Thrillist have said glowing things about the mini-chain, which is serving up sweet potato mac & cheese and guac burgers right next to the brand-new 365 by Whole Foods (which, yes, is cheaper than regular Whole Foods).
West Hollywood
Anytime a new restaurant opens on the Sunset Strip, it's worth noting just for tourists/new transplants -- and anytime a new ROOFTOP opens on the Strip, well, fughetaboutit. Which is why we're telling you about this new rooftop restaurant on the Strip, which is located atop the centrally located London Hotel and is serving up an eclectic menu including Dungeness crab toast with green papaya and tagliatelle pasta with short rib and wild mushrooms.
Mid-Wilshire
Out of the ashes of the closed steak restaurant and bar Phoenix comes... the new steak restaurant and bar Phoenix (in a totally different location, on Third instead of La Cienega), which is now a partnership between Adolfo Suaya (the former LA restaurateur who's been busy opening hotels around South America) and Ryan Sweeney, who's the guy behind some of your favorite bars, including Surly Goat and Little Bear. The new menu's a bit more extensive than the steak-only old one: they've also got chicken paillard, grilled lamb sausage, and over 150 whiskey options.
Beverly Hills
LA's not really a beignet town, but this new Beverly Hills shop hopes to do for the little sugar-coated donut puffs what Sprinkles did for cupcakes, with pastry chef Lincoln Carson (last of Superba Food & Bread) heading up the team delivering French-style beignets to Beverly Hills.
Culver City
Coming in riiight at the tail end of May is probably the buzziest restaurant opening of the year so far: the first LA extension of Cannibal, a lauded meat-centric NY restaurant serving up 500+ (!!) beers, lamb tartare, chicken Parm sausages, and whole-animal special dinners.
Sign up here for our daily LA email and be the first to get all the food/drink/fun Los Angeles has to offer.
Other Stuff You'll Like In Openings Cheat Sheet