October in LA couldn't make up its mind: was it tank-top weather or slightly thicker tank-top weather? And you likely won't be able to make up your mind either, once you see our very comprehensive list of the best openings in LA during this month of intense wardrobe adjustments.

Beverly Hills
The latest collab from Faith & Flower duo Stephane Bombet and Michael Hung in the Avalon Hotel leans continental, with dishes like slow-roasted ribeye with savoy slaw and ricotta ravioli with chanterelles. It's also offering a poolside happy hour with smoked mozzarella flatbread, smoked salmon tartine, and other possibly non-smoked items.
Echo Park
The beloved Starry Kitchen couple is doing the food at this old-school-leaning barcadestaurant, which means along with your Donkey Kong/Out Run/Walking Dead pinball (!!!) you can have double-crispy wings and dan dan noodles.
Santa Monica
This new secret bar above Estate is accessible through a hidden alleyway (shhh!) -- once inside, you'll find a Prohibition-era-themed room serving up cocktails like the rye/sherry/bitters Devils Candy as well as shareable plates like a char siu pork flatbread.
Studio City
Culver Citys's semi-speakeasy Art Deco bar makes its way over the hill, where it's landed with lovely '20s-era decor, expert cocktails, and bites including this chipotle pepper aioli-topped burger.
East Hollywood
The best thing we ate this month is the pictured kimchi fried rice at this no-frills, Asian-leaning mini-mall restaurant from two vets who've worked at Noma and Danielle (seriously). The insanely fantastic menu mostly features grains you've never heard of mixed with pickled everything you've also never heard of. But go with it. It's utterly worth it.
Hollywood
It's somewhat shocking that it has taken the Roosevelt so long to add a second bar outside, but it's finally here and features an understated Mexican theme with the requisite south-of-the-border beers and a small curated menu of tacos.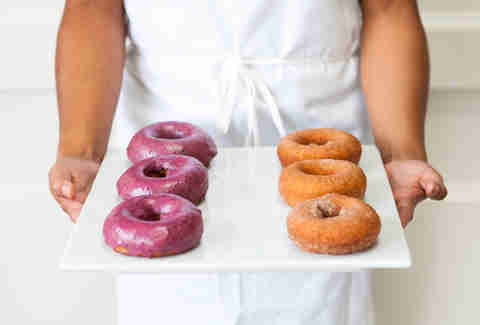 Venice
Portland's beloved fried-dough shop makes its way south with this Abbot Kinney outpost, which has all of the level-after-next-level donuts, including the famed blueberry-basil-bourbon concoction.
Hollywood
Yes, that is a panda bear watching a midget stripper dance up on two sexy go-go dancers at this just-reopened anything-goes club. If you have any questions... it may not be for you.
Studio City
Located above the superlative BBQ joint Barrel and Ashes, Fiscal Agent's the first standalone bar from cocktail-culture fixture Julian Cox, with a rotating list of historically accurate cocktails in a vintage-ish venue, plus charcuterie plates, steak tartare, and jokes about disbursing dividends (optional).
West LA
This French-meets-Japanese restaurant is trying to remix your traditional flavor palate (think tomato-scented scallop risotto) as well as offering an omakase-style sushi bar.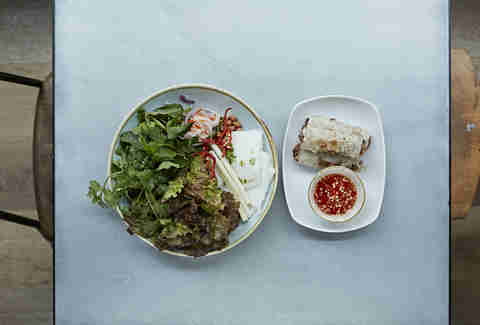 Downtown
The Downtown post of Manhattan Beach's beloved Vietnamese-and-more restaurant's expanded its menu to include breakfast (Portuguese egg custard tarts!) as well as new lunch/dinner dishes like Vietnamese stew with marrow, tendons, oxtail & rib meat.
Chinatown
FINALLY, Portland (and, sigh, NY's) beloved Thai restaurant opens in LA: the chicken wings are an absolute must, the curries are all incredible, and the sipping vinegars (what the what???) are... sipping vinegars. But they're also kind of damn good too! JUST GET EVERYTHING.
Sign up here for our daily LA email and be the first to get all the food/drink/fun Los Angeles has to offer.
Jeff Miller wants to eat at Baroo, like, every day until the end of time. Find out if he does at @jeffmillerla on Instagram and @ThrillistLA on Twitter.