The 17 Best New Patios in LA
It's July, and according to the Los Angeles Summer Rulebook Which Is A Real Thing Shut Up Dude, you're required by law to be sitting outside, eating a burger (or something equivalent, like a lobster roll), and drinking a beer. Here are the 17 best new places to do that in LA.

Beverly Hills
This absolutely stunning rooftop deck has quickly become a must-hit spot thanks to incredible views, drinks from a former Hemingway's guy, and a menu full of late-night, Asian-influenced, small-bite eats like nachos w/ chicken simmered in coconut cream, and a soft-shell crab bun with spicy mayo.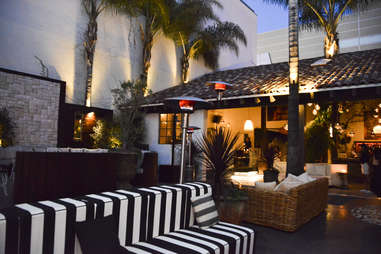 Hollywood
This velvet rope lounge is essentially one giant drinking patio that's got the whole South of France vibe going on, with olive trees, tile paving, and two fire pits.

Hollywood
This massive, literally just-opened Asian spot has TWO patios, PLUS sidewalk dining, AND a huge fire pit area to eat Chinese BBQ pork and salt & pepper shrimp.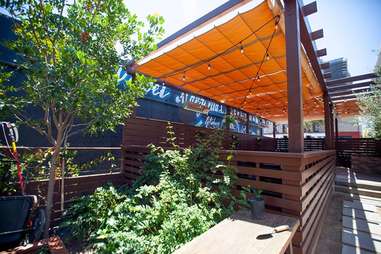 Hollywood
The latest actually legit edition to Hollywood's food scene is growing its own veggies and herbs right next to a new hanging light-lit patio, which means ultra-freshness in dishes like spot prawns with cherry tomato and chili de arbol on grilled baguette.

Studio City
This freshly minted seafood-focused Mexican restaurant from the guy behind Mercado's patio may not be the most impressive in the city, but like you've heard your whole life, size doesn't matter, especially when you're sitting there drinking a margarita and dipping chips into guacamole with lobster and bacon.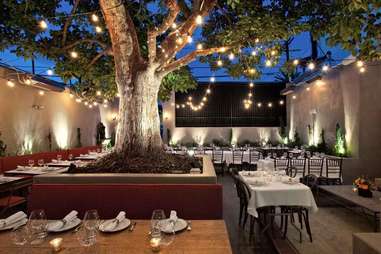 Mid-Wilshire
In the six months or so since this Mid-City restaurant opened, its gorgeous patio has become one of the city's best places to seal a deal, both romantically and business... ally. Bonus: it also recently launched a decadent lunch, which includes a massive burger topped with "optional" foie gras.
Brentwood
This upscale steakhouse has one of the most impressive new outdoor dining areas in LA: 2,500 sprawling square feet, all of which provide a perfect venue for eating A5 Japanese Wagyu in.
Mid-Wilshire
This all-patio, sorta secret restaurant (you need to enter through Greenspan's Grilled Cheese and walk through the back) is serving big ol' bowls of mussels, clams, and whole branzino.
Downtown
Neal Fraser's Downtown mecca's main room is a gorgeous open-air space, with foliage, comfy seating, and superlative food, including the signature Rabbitchetta.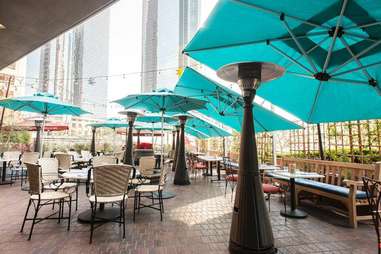 Downtown
From the dude behind Milk, this loaded-with-umbrellas patio offers a Mexican seafood-leaning menu that includes a grilled swordfish and eggs weekend brunch and shrimp aguachile for dinner.

Hollywood
The new one from the Waterloo & City guy is serving up New American deliciousness like grilled lamb belly with pine nuts that you're required (by us) to eat on Birch's brick-laden alleyway patio.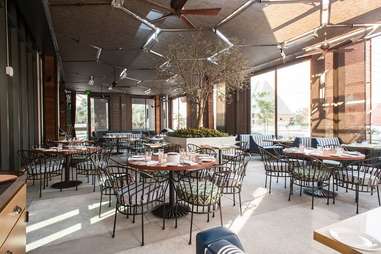 Downtown
MORE new Downtown patios? Yep: this one is attached to a new Italian restaurant in the Emerson from the Ago frontman, serving up interesting Boot fare like tagliatelle verdi w/ old-fashioned beef & porcini ragu.

Marina Del Rey
The new seafood spot in the former Paiche space has a sort of indoor/outdoor patio deal going on, with windowsill planters and overhead heaters to go along with sustainable fish & chips.
Santa Monica
The Westside's new Asian mecca from the Spice Table dude comes correct with killer outdoor seating not too far from the ocean. Get the Kaya toast and white Singaporean white pepper crab.

Downtown
Ray Garcia's new Mexican hotspot in the old Riviera space upgraded the sorta stuffy back room by knocking out a wall and installing a retractable floor-to-ceiling window that gives you full-on breeziness while you down killer green Clamato-abetted red snapper.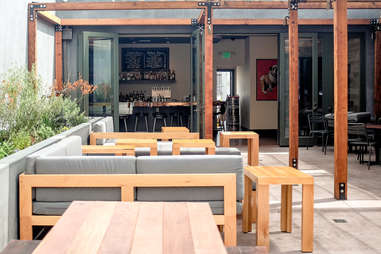 North Hollywood
The new NoHo location of this Fairfax favorite gives Valley residents some big time bragging rights over their over-the-hill neighbors. That's because this Fat Dog has a 1,000sqft patio, plus cocktails from acclaimed barman Matt Biancaniello.
Sign up here for our daily LA email and be the first to get all the food/drink/fun Los Angeles has to offer.
Jeff Miller is the LA editor of Thrillist, and is definitely outside at one of these spots right now. Find him at @jeffmillerla on Instagram and @ThrillistLA on Twitter.