Pizza is not LA's finest foray, but that doesn't prevent you from stuffing your face with it occasionally (/daily) (/twice daily) (/three times daily) (/right now). If you're gonna be eating it, you might as well be eating the best LA has to offer, which we covered from every angle this year, from a neighborhood pizza guide to 13 pizzas that are flying totally under the radar.
Bow down to the Nutella Pizza
Boldly going where no pizza joint has gone before, Pellicola Pizzeria -- a Downtown slice-house from a lauded NY pizza dude and the guys behind Seven Grand -- has dropped the pinnacle of sweetness: Nutella Pizza, a wondrous ode to the hazelnut-chocolate spread that got you through that time Joey and Dawson broke up. READ MORE
The best pizzas in LA, by 'hood
LA gets a lot of flack from New Yorkers for not having great pizza, to which we say: you're under a foot of snow right now and it's 80 degrees outside here. FACE. Oh, and also, we have a ton of great pizza, in literally every neighborhood in LA. To prove it, here're a ton of great LA pizzas, listed by 'hood: READ MORE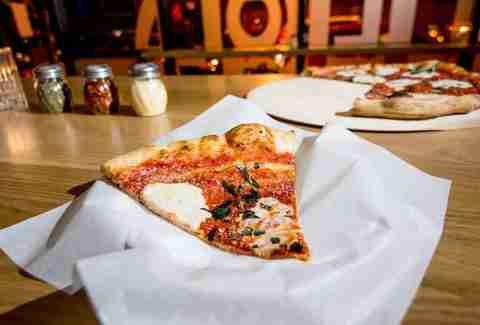 The 5 best new pizza spots in LA to cure your cravings
New rule: the next time someone says LA lacks quality pizza, shove one of these new tasty contenders in their face (and hope they're willing to share, once they taste the cheesy deliciousness). READ MORE
LA's 13 best under-the-radar pizza joints
The good thing about the best pizza in LA? Um, hello -- it's the best. The less-good thing about the best pizza in LA? You've already eaten your way through most of it. And that's exactly why we've assembled this: READ MORE
It's after 2am. Here are the 36 places in LA that will still deliver you food
The bars just closed, and suddenly YOU ARE STARVING. Rather than spend the next 20 minutes trying to open your computer and 35 minutes after that Googling "Are you SURE Domino's isn't open?", just pull out this SUPER-BASIC list of the best post-2am delivery in every 'hood, with a link to their menu and phone number. READ MORE
Sign up here for our daily LA email and be the first to get all the food/drink/fun Los Angeles has to offer.
Jeff Miller is Thrillist LA's senior city editor and pretty much no matter where on the radar a pizza is, he'll eat it. Tell him about your favorites from 2014 on Twitter and Instagram.