The Best Places to Eat and Drink Near Dodger Stadium
Get your team together to pre- or post-game at these spots.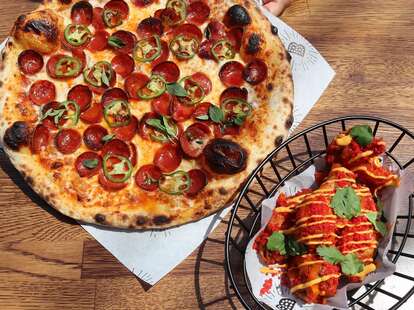 People always say that Los Angeles doesn't have seasons — but they're forgetting about Dodger season, which is celebrated citywide. It's a special time of year where people's love for the city feels palpable and drinking a cold beer outside in the middle of the day isn't frowned upon as long as it's in the name of baseball. With the stadium reopened to full capacity and a repeat 2021 World Series Championship looking more and more likely, now more than ever, you should take yourself out to the ball game. If you prefer to avoid waiting in long lines for only-ok stadium food, we have you covered with a lineup of 13 spots to eat and drink near Dodger Stadium. Many of which are within walking distance.
Pro-tip: Pick up food and eat it at the stadium. You can bring outside food into Dodger Stadium as long as it's in a clear bag and doesn't contain glass bottles, cans, coolers, glass containers, or thermoses.
Boyle Heights
This sports bar is decked out with wide-screen TVs on the interior so you can catch those opening innings without abandoning your beer. The menu pays homage to the Chicano culture that's rooted in the surrounding Boyle Heights neighborhood with wood-fired pizza, wings, and papas that are enhanced with ingredients like mole (on the pizza), freeze-dried Cheeto dust (on the wings), and beef chorizo and queso fresco (on the papas). They've got Mexican Coke and aguas frescas in flavors like guava-jamaica habanero for the kids, or feel free to spike those agua frescas with your choice of liquor; order a craft cocktail like the Mama Mangoñada with mezcal, mango-bell pepper sangrita, lime juice, chamoy, and a Tajin rim; or add a Michelada kit (sangrita, Tajin salt, lime) to any beer on the menu. Now you're ready for the game.
Echo Park
This Southern-inspired spot is the perfect brunch spot before a weekend game, with a menu that hits every craving mark. Want a sugar rush to power you through the day? Dip into their all-day pastry case with items like Mama May's banana bread, a sweet potato sticky bun, and a German chocolate marshmallow pie. In need of some savory Southern comfort? Opt for the ADB Biscuit Sandwich with scrambled eggs, American cheese, strawberry jam, and bacon or sausage on a buttermilk biscuit, or a fried chicken sandwich with pimento cheese and green tomato on a potato roll. Just here for pre-game drinks? The Cafe Con Pana can act as your coffee substitute with SelvaRey cacao rum, Whistle Pig rye, bourbon cream, and Compelling Coffee cold brew served over ice and topped with whipped cream and chocolate drizzle. For something lighter, try the Business Sweet Tea with Suntory Toki Japanese whisky and house-made sweet tea, or a Bloody Mary with a house-made mix.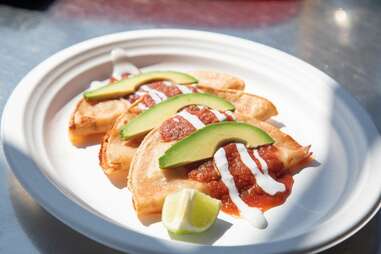 Silver Lake
This longtime mariscos stand (formerly Playita Siete Mares) was recently taken over by the father-son team behind the Guisados and has been totally revamped and renamed. It's the perfect spot for when you need a quick and delicious pre-game bite, with a simple menu of ceviches, tacos, campechanas, quesadillas, and tostadas to help you cut down on decision time. Add a refreshing Jarritos or Mexican Coke to take with you on your walk to the stadium.
Silver Lake
Directly across the street from Playita, this Boyle Heights favorite recently set up shop in the former Goods Mart parking lot. Known for their Sonoran-style flour tortillas and mega-sized burritos called sobaqueras, grab some carne asada tacos to go right before the game.
Echo Park
Located about a 20-minute walk from the stadium, this new-ish bar is a chill spot for cocktails and dishes with a Southern twist like pork belly burnt ends and a fried chicken biscuit. If you get there before 6 pm you can enjoy a no-corkage happy hour from their list of 75+ natural wines and make it just in time for the 7 pm pitch.
Lincoln Heights
When your name is the "Corn Man," you sort of have to be the best. Timoteo, the elote street cart owner, definitely lives up to his name and the proof is in the long line of people who wait for him every night. He has been serving corn piled high with cheese, mayo, and chili in the same location for the last 30 years. You can find him on Workman and Broadway in Lincoln Heights from 11 pm–3 am, 7 days a week. Note: the Corn Man is a cash-only man.
Echo Park
Getting drinks at the Short Stop before or after a Dodgers game is such a time-honored tradition that there should be a shuttle that connects the bar and stadium. Part the sea of blue-clad Dodger fans and head to the bar for a reasonably-priced drink served by friendly bartenders and then a pool game or some dancing.
Chinatown
Located about a half-hour walk or a quick drive to Dodger Stadium, this spacious indoor/outdoor brewery is an excellent choice for large groups to pre-game. They offer a large selection of their beers on tap, house-made seltzers, ciders, natural wine, and a robust menu of classic diner foods. In baseball terms, we believe they call that a home run.
Echo Park
This inviting indoor/outdoor bar is mere blocks from the stadium. Their burgers are exceptional, they have draught beers, and their cocktails are killer. Try the Mezalin, their version of a Penicillin with mezcal, homemade ginger syrup, honey, lemon, and a homemade elote tincture, with an order of their In-n-Out-inspired Gator Fries with griddled onions, housemade pickles and special sauce, and melted American cheese.
Chinatown
Before a game, stop by chef Alvin Cailan's Amboy where you can get exceptional burgers made with high-quality ingredients. Not to mention, their fries should be the fry standard. They're not too thick, not too thin, and perfectly fried and salted. We really wouldn't expect anything less from a chef who is also the Burger Show host.
Echo Park
If enjoying a sit-down meal before the game is more your speed, try El Compadre. You will most likely see fellow Dodgers fans there and the game playing. The restaurant serves hearty portions of Mexican-American classics, housemade tortilla chips and salsa, and some of the best beans and rice in town. Toast to a Dodgers win with their signature flaming margarita.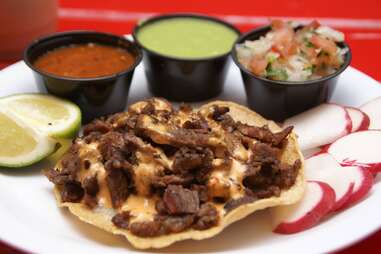 Chinatown
If you're looking for a quick bite on your way to the game, look no further than this hole-in-the-wall Baja Mexican spot. Their crispy quesadilla-esque Vampiros is a hometown favorite but don't let it overshadow their titular dish, tacos with perfectly thick harina tortillas and your choice of carne asada, pollo asado, al pastor, or vegetarian.
Chinatown
Older than Dodgers Stadium, the iconic LA establishment and originator of French dips has been open since 1918 and makes for a great on the way or at the park meal. The beef French dip is an obvious (and wise) choice, however, we suggest giving the pork sandwich a whirl.
Keisha Raines doesn't understand sports, she just loves any occasion where she can drink beer and yell. Go TEAM!