The Best Places to Eat Near Dodger Stadium
Baseball season is in full swing at this point, and we can all agree that watching the Boys in Blue from the stadium is way more fun than from your couch. And though it's a truism that you're going to eat a Dodger Dog at the game, it's also a truism that you're still going to be hungry -- which is why we put together this easy guide for where to eat near Dodger Stadium, whether you need a snack before the game or a celebratory meal after.
Chinatown
This longtime-favorite ultra-casual Mexican spot is known for their crispy, quesadilla-esque Vampiro, but the secret weapon is the chorizo cachetada ranchero-style -- a meat tostada, topped with melted cheese, aioli chipotle sauce, and a fried egg. Bingo.
Chinatown
There's no question that when you go to Yang Chow you order their Slippery Shrimp: each little fried shrimp glazed with a mild to spicy sauce and just the right amount of chewiness. Not a shrimp eater? Their kung pao chicken is also a home run.
Echo Park
With $8 cocktails, and beers less than $5, you'll want to take advantage of the happy hour menu for a little pre- or post-game bevvy, since they've got both early- and late-night happy hours available. They also have a solid list of under-$10 personal pizzas for every kind of pizza lover, including vegans, and gluten-free people, so bring your friends (and then order yourself a pork-topped banh mi pizza).
Silverlake
Same Same is a dimly lit, casual wine bar tucked away in a strip mall that used to be the old neighborhood fave, Rambutan. While you can still order Rambutan's food to go, if you eat in, Same Same is really more of a wine bar that serves food, which means the move is to order traditional Thai street food like chicken satay, Pad See Ew, and Tom Yum Gai, wash it all down with a glass of tempranillo.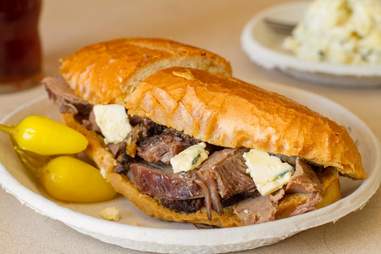 Courtesy of Philippe The Original
Echo Park
The Echo Park location of this beloved taco joint is practically right outside the stadium, so you really have no excuse not to stop by for a quick bite before the game. The handmade tortillas, topped with perfectly braised meats, are incredible, and at $2.75 a pop, you can have a few and still have money leftover for a beer at the game.
Sign up here for our daily LA email and be the first to get all the food/drink/fun Los Angeles has to offer.
Leila Najafi knows nothing about baseball but loves a good game... just don't ask her who's winning. Follow her around LA on Instagram or Twitter @leilaslist.