The 13 Most Essential Restaurants in Redondo Beach
Courtesy of We Design LA (edited)
Los Angeles Welcome to Redondo Beach, the Kourtney Kardashian of SoCal beachside cities: often forgotten, but way more interesting than you'd expect! That's where the analogy ends, though, because it turns out RB actually enjoys its food -- which is why we've put together this list of delicious eats to try on your journey to the South Bay. More Stuff You Will Like
Courtesy of Jessica Lo Ibarra
  136 International Boardwalk An homage to the fantastic little pintxo bars you find in San Sebastian, BK treats you to a spread of Basque flavor bombs, all with matching wines and a perfect view of the ocean. Sit at one of the communal tables, order as much as you can, and make some friends while you make merry.
  2208 Artesia Blvd In our ongoing search for the perfect Thai food (outside of Bangkok, that's another list) we bring you Bamboo. The classics are rock solid, and the specials live up to that name -- so don't be afraid to experiment (or go spicy). Or, if you're looking for something with a little less sauce, the shrimp spring rolls are an absolute staple that's dressed to impress. Continue Reading
Courtesy of We Design LA
  211 Palos Verdes Blvd Add some eat-cute to your meet-cute by bringing your date to this family-run Italian spot. The interior looks like a set from a romcom, and the food comes from Michelin star awarded Chef Fabio Ugoletti -- think prosciutto-wrapped scallops and oxtail pasta.
  610 Torrance Blvd No, it's not a typo. This incredible (and new) spot is serving up THREE brands of pie: sweet, savory, and PIZZA. Did your heart skip a beat? If it didn't, it will when you finally taste the food: while it's all delectable, the savory pies are perhaps the reason we keep coming back. Or the apple tarts. Or the chicken curry... you get the idea.
  2515 Artesia Blvd Honestly, if Bluesalt don't have the fish you want, you're probably looking for chicken. There's an incredible range of super-fresh catch, grilled on the spot, so whether you're dining in or taking out to eat at the pier, you can't go wrong.
Courtesy of The Standing Room
  144 N Catalina Ave This may be the only time we recommend eating at a liquor store, but what the space lacks in ambience, the incredible burgers more than make up for in serious flavor. If you're feeling bold, try and conquer the Napoleon: two massive beef patties topped with bacon, caramelized onions, smoked gouda, cheddar, American cheese, a fried egg, and braised short rib. Oh, and don't forget the parmesan truffle fries.
  514 N Pacific Coast Hwy This gastropub had us at "owned and operated by Top Chef runner-up Brooke Williamson" (yes, it's a little crush). Then she went and threw pretzel burgers, brown sugar ribs, and chili-lime fried shrimp into the mix, and it became love. And because Hudson House is apparently heaven, there's a beer list so deep it echoes. Swoon.
  1000 Torrance Blvd If the endless search for the perfect pizza brings you to Orlando's, you won't be disappointed; while it's not just the slice that put this place on the map (anywhere with poutine this delicious is doing something right), the pies definitely seal the deal. Say it with us: sweet crust marshmallow and nutella pizza. Enjoy.
  402 S Pacific Coast Hwy With its proximity to the ocean, Redondo Beach carries a big expectation of fresh seafood, and Chitose doesn't disappoint. Marry impeccable fish, with authentic flavors and an omakase to please both wallet and appetite, and you can't go wrong. Or you could, by not coming at all. So, don't do that.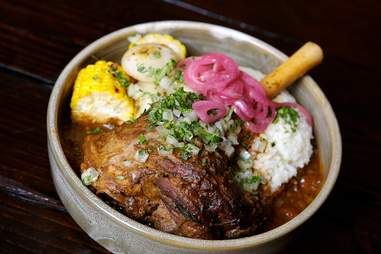 Courtesy of Ortega 120
  1814 S Pacific Coast Hwy If you're hunting for a beachside Mexican shack that looks and tastes like you're on vacation, you might have found it in Ortega 120. There's a lot to love here; design that would make Frida Kahlo feel at home, great food, and killer cocktails. If you can't pick a favorite from the menu, don't -- try the taco tour instead, and sample it all.
  800 Torrance Blvd One of LA's best-loved and most consistently rated Indian restaurants, Addi's offers a lot more than just its extensive tandoori list. The curries are dynamite (love the chicken makhani), but do yourself an LA solid: forget about carbs for the day, and try the oven-fresh naan. As many as you can. Of every flavor.
  1700 S. Catalina Ave #103 For a clean conscience to go with your clean diet, the Temple is your spot; with mostly organic, local produce, it's serving up entirely delicious, cruelty-free food and drink (hello, Dragon Shots). All of this by the beach, in what feels like a Nepalese tea house. Also a worthy spot for brunch when you're craving something on the lighter (read, not hungover) side.
  233 N Harbor Dr While there might be no surprises in store at Polly's, that's not a bad thing. Because when the location is this unbeatable (see name of restaurant), and the fare is diner classics served with a generous hand, it's kind of wonderful to get exactly what you're looking for. Did we mention that view? Sign up here for our daily LA email and be the first to get all the food/drink/fun Los Angeles has to offer.Trent Atkinson ate his way here from Sydney, Australia. When not writing TV and Film he's finding treats on the streets of LA instead of hitting that deadline. But he's doing it for you. Find him on Instagram @sweatnbutter