It's that eternal dilemma: you've got a ton of people to please at a big group dinner (for a birthday, or an office party, or, like, "we haven't hung out in forever and let's go to a big group dinner"), and you need to find a place with large tables, tons of different great dishes, that's not too expensive, and has a bunch of stuff to share. Well, bingo: we've got you covered:
Recommended Video
Debatable: Is Shake Shack Really Fast Food?!?
Koreatown
Roy Choi's K-Town hot-pot haven has an ever-changing menu, but two things are constant: everything is made to share, and everyone looks totally great in floral bibs. In addition to at least one of the restaurant's namesake pots, you'll also want the house poke and, if it's available, the hickory-smoked duck breast.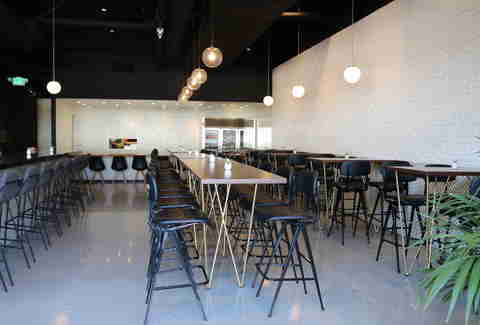 Little Tokyo
This Italian-style shared-plate barstaurant in the middle of Little Tokyo serves up excellent bites and cocktails at a slew of group-friendly long tables, with definitely-gonna-inspire-conversation pizzas like charred octopus, or BBQ chicken with strawberries (!?!?!?!), that are obviously shareable, and great small-plates dishes, like pistachio-crusted grapes, as well.
East Hollywood
Your crew requires pizza better than Domino's, yet you're stuck in Bestia-or-Mozza-reservation purgatory. Don't sweat it -- instead, hit DeSano, a Neapolitan-style spot with four wood-burning ovens, ingredients imported from Italy, and copious amounts of seating, including a private room. DeSano also has a decent beer selection and, for any non-gluten friends, salad. Just in case.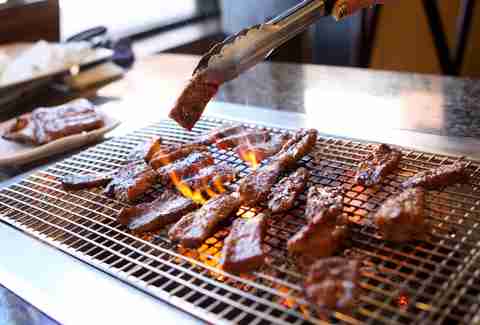 Koreatown
There might not be a cuisine better suited for sharing between friends than KBBQ, since literally everything is in the middle of the table, and there are basically refills on all of it. Soowon Galbi is high quality, but won't break the bank like Park's, which means you can load up the grill with bulgogi and brisket without sweating the bill at the end.
Culver City
The beloved New York spot just got its own Culver City brick-and-mortar, and if you're dining with a group of meat eaters, this is for you. In addition to tons of space and a private dining area, Cannibal does a large-format nose-to-tail animal feast (which you must book at least a week in advance) that starts with a charcuterie spread before an entire roasted animal is brought out and carved tableside (plus dessert!). Oh, and there's a selection of 400 different beers.
West Adams
Every Thursday, for the still-insanely-insane price of $25 per person, you can get in on Papa Cristo's "Big Fat Greek Family Style Dinner," which includes wine tasting, belly dancing, live music, and more food than you can shake a stick at. Papa C's will accommodate your party no matter the size, so get excited (which of course comes from the Greek word "erethisménos", meaning to get FIRED UP).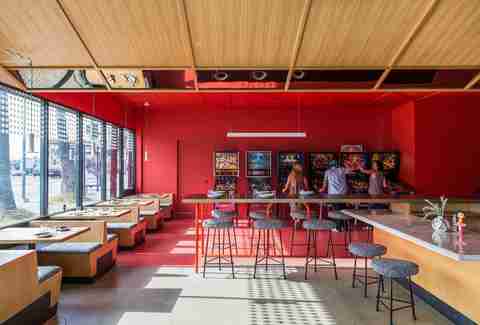 Echo Park
Button Mash has the group dinner thing down, with big tables, a killer beer list, share-friendly dishes (dan dan noodles, double-fried gochujang/Korean pepper wings, and those signature fried tofu balls), and the restaurant's main sell: old-school video games, so you can pass the time actually doing something with your friends other than talking.
Arts District
The tables are long, the beers are strong, and the sausages are bomb. Grab a seat along one of the many huge, communal tables, and toast some German and Belgian ales while you take a crack at one of the big W's not-so-run-of-the-mill sausages, like rattlesnake & rabbit.
Hermosa Beach
If a big night out is what your birthday/soon-to-be-turnt-up office party is looking for, you won't need to set foot in a single building besides Abigaile. Start your group off with dinner downstairs (with a solid mix of entrées and shared plates, like the pao de queijo, which are basically Brazilian Cheesy Poofs), wash it down with one of the beers brewed on-site (because Abigaile is also a brewery), and then head upstairs to the venue's rooftop bar to get weird and dance your faces off.
Silver Lake
If you're wondering where Rambutan went, don't fret, it's still there. But now it's cooler. Same Same is a brand-new wine bar -- but one fully loaded with some of the OG Rambutan food. Load your crew into one of those large booths and get down on Same Same's snacks and street food menu, including spring rolls, shrimp balls, mussel pancakes, and barbecue pork jade noodles with yau choy, scallions, cilantro, and roasted garlic -- all perfect for sharing.
West Hollywood
Hit up ROKU's multi-person teppanyaki for an extremely special experience (with options ranging from Maine scallops to 40-day dry-aged prime NY steak to lobster tail with uni butter), only made better when you sip one of the restaurant's signature cocktails, like the "Matcha Mule," with green tea-infused Beluga Vodka, ginger root, lemon, and honey. Your friends will be all like, "Wowwwww," which is not the reaction when you go to Benihana (except when they light that onion volcano).
Venice
This decades-old standby is still one of the best inexpensive celebration spots in LA: the outdoor patio is loaded with tons of long tables, the pasta selection is massive (and the serving sizes gigantic, meaning plenty to share and take home), wine is on the honor system, and every hour, everyone sings "That's Amore" with the servers, which -- if you have a long meal there -- gets more and more rambunctious as the night goes on. Also, the garlic knots are both free for everyone and totally, insanely great.

Sign up here for our daily LA email and be the first to get all the food/drink/fun Los Angeles has to offer.