The 19 Best New Restaurants in Orange County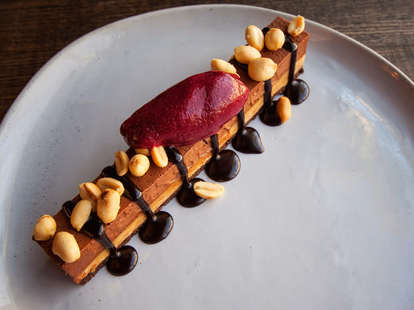 Courtesy of The North Left
Courtesy of The North Left
So you FINALLY finished going to all 25 of Orange County's best restaurants. Congrats. Thing is, while you were busy going to all of those, these 19 delicious NEW restaurants opened that you have to go to now, too.
#OCProblems.
Anaheim
What you're getting: Pav bhaji (Bombay-style spiced sloppy Joe) and aloo masala kaathi (potato, mustard seed, and ginger wrap)
ADYA hits OC's more-explorative diners with some modern Indian fare, putting tandoori shrimp alongside oddball entrees like Indian Sloppy Joes. Pro-tip: make your meal a combo by requesting a thali -- essentially, a plate with a schload of sides.

Fountain Valley/Chino Hills/Tustin
What you're getting: Milky buns!
Expect insane lines for Afters, but ones that'll be worth standing in -- especially as they smush Cookie Monster ice cream and mochi toppings INTO A GLAZED DONUT. Yeah, you could just order a scoop in a cup, but why would you ever do that when you can have it INSIDE A DONUT??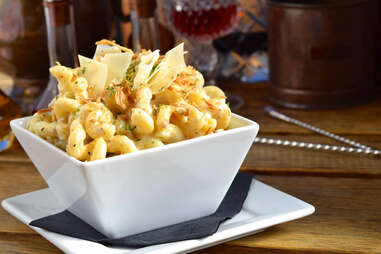 Anaheim
What you're getting: Mini corn dogs and Duck Confit Mac + Cheese
This speakeasy-ish barstaurant is doing new takes on classic dishes, as well as a killer cocktail menu, all hidden through a secret entrance... behind a slew of sake barrels!!

Newport Beach
What you're getting: Rock shrimp & grits and pork belly poutine
Southern-inspired cuisine is just one of the reasons to frequent Bosscat. And its comprehensive collection of spirits is the other. It's close to the John Wayne Airport if you're getting out of town, and it has an over-the-top Sunday brunch with short rib chilaquiles and crawfish etouffee Benedict of you're a person who likes those things.

Irvine
What you're getting: Hainan Chicken
Communal benches at this new Asian eatery from the people behind LA's Kim Tar Noodle House comfortably seat larger parties, but takeout is a popular alternative, especially for its house-made egg and rice noodles, slurped up in broth or in dishes like seafood chow fun and Thai basil spaghetti.
Costa Mesa
What you're getting: Xio Long Bao. Duh.
The opening of LA fave Din Tai Fung has unsurprisingly taken over the OC: with wait times exceeding most Disneyland queues, parties can leave their phone number and window shop at South Coast Plaza (or way more likely window shop at around-the-corner Karl Strauss Brewery) until a table is set, before gorging on the best dumplings... anywhere? Either way, definitely, 100% south of the Orange Curtain.
Newport Beach
What you're getting: Sweat Pants Burrito
WTF is a "Sweat Pants Burrito?" Uh, duh, it's a breakfast burrito stuffed with so much great stuff you couldn't possibly wear a belt. Also, it's steps from the pier. Double score.
Laguna Beach
What you're getting: Texas Redfish
Where both the "inside" and "outside" views overlook the water, the Pacific Edge Hotel's fine-dining establishment is still somehow casual enough for most beach bums. And if it's packed (as usual), you can opt for sister space The Deck, one level below, with live music... and that same amazing view.
Santa Ana
What you're getting: Kinda anything, but the Chino Latino from Ink Waffles is amazing
This recently opened food hall is sort of OC's equivalent to LA's Grand Central Market, with artisan everything from amazing noodles at Noodle Tramp to incredible birds at Playground Fried Chicken; it's also got a space for book signings and events, as well as an "incubator kitchen" for up-and-coming chefs.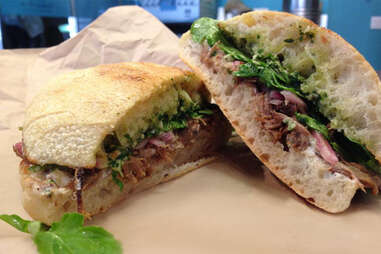 Irvine
What you're getting: The Peruvian Steak Sandwich
LA's ultra-beloved sandwich-and-salad spot finally made its way South with its largest location to date -- on top of craft beers and killer 'witches, it also has a kids corner and cornhole gaming area anchoring one end, making this more of a hang location than just a stop-by.

Santa Ana
What you're getting: The trout, plus anything from its pastry chef
Wood walls? Check. Leather banquettes? Double check. Amazing, farm-fresh New American food?? Triple-dipple check.
Newport Beach
What you're getting: Tandoori-Spiced Ahi Tartare
Located within the remodeled Island Hotel, Chef Marc Johnson redefines the "hotel restaurant" stereotype with unexpected seasonal and refined dishes. Added bonus: outdoor patio. Yeah.

Corona Del Mar
What you're getting: Any seafood dish, a pizza, and Alessandro's house-made gelato
Chef Alessandro Pirozzi has a decade-old reputation as one of the best Italian chefs in Orange County, and his most recent opening upholds that rep, with a wood-burning oven imported from Naples and meticulously handcrafted pasta.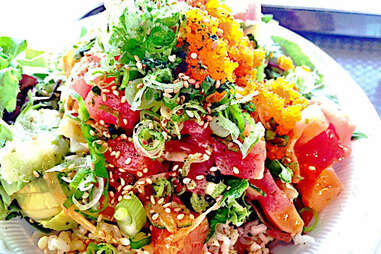 Anaheim
What you're getting: Half salad/half brown rice Poki Bowl -- with everything
The most popular customizable concept to emerge since Pieology's assembly line, poki is (duh) the star of the show inside this Anaheim corner shop. Fresh products, plus efficient service equals a winning combination. Best bang for the buck, and it's good for you!

Anaheim
What you're getting: Uh. C'mon now.
Conveniently situated down the street from The Happiest Place on Earth, Roscoe's finally hits Orange County. Its specialty chicken and waffles are sweet and salty with each forkful, the only problem is deciding on which combination to order.
Costa Mesa
What you're getting: Drive Thru Burger, add bacon marmalade
SOCIAL's got both that fresh-new-gastropub vibe, and also that serving-up-one-of-the-best-burgers-in-all-of-SoCal vibe thanks to a double-patty meat monster where they crisp the outside of each patty while leaving the inside insanely juicy. Best bonus ever: the whole thing is also dripping with cheese and bacon marmalade.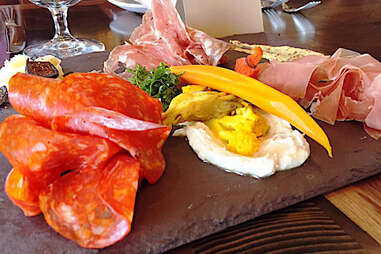 Irvine
What you're getting: Whole-Roasted Branzino
This just-opened location of the craft beer favorite is serving up an ocean-heavy menu and its own award-winning beers, including one aged in a Pappy Van Winkle barrel. Yeah, you're gonna want to read that one time.
Irvine
What you're getting: Twice Cooked Pork Belly Buns
Top Chef: New Orleans finalist Shirley Chung unveiled her first solo endeavor, a sleek dining room serving an inventive take on traditional Asian tastes, including steamed-then-fried pork buns (with condensed milk for dipping), and oxtail fried rice with mushrooms and watermelon radish.

Newport Beach
What you're getting: YG's Alsatian Pizza
It's got maybe the best spot to watch the annual Newport Boat Parade, as well as two bars and upped-ante classics like Chili Lime Rubbed Hawaiian Mahi-Mahi and Brandt Family Reserve Cajun Flatiron Steak.
Sign up here for our daily LA email and be the first to get all the food/drink/fun Los Angeles has to offer.
Anne Marie Panoringan has written for the OC Weekly, Where Orange County, and Westways. You can argue with her on Instagram at @BrekkieFan.