You're already squeezing multiple family members into your apartment, sleeping on an air mattress, and frantically googling holiday-themed events, so we're giving you permission to forget trying to cook a bound-to-disappoint Christmas dinner. Instead, pay someone else to do it -- you know, like a professional chef at an actual nice restaurant, where you won't have worry about doing the dishes, and everyone will have a much better meal than they were expecting at your place.
Each of the restaurants below are open for dinner on Christmas Day, and most of them have special holiday menus as well -- and to make things even easier, we've sorted them according to which ones accept walk ins and which ones require reservations. You've got no excuses now.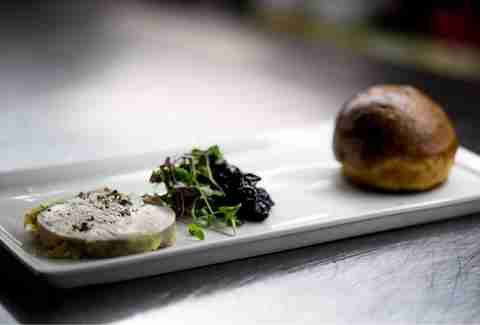 Downtown
After doing a brunch buffet earlier in the day, the Parisian-style brasserie will transition back to its a la carte menu, with plenty of fancy French dishes worthy of a holiday dinner, including a whole lobster flambéed in cognac, filet mignon with foie gras, and a flambéed pasta served out of a giant Parmesan wheel and covered in shaved black truffles. If this is how the French celebrate Christmas, we're ready for our beret.
Price/Reservations: A la carte pricing; 5pm to 10pm; walk-ins welcome or visit OpenTable for reservations
Beverly Hills
This sparkling, swimming pool-adjacent dining room designed by Kelly Wearstler is what SoCal Christmas dreams are made of. The special Christmas Day menu features specialties like roasted chestnut soup with grappa cream, smoked trout rillettes, truffle-laced scallop and shrimp risotto, and braised short ribs with smoked fingerling potatoes and broccoli rabe. After dinner, top things off with an eggnog panna cotta doused in gingerbread sauce.
Price/Reservations: A la carte pricing; walk-ins welcome or visit OpenTable for reservations
Hollywood
The English-style tavern decked out with British paraphernalia is doing a bunch of classic Christmas offerings typically found on the other side of the pond, in addition to a limited version of its regular menu. Look for roast goose breast with Yorkshire pudding; fire-roasted chestnuts with bacon; and of course, that Dickensian staple: figgy pudding. Oh, and since The Pikey will be open till the wee hours, it can easily serve as a post-family-dinner cocktail reprieve.
Price/Reservations: A la carte pricing, 11am to 2am; walk-ins welcome or visit OpenTable for reservations
Downtown
You've been eating big elaborate meals non-stop since Thanksgiving, and by Christmas you know you're just going to want to chill with a burger somewhere that's not an In-N-Out drive-through. In that case, this dark and cozy cocktail lounge is your spot. Order the $19 fancy burger with truffle aioli and Asiago, go for one of three types of fries, and kick things off with some crispy Brussels sprouts or vadouvan-spiced beer nuts. The bar also has plans to do a special Aperol-and-gin-based Home Alone cocktail laced with rosemary, cranberry, and ginger syrup to mark the holiday.
Price/Reservations: A la carte pricing, 7pm to 2am; walk-ins welcome; no reservations
Hollywood
The three-course Christmas dinner at Hollywood's happening Roosevelt Hotel comes with a glass of cava as well as first courses of carrot ginger soup and seared scallops and entrees like pan-seared ocean trout with French lentils and a wild mushroom Wellington as a solid vegetarian option. The desserts are fun ones, with choices including deconstructed pumpkin pie and beignets with Chantilly cream.
Price/Reservations: $65 per person; 12pm to 8pm. Walk-ins welcome but reservations recommended. Visit OpenTable or call 323.768.8888
Beverly Hills
Yes, it's one of the pricier offerings (it is The Peninsula in Beverly Hills, after all), but the dinner includes all the Nicolas Feuillatte Champagne you desire, so you can keep the bubbly flowing until you're finally ready to go home and tackle It's a Wonderful Life. Diners can also try a bit of everything since the meal is served family style, with dishes including chestnut bisque, charred octopus, a free-range turkey with trimmings, and veal osso bucco, along with a selection of desserts.
Price/Reservations: $140 per person, 11am to 8:30pm; walk-ins welcome, but reservations recommended. Call 310.975.2736
Santa Monica
The Fairmont Miramar's restaurant will be sticking to its usual farmers market-inspired menu on the 25 and will also be adding a special Christmas prime rib -- complete with horseradish popovers, duck fat potatoes, pan drippings, and béarnaise sauce -- to its offerings that night. And don't forget about FIG's killer cheese bar, which boasts more than two dozen varieties of small-batch fromages for your holiday indulgence consideration.
Price/Reservations: A la carte pricing, 6pm to 10pm; walk-ins welcome, but reservations recommended. Visit OpenTable
Beverly Hills
If your idea of the perfect Christmas dinner means dropping some of your year-end bonus on a sky-high seafood tower, gargantuan bone-in filet, and baller bottle of wine, then Mastro's it is. The iconic Beverly Hills steakhouse will be open Christmas Day, serving its regular menu and featuring live music as per usual. After dinner, try pairing that ridiculous butter cake with the restaurant's Winter Whisper cocktail: a mix of rum liqueur, Irish cream, cognac, and cinnamon. Because it's Christmas, dammit.
Price/Reservations: A la carte pricing, 2pm to 10pm; bar seating open to walk-ins, but reservations required for tables. Call 310.888.8782
West Hollywood
The Mondrian's stylish indoor/outdoor restaurant with a perfect patio flanked by city views will be featuring its regular seasonal menu for Christmas dinner. The focus here is on steaks and seafood, highlighted by an overflowing shellfish tower, langoustines with sea beans, whole grilled branzino, a bone-in rib-eye, and that yuletide classic: prime rib served with traditional sides of mashed potatoes, baby carrots, horseradish, and au jus.
Price/Reservations: A la carte pricing; 5pm to 8pm; walk-ins accepted, but reservations are recommended. Call 323.848.6000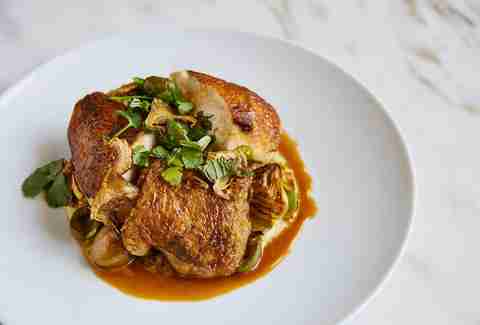 Beverly Hills
Bring the fanciest pair of elastic-waisted pants you can find because Geoffrey Zakarian's 18-month-old restaurant at the Montage will be doing one very big holiday buffet. There'll be a raw bar touting oysters, shrimp, and snow crab, along with cheese and charcuterie, a variety of salads, a carving station of pastrami-spiced prime rib, rosemary-glazed Christmas ham, and herb-roasted leg of lamb, as well as various veggie-heavy side dishes and a dizzying selection of dessert offerings, including holiday pies, cakes, and cookies.
Price/Reservations: $128 per person (children under 12 are $48), 10am to 6pm; walk-ins accommodated when possible, but reservations are strongly recommended. Email reservations@georgierestaurant.com, or call (310) 860-7886
Santa Monica
You can pity those poor suckers who went back to the Midwest for an icy holiday while you're gazing out at the ocean at this airy spot inside the stylish hotel Shutters on the Beach. A special three-course Christmas dinner menu features starters of Maine lobster chowder and fluke crudo with ramp pesto, followed by entrees like Hudson Valley duck breast and roasted branzino, and a panettone panna cotta or chocolate yule log for dessert.
Price/Reservations: $110 per person, from 4pm to 10pm; reservations required. Visit OpenTable for reservations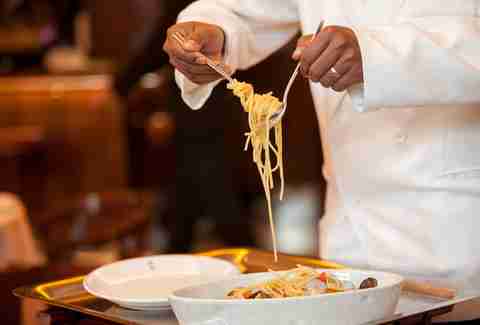 Beverly Hills
Cooking up a bona fide Italian Christmas feast sounds completely daunting, but eating one prepared by a Naples-born chef sounds great. Highlights of the Cipriani restaurant's four-course dinner include Chilean seabass with artichokes, king crab salad, baked eggplant-and-tomato pasta, and panettone for dessert.
Price/Reservations: $95 per person + $35 wine pairing, 6pm to 10:30pm; reservations required. Book online
Pasadena
The Langham Huntington patio-centric restaurant is putting together a four-course, prix-fixe dinner paired with live entertainment. Entrees run the gamut from a cherry-and-honey glazed ham to vegetable tamales to pork belly and scallops, along with a roasted beet salad and roasted kabocha squash with curried lentils. The hotel's super-swanky steakhouse The Royce will also be open, doing an upscale, three-course dinner for $135 a person.
Price/Reservations: $75 per person + $35 for wine pairings; 4pm to 9pm; reservations required. Call 626.585.6218 or visit OpenTable
Sign up here for our daily LA email and be the first to get all the food/drink/fun Los Angeles has to offer.