5 sandwiches you need to eat right now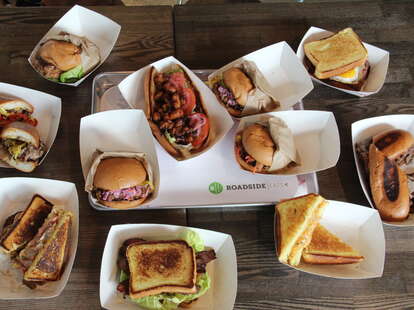 LA's got some brilliant, classic sandwiches, but this is not a story about those, so if you've never sunk your teeth into a succulent sando at Langer's/Cole's/Phillipe the Original/Bay Cities, then GOOD GOD, STOP READING NOW AND GO EAT ONE OF THOSE GLORIOUS MONSTERS. If, however, you're a sandwich veteran, then bust into the list below of five 'wiches that're a bit newer or off-the-beaten-path, but that you should absolutely destroy ASAP.
Fish Sandwich, The Doughroom
Palms
This just-opened Italian resto's been lauded for great pizzas and meatballs, but the lunchtime winner's this former swimmer, which's been dolled up w/ tartar and pesto and then perfectly grilled (or fried -- maybe you want fried, actually) and served on an Italian roll w/ mashed peas.
Smoked Turkey Wrap, Tarzana Armenian Deli
Tarzana and Sherman Oaks
Valley residents surely already know about this ethnic market-cum-wrappery, but it's worth traveling over the Hills for their perfectly-proportioned meat wraps, which are all stuffed into pitas with this insanely good mozzarella string cheese that's -- to our knowledge -- only available in these two stores. The smoked turkey is bomb, but you also can't go wrong with the chicken or meatball version.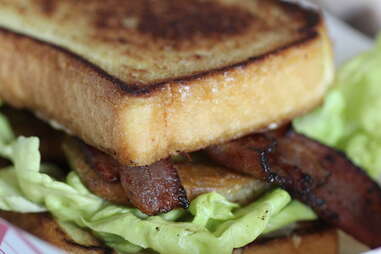 Fried Green Tomato BLT, Roadside Eats
Hollywood
We told you about every single sandwich on the menu at this new ArcLight-adjacent, Southern-themed joint, but you're gonna definitely want this one, which's stuffed with house-pickled tomato, super-crisp bacon, and lettuce. And, just like the movie, you're gonna want some Kleenex, 'cause it's gonna be sad when you're done.
Carved Steak Pretzel Melt, Mendocino Farms
Multiple locations
Originally just a single downtown sandwich-and-salad lunchery, this mini-chain's become a mid-day citywide go-to thanks to standbys like crazy-good banh mis and super-delicious not-fried fried chicken. But their seasonal sandos kill it, and this monster -- stuffed w/ smoked Gouda fondue, red wine onions, roasted tomatoes, and giardiniera sauce -- is right now Fall-only, so get it while it's super-hot. Also, it's probably good as cold leftovers.
Cubano, Superba Snack Bar
Venice
This chef-driven Venice gastrobistro's got insane pastas, killer brunch, and this hamwich, which's got two kinds of pig (roasted pork and smoked ham), Jarlsberg, mustard, and a sour pickle on a crazy-good roll.