Sitting just 95 miles north of Los Angeles, Santa Barbara's been branded as the "American Riviera" and has a plethora of dining options to back up that reputation. Since it's hard enough to choose between two options, let alone a whole plethora, we've simplified things for you by picking out 12 must-try spots for a variety of cuisine and dishes -- from fresh sea urchin shoots to hot chicken nachos.
230 E Victoria St, Santa Barbara, CA 93101
This traditional Japanese spot serves kaiseki: a seven-course dining experience that keeps your taste buds on edge with its mix of both cooked and raw foods. The menu changes monthly, the prix fixe is worth every penny, and while there's sushi in the mix here, this isn't technically a sushi joint per se -- if it's sushi you're after, head over to...
1225 State St. Santa Barbara, CA 93101
Arigato's been around for a long while, and still serves some of the freshest, most delicious fish around -- the gold shot (sea urchin with a quail's egg) contains no alcohol, and is fantastic. Not into raw? That's OK, there's a miso black cod that'll make you sing -- provided you're the kind of person who sings when they eat some excellent miso black cod. There's also a great heated patio out front, so you can still enjoy the sights and sounds of State St even when it is a frigid 50 degrees.
600 North Milpas St. Santa Barbara, CA 93101
Although there's always a line at the three Santa Barbara locations of this chain, the wait's never very long, and once you've ordered at the counter and found a table, you're served fresh, hot tortilla chips alongside any of the 10 different options at their fresh salsa bar. When the food does come, you won't even remember that this spot wasn't full service -- and even if you do, you'll be too busy scarfing down chicken nachos and fajitas del mar to care.
Best place to go with the parents: The Lark
131 Anacapa St, Santa Barbara, CA 93101
Situated in the heart of the up-and-coming Funk Zone district of downtown Santa Barbara, the Lark sits adjacent to tasting rooms, a brewery, a pizza spot, a distillery and a guitar bar. Before the family style meal, you're served artisanal (read: fancy) popcorn, which serves to whet your appetite for the roast chicken/braised octopus dishes that follow. Don't let the food distract you from the craft cocktail menu, though: order yourself a Continental, and then two more.
Best dog-friendly option for meeting locals with dogs: The Brewhouse
229 W. Montecito St, Santa Barbara, CA 93101
In addition to top-notch fare like pork chops with grilled artichoke and bacon-wrapped filet mignon, as well as an array of 20+ beers (like the spicy Habanero Pilsner), this restaurant/bar/microbrewery also features a dog-friendly patio, making it the perfect spot to mingle with Santa Barbara natives and their canine companions.
1017 State St, Santa Barbara, CA 93101
This bakery makes everything from breakfast egg sandwiches to exquisite wedding cakes, and while the gluten might be missing, the flavor definitely isn't -- grab some chocolate decadence cake, for obvious reasons. Located on mid-State Street, this bakery/bistro also boasts a wonderful view of downtown Santa Barbara.
30 West Anapamu, Santa Barbara, CA 93101
The Spanish-American fusion menu at this tapas bar's packed with amusingly named dishes like Date with a Pig, The OMG Salad, and I Like Pig Butts -- the latter being habanero bbq pulled pork sliders, which need no further introduction. Make sure to try the Holy Crop! cocktail: it's organic cucumber vodka, elderflower liqueur, muddled mint, and fresh lime juice, and it's fantastic.
1919 Cliff Dr, Santa Barbara, CA 93109
Once you get over the initial shock of finding a vegetarian spot in Santa Barbara (of all places!), the next thing you'll probably notice is the $15 average entrée price. It's actually a great value, considering the clean ingredients and powerful flavors on offer, and there are vegan and gluten-free options available as well. Instead of playing it safe with a plain salad, venture off the beaten path with some more outlandish items -- like the Rajas Tacos (poblano peppers, black beans, butternut nacho cheese, and pickled carrot).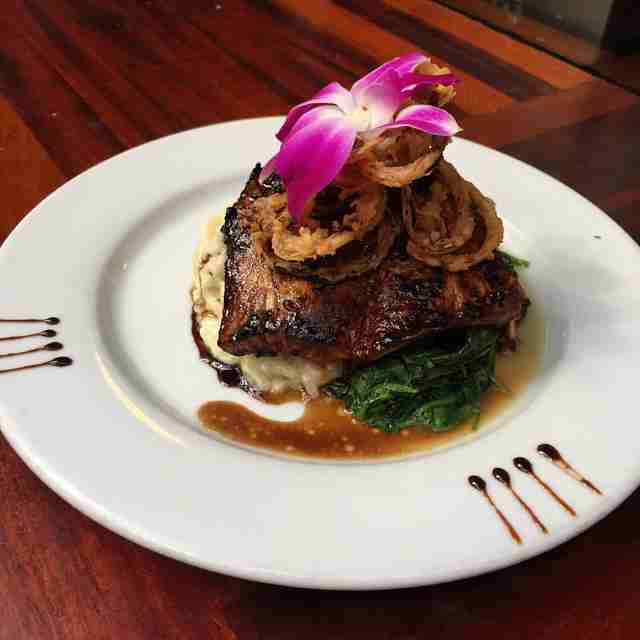 101 East Cabrillo Blvd Santa Barbara, CA 93101
This seafood sanctum sits across the street from the beach (go figure), and has a happy hour menu that's chock full of goodness: try the grilled shrimp tacos and fresh white fish ceviche with a glass of the Sea Glass Pinot. Also, while the dining room is quite welcoming, the bar area and cute little side patio are where it's really at.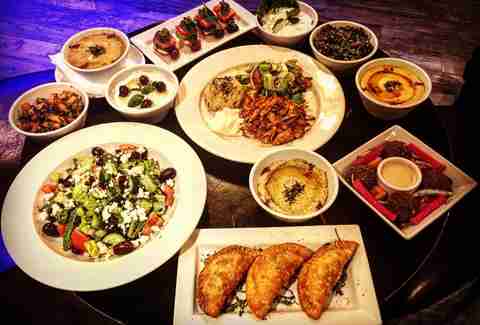 Best outdoor patio: Zaytoon
209 E Canon Perdido St, Santa Barbara, CA 93101
Located off the beaten path (meaning it's a few blocks south of downtown SB), Zaytoon is hands down the best Lebanese restaurant in town; it's also the only Lebanese restaurant in town, but that's beside the point. Here's what is the point: this place has the biggest and greatest outdoor patio of any restaurant in town. Cozy up to a table by the fire pit enjoy some pita bread and share the chicken kabob plate while sipping a cocktail from the full bar -- and if it's Friday or Saturday night, you'll have live entertainment in the form of talented belly dancers. Best. Patio. Ever.
600 Olive St Santa Barbara, CA 93101
In addition to the bomb Italian dishes here -- try the pasta al pomodoro or the raviolo de carne -- this place scores extra points for its bocce ball courts out back. While this might sound like a frill at first, you'll change your mind once you've been soundly beaten by a Sicilian geriatric for the fifth time in a row. Maybe just stick to watching the action while you eat your pork chops?
728 State St Santa Barbara, California 93101
This place has been turning out small batch ice creams in the same location since 1949, and whether you opt for a seasonal flavor like pumpkin pie and egg nog, or reliable stand bys like salted caramel chip and churros con leche, you should either start or end your trip at this SB institution -- or better yet, start and end it here.
Sign up here for our daily LA email and be the first to get all the food/drink/fun Los Angeles has to offer.
Evan Schoolnik Berger is a local girl who loves Santa Barbara, food, and all things sparkly. She is also the owner/operator of Taste Santa Barbara Food Tours. Follow her food adventures on Twitter @TasteSBFT