The 12 best SoCal restaurants NOT in LA or OC
This is totally gonna blow your mind (hopefully not literally, though, since that'd make reading the rest of this wayyy more challenging), but there are several legitimately great restaurants in SoCal that aren't in LA or Orange County. From San Diego to Palm Springs to Buellton (?), here're our picks for the 12 best SoCal restaurants that you'll find not-here.
Editor's Note: San Francisco is going to do one of these for NorCal, too, and to ensure we weren't fighting over some burger joint in Coalinga, we decided to make the Kettleman City In-N-Out Burger the NorCal/SoCal dividing line. Now carry on.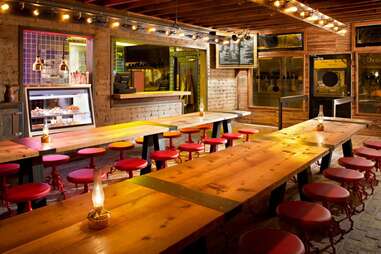 Soda and Swine (click here for address and info)
San Diego, CA
This isn't just a sandwich shop in San Diego, it's a sandwich shop in San Diego with a titular next-door craft cocktail spot (Polite Provisions), an astounding array of carbonated amazingness (there are four different root beers alone), and non-sandwichage like smoked pork and chorizo meatballs.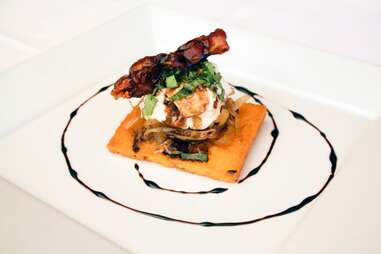 Il Cortile (click here for address and info)
Paso Robles, CA
You may not think you can get real-deal Italian in the middle of California's middle-of-California wine country, but you'd be totally, 100% wrong (idiot). This charming hole-in the-wall does high-end boot food like homemade pappardelle w/ wild boar and pan-seared venison that's paired with its (unsurprisingly) stellar wine selection. It's basically like any great, LA Italian spot, except it's surrounded by a zillion vineyards.
F. McClintocks (click here for address and info)
Pismo Beach, CA
This roadhouse-y steakhouse is a longtime favorite in Pismo, both for its food (they have in-house butchers carving stuff every day, burgers made from ground-steak trimmings, monster onion rings, etc.), and its... water service? Yeah. Check out this YouTube vid.
Addison (click here for address and info)
San Diego, CA
Probably the most-lauded restaurant in San Diego (and among the highest-rated in California, overall), this fine-dining spot at The Grand Del Mar is a foodie's dream, with Top Chef-worthy dishes like kobe short ribs and caramelized codfish w/ daikon, scallops, and dashi.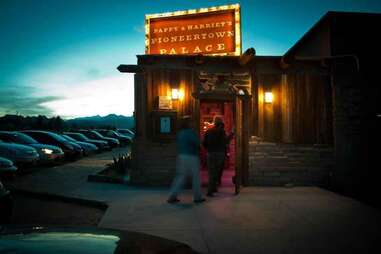 Melvyn's Restaurant & Lounge (click here for address and info)
Palm Springs, CA
This Rat Pack-era restaurant isn't specifically notable for the food (although its straightforward steakhouse fare is both well-prepared and absolutely classic). It's also not specifically notable for the decor, which is essentially exactly what you're already thinking of when you hear "Rat Pack-era restaurant". No, what it's most-notable for is the bar: a martini-and-piano throwback (or never throwforward?), where members of the Greatest Generation prove their greatness in picking up each other night after night, while you watch, never fearing growing old again.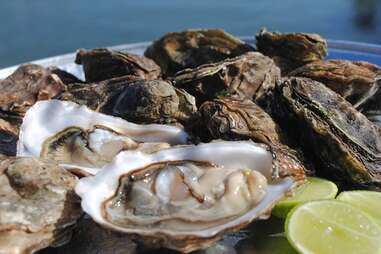 Jolly Oyster (click here for address and info)
Ventura, CA
This beachside shack is famous for serving the best bivalves anywhere, but here's the rub: you gotta shuck 'em yourself... which is only a problem if you don't have a shucking knife... which they sell for $5.
Hitching Post II (click here for address and info)
Buellton, CA
It may have become internationally renowned from Sideways, but long before Thomas Haden Church walked in the door, this Solvang-adjacent steakhouse was a destination restaurant, with red oak-grilled steaks and a variety of do-no-wrong chops.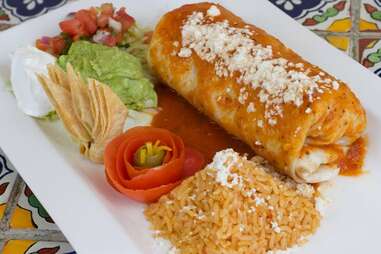 Los Agaves (click here for address and info)
Santa Barbara, CA
La Super Rica is by far SB's most famous taqueria thanks to an endorsement from Julia Child, but, um, why trust Julia Child? Instead of waiting in that line, hit this down-the-street spot for stellar ceviches, killer burritos, and the must-order molcajete, essentially a steaming stew of mystery ingredients that's spicy, savory, and altogether wonderful.
Workshop Kitchen & Bar (click here for address and info)
Palm Springs, CA
This ultra-modern, new-American Palm Springs restaurant was the tsunami in a wave of sleek eateries to hit the desert a couple years ago, and for that, we thank them. They've got a killer kitchen team making duck rillettes with 63-degree eggs at night (and insanely delicious egg dishes for weekend brunches, too), as well as a bar team busting out cocktails with gin, mint, and avocado.
Suzanne's Cuisine (click here for address and info)
Ojai, CA
You've probably never ended up in Ojai without your girlfriend, because uh, spas and stuff, and you should really never leave Ojai until you've taken her to this beloved bistro, ordered some steamed mussels in a Thai broth, and had at least one sautéed Cornish game hen with apricot sauce.
Robin's (click here for address and info)
Cambria, CA
Set in a 1930's adobe armed with a rustic, 13-table dining room that still sports the original wood-burning fireplace, Robin's does a little bit of everything and a lot bit of it right. The salmon bisque is a must (especially if you're sitting out on the covered back patio), but they've also got everything from Vietnamese Spring rolls to five-spice duck to tandoori chicken.
Jeff Miller is Thrillist LA's Senior City Editor and wants to go on a road trip right now. Like, RIGHT NOW. He's at @thrillistla on Twitter and @jeffmillerla on Instagram.