LA's never been nationally recognized for steak the way, say, New York is, but the truth is there have been enough great steakhouse openings in the past few years (and enough great old-school places) that if you want a killer cut of meat, you'll never go hungry. Here are the best steakhouses in LA -- minus the huge national chains because, well, you know about Morton's/Mastro's/Lawry's already (although we kept places like Cut, that originated in LA).
Santa Monica and West Hollywood
With so much turnover on Sunset, it might come as a surprise that this steakhouse has been holding down the Beverly Hills end of the street for as long as it has. But it shouldn't: the food's dependable, the decor's just fancy enough, and the paparazzi are pleased that they get a double-shot -- the crazy-exclusive Soho House club is on the roof of the same building.
Mid-Wilshire
Top Chef Masters-contestant Suzanne Tracht is the woman behind this nouveau chopshop (well, sort of nouveau -- it opened in 2001). The steakhouse is known for both its beautiful cuts (including a 36z porterhouse for two and a Wagyu NY prime) and its beautiful, classic dining room, but if you're in-the-know, you also know about its rotating bar menu, which has included everything from tacos to sliders -- and you don't even need to make a reservation for it.
Santa Monica and Downtown
Thanks to killer baseball steaks, New York strips, excellent service, and delicious creamed corn, this old-timer would make the list even if it wasn't open 24 hours a day. BUT IT IS.
Downtown
The Downtown steakhouse underwent a much-needed revamp in 2015, with the dining room lightened up and the menu made a bit more approachable with a larger menu (including a full raw bar all day and burgers at lunch), but thankfully Nick and Stef's hasn't changed its commitment to quality -- choice cuts of meat (including a 16oz New York and a massive 38oz bone-in rib tomahawk) are dry-aged for 28 days on-premises in the gorgeous meat locker. They've also added on a selection of Wagyu, including a 3oz portion of A-5 that literally melts in your mouth.
West Hollywood
The Mozza group doesn't do anything half-assed -- case in point, Chi Spacca, which has perhaps the juiciest (and, yes, perhaps priciest) tomahawk in town. Nothing here slouches, though: the charcuterie is also among the best in the city, and everything from saffron-and-uni risotto to grilled octopus are on-par with their top-chops.
Manhattan Beach
It's about damn time Manhattan Beach had an amazing steakhouse to call its own, and David LeFevre -- the man behind MB Post, Fishing With Dynamite, and, by extension, the entire resurgence of the South Bay dining scene -- was the perfect guy to make it happen. The restaurant, which opened in 2015, has got 12 cuts ranging from a teensy 8oz filet to a monstrous 36oz dry-aged rib-eye, as well as Japanese Wagyu by the ounce and classic sides like butter-laden mashed potatoes. In other words, when you're going decadent, go here.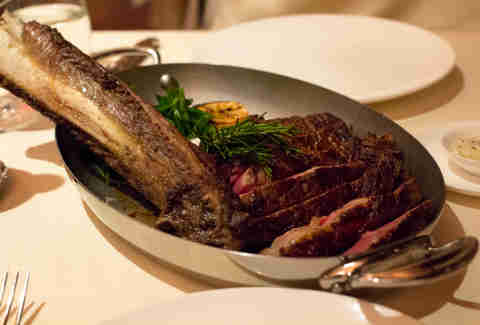 Mid-Wilshire
Vic Casanova's Italian steakhouse on 3rd St has been something of a quiet beast since its launch in 2014, but here's the thing: you don't need crazy-buzz to be crazily delicious. Anyone who's ever eaten at Casanova's other restaurant, the also-superlative Italian trattoria Gusto, knows that the man knows how to cook, and his steaks -- which here include a dry-aged Delmonico and a 40oz (!!!) Bisteca Fiorontina -- will cement this sleeper-hit in your mind.
Beverly Hills
Initially notorious for a lawsuit with Mr. Puck, Wolfgang's is now un-notorious for awesome waiter-ing, an extensive wine list, and prime cuts. Oh, also: thick-cut bacon.
Long Beach
This Italian steakhouse's owners tried their namesake cattle in the old country and loved it -- so they literally imported cows to raise in the US. The result is amazingly marbled, extra flavorful cuts of meat, including Chianina's trademark to-share bistecca alla Fiorentina.
Beverly Hills
Wolfgang Puck's steakhouse's became a semi-chain (there're five around the world, including Dubai and Singapore), thanks to the quality of the meat. Fancy-pants swear by it, and less-fancy-pants swear by it if rich uncle Harvey is in town -- the priciest cut of steak is $185 for 8oz of Japanese Wagyu ribeye.
Koreatown
It's one of the best/worst kept secrets in LA: a nondescript building in Koreatown that's actually home to a beeferie that's been doling out epic meats since 1953, and feels like it; they've got waitresses that actually care about how you're doing, red panel booths that feel both comfortable and lived in, and creamed spinach that's more cream than spinach. Get the culotte, thank us later.
Sign up here for our daily LA email and be the first to get all the food/drink/fun Los Angeles has to offer.
Jeff Miller always orders enough steak for leftovers. Check out the damage at @jeffmillerla on Instagram and @thrillistla in Twitter.