Sure, everyone knows you go to Studio City for strip mall sushi, but it's time you learn the neighborhood has more great eating than raw fish. Luckily, we've got a guide to help you navigate the not-to-miss spots in every category. Check out these nine essential restaurants that make a Studio City trip absolutely worth it.
11801 Ventura Blvd
Whether you want brisket, tri-tip, wings, or hoe cake, Barrel and Ashes is your go-to for 'cue in Studio City. Saddle up your Santa Maria-style BBQ with some balanced or boozy cocktails, and you're on your way.
11941 Ventura Blvd
There's great sushi available at all price points in Studio City, so when we highlight Asanebo, you know it's top-notch. Your best bet is to go with the omakase (chef's choice) at this former Michelin-starred gem so that you're guaranteed the chef's freshest selection of fish.
11915 Ventura Blvd
The combination of incredible food and cocktails make Black Market the top contender on Studio City's brunch scene. Enjoy the twists on globally influenced food by a Top Chef alum beneath an arched brick ceiling while sipping on fancy drinks -- or a selection from the Bloody Mary bar.
11938 Ventura Blvd
Sink your teeth into one of six fresh-ground burgers on brioche at Laurel Tavern. They're all made pub-style -- aka, they're thick and juicy -- and the variety ranges from BBQ to bacon blue cheese, so you'll be able to find the ideal burger for your tastes. There's an assortment of wine and cocktails on offer, but the move here is to down your burger with one of 18 beers on tap.
10962 Ventura Blvd
Named after for the delicious house specialty of baked ravioli filled with Angus beef (the vegetarian version is filled with spinach), Mantee is a trusty Mediterranean spot that also serves up solid versions of classics like fattoush and hummus. Pro tip: couple the fattoush with the hot feta, and you're golden.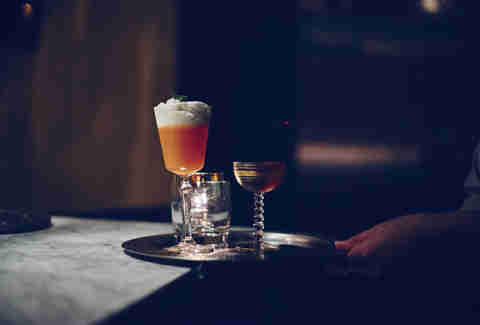 11801 Ventura Blvd
Upon entry to this impeccably classy hideaway (named after a forgotten cocktail), you and your date will be greeted with a complimentary amuse bouche to set the mood. Yes, it's technically more of a cocktail bar than a restaurant, but there are some seriously tasty small plates on offer, like steak tartare and duck breast tartine. And sure, it's a bit expensive, but this is a date after all.
11266 Ventura Blvd
One of the most exciting restaurants to arrive on the Los Angeles scene as of late, The Gadarene Swine is single-handedly making Studio City a vegan dining destination. While the food is exciting (hand-torn pasta!), the atmosphere is decidedly casual -- go a la carte, or bring your crew and enjoy a Chef's Choice Family Style Dinner.
Best fancy restaurant for when the parents are paying: Girasol
11334 Moorpark St
CJ Jacobson's Girasol, which features ingredients foraged by the chef himself, has come into its own as a fine dining destination in the two and a half years since it opened. The lovage butter on house-baked bread will hook you, and the imaginative starters and well-executed mains (like the fried red snapper) may even have you inviting your folks into town again next month. But probably not; boundaries are important.
13251 Ventura Blvd
There's a ton of buzz around this place, and for good reason: while everyone is seasonal these days, Chef Ted Hopson manages to be incredibly inventive yet disciplined with his farm-fresh ingredients, turning out dishes like big eye tuna crudo and Imperial Wagyu flat iron steak. The menu includes two dozen small and big plates, which means there's bound to be something for you -- although it's liable to change the moment you've decided on your favorites. Here are three words to kick off your week, though: Fried Chicken Mondays.
Sign up here for our daily LA email and be the first to get all the food/drink/fun Los Angeles has to offer.
Esther Tseng is a contributing writer to Thrillist Los Angeles and maintains that Ventura Blvd is also a great place to shop vintage clothing, if you're into that sort of thing. Follow her adventures in SFV and beyond: @estarLA.