We've told you about the best LA sushi according to sushi chefs, and we've told you about the best LA sushi in strip malls, but everyone knows that, if you want the freshest fish in town -- at the least expensive prices -- you've gotta hit the Valley at lunchtime. And that's why we're NOW telling you about the best sushi lunch deals in the Valley.
Sun Valley
What you're getting: Bento box ($10) or Jyo Nigiri ($29)
Many people consider Chiba to be the best sushi in the Valley, and many people are probably right. If you're really watching your wallet, you can get a $10 bento that features sashimi, shrimp, vegetable tempura, salad, rice, & miso soup. But if you're just tossing your wallet in the air, for $29, you can get yourself the Jyo Nigiri -- a 10-piece, chef's-choice plate featuring toro, sweet shrimp, and maybe the best uni in LA.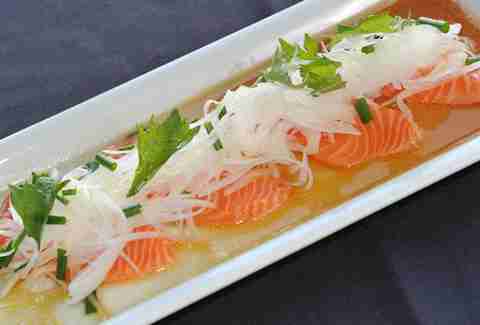 Sherman Oaks
What you're getting: Lunch combo with albacore sashimi and crispy halibut roll ($13.50)
Ahi is frequently overlooked because it's practically next door to Iroha, but STOP FREQUENTLY OVERLOOKING IT -- it's got some really great fish and solid lunch specials. The two- or three-item combos have tons of options, including sashimi, baked green mussels, and scallop rolls.
 
Studio City
What you're getting: Lunch combo with five-piece sushi and a salmon-scallop roll ($13.95)
It's hard to argue with the seemingly limitless options that Sushi Dan gives you. So, like, don't argue, okay? The standard lunch special includes five pieces of chef's-choice sushi, along with everything from sashimi salad to mango-salmon rolls.
Studio City
What you're getting: Three hand rolls, soup & salad ($10.80)
Matsuda's lunch specials are insanely cheap for the quality it's dishing out. Outside of the insane three-hand-rolls-soup-salad deal for $10.80, you can also get bento boxes, chirashi bowls, and even an assortment of chef's-choice dishes (like yellowtail-jalapeño sashimi and spicy tuna crackers), all for $15.
Sherman Oaks
What you're getting: Sashimi lunch box w/ soup, salad, rice, and fruit ($16)
Iroha is home to some of the best sushi in not only the Valley, but all of LA -- even the miso soup is better here, loaded with big chunks of tofu and seaweed.  The bento boasts thick-cut sashimi, and you can add some heavenly black cod for just $3. THREE BUCKS!
Encino
What you're getting: Chirashi ($13)
Yes, it's a chain, but also yes, skilled chefs and lots of bento options make Octopus one of the best lunch spots around. Encino location bonus: Parking lot. PARKING LOT.
Studio City
What you're getting: "Trust Me / Lite" ($17)
Blah blah Sugarfish is great blah blah blah. Yeah, we know sometimes it sounds like a broken record. But you know what? Sugarfish is great. So there. Also, get the "Trust Me / Lite": edamame, tuna sashimi, albacore sushi, salmon sushi, Nozawa shrimp sushi, and a toro hand roll.
 
Valley Village
What you're getting: Mix nigiri & soup ($15.50)
If you can get past the unappealing "JAPANESE SUSHI CUISINE" sign that adorns the entrance, you'll find tons of under-$10 lunch combos as well as a nuts-good seafood ceviche.
Studio City
What you're getting: The Kiwami Tray ($20)
This little-brother-to-the-original, down-the-street Katsuya cranks out food that's arguably even better than the OG location, including the totally reasonable, totally loaded-up Kiwami Tray featuring seared albacore w/ crispy onions, yellowtail sashimi w/ jalapeño, salmon sashimi w/ chopped avocado and onion, a baked crab roll, and spicy tuna on crispy rice.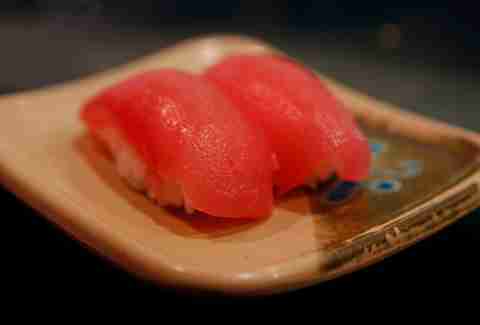 Tarzana
What you're getting:  Albacore bowl ($12)
Though Kushiyu isn't far, Aziz Ansari-fave Sushi Spot has the better lunch deals, with nothing over $12. EVER. Well, until dinner.
Sign up here for our daily LA email and be the first to get all the food/drink/fun Los Angeles has to offer.  
Wilder Shaw is a writer and comedian who sometimes wonders why other food besides sushi even bothers to exist. Plan a trip to Jiro's restaurant with him on Twitter at @WilderShaw_ and Instagram at @WilderShaw.