LA's 9 best sushi lunch deals
It's lunchtime. You're hungry. You need sushi. But here's the thing: there are, like, a billion sushi places, and some of them are actually good, and some of them aren't, and some of them have lunch deals, and some of them don't. We're here to help -- here are the best sushi lunch deals in LA:
<em>West LA</em><br />
<a href="https://www.thrillist.com/eat/los-angeles/west-la/little-osaka-sawtelle…; target="_blank">As we mentioned last week,</a> the ramen kings of Sawtelle are looking to become the sushi kings of Sawtelle with their newest concept. At dinner, expect to shell out two to three bills for a sublime omakase, but at lunch you can get a $15 chirashi bowl that might be in the running for best in the city. The one catch? They only make 15 a day at that price, so you gotta get there early.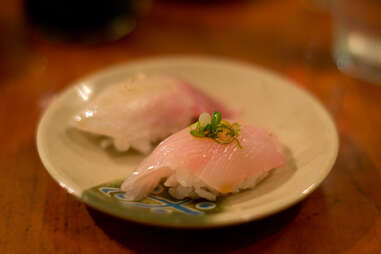 <em>Beverly Hills/Brentwood</em><br />
You may be put off by this usually-expensive spot's reputation, but they fill up for lunch by offering super-legit deals, like a $25 omakase and a $35 special that includes hand rolls, seven pieces of nigiri, salad, soup, and dessert.
<em>Hollywood</em><br />
Even though the prices went up when this classic Hollywood chirashi bowl specialist moved to Melrose last year, it's still one of the best deals in town. Build your own or choose one of their pre-made combos -- either way you're not spending more than $20.
<em>West LA</em><br />
Just because Sushi Tsujita is our new favorite Sawtelle hangout doesn't mean this old favorite doesn't deserve some love. They have a number of sushi combos, as well as a $40 omakase, but you can always count on there being a great $15 lunch special of the day, which usually includes five pieces of sushi and some sort of cooked dish. If it's fried chicken, DEFINITELY get it.
<em>Koreatown</em><br />
If you've never had the Korean sushi bowl known as hwedupbap, stop reading this immediately and go right to A-Won in Koreatown... you there? OK, now start reading again: for $15 you get a massive salad (don't let that stop you) topped with little cubes of raw fish. Stir in some of the included rice and the sweet and hot red chili paste that goes into bibimbap, and you've got one of the best raw fish lunches in all of LA.
<em>Downtown</em><br />
The insanely thick-cut $15 sashimi platter at this Little Tokyo sushi spot is so legendary, you have to get there before noon&nbsp;if you&nbsp;don't want to wait (or end up eating at the Hawaiian joint next door). It's worth it, though. Just make sure you sit at a table -- the sushi bar is reserved for the high rollers.
<em>Downtown</em><br />
Conveyor belt sushi can easily end up becoming a case of "that's how they getcha". The food never stops coming, and who can keep track of which plate corresponds to which price? Thankfully, at Kula, that all goes out the window because every single plate costs $2.25. Is it the best fish you've ever eaten? Of course not. But it's good enough, and if you like crazy fried rolls covered in mayo-based spicy sauces, you'll find yourself completely satisfied for under $20.
<em>West LA</em><br />
When is a $40 sushi lunch a great deal? When dinner will run you $120+ at the same restaurant, that's when. At lunch, you won't get any of the cooked dishes that this place is known for at night, but the quality of the raw fish more than makes up for it. $23 gets you seven pieces plus a hand roll and miso soup, but you'll want to shell out the extra $17 for the 12-piece premium/stomach-filling level.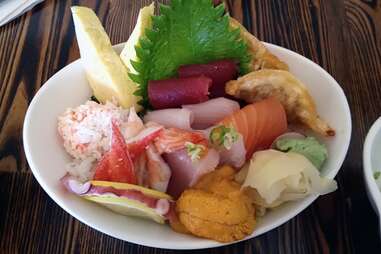 Sherman Oaks/Mid-Wilshire/Manhattan Beach
This popular mini-chain stocks their under-$20 lunch specials not just with the usual suspects (tuna, albacore, etc.), but also with premium suspects like uni and salmon eggs, as well as blackened cod.
Sign up here for our daily LA email and be the first to get all the food/drink/fun Los Angeles has to offer.
Midtown Lunch founder Zach Brooks and Thrillist LA Editor Jeff Miller can often be found co-podcasting Food Is The New Rock, and are probably having sushi for lunch right at this very moment. You can find Zach on Instagram at @foodisthenewrock and Jeff at @jeffmillerla.